Cycle Vietnam, Cambodia & Thailand
What's the best way to explore Vietnam, Cambodia and Thailand? From a bicycle, of course, with the wind in your (helmet-covered) hair and tropical breeze on your face. Cycle out of busy Ho Chi Minh, through the Mekong Delta, past riverside villages and alongside paddy fields, and see life from a different perspective as we meet locals, experience their culture and eat lots of great food (you'll certainly work up an appetite for it!). Riding around 60 km each day, this is an energising and rewarding way to see the beauty and majesty of Vietnam, Cambodia and Thailand.
13 days
Difficulty: Moderate
Itinerary
Explore Vietnam, Cambodia and Thailand in just 13 days on this speedy but comprehensive adventure.
See Indochina as you've never seen it before – from the seat of a bicycle. Cycling is the ultimate way get off the beaten track!
Work up an appetite for Southeast Asia's famously delicious local and regional food.
Get among nature, wildlife, small villages and ancient ruins, as well as the region's most lively cities.
Cover approximately 440 km on this itinerary, averaging around 50 km each riding day, with four non-riding days to refresh ands recuperate.
By travelling on this trip, you'll directly support our Intrepid Foundation partner, World Bicycle Relief. Donations provide school kids, health workers, and farmers in far-out areas with bicycles that provide access to education, healthcare, and income.
Xin chao! Welcome to Ho Chi Minh City, Vietnam. Your adventure begins with a welcome meeting at 6 pm today. Ho Chi Minh City has a dynamic atmosphere and a French influence, so it's perfect for exploring at your own pace if you arrive a couple of days early. Perhaps head to Pham Ngu Lao Street to see the local open-aired market, visit Vinh Nghiem Pagoda or one of the amusements parks.
Take a bus ride to the Mekong Delta. Known as the 'rice bowl of Vietnam', the fertile delta is famous for its harvest of tropical fruit, flowers and rice, as well as the views over the canals. When you arrive in the region, get on your bike for the first full day of cycling. Ride along quiet backroads, past farms and villages and make a stop for lunch. You'll also get to visit orchards and some local cottage industries. Around sunset, make your way up one of the canals by boat and reach your homestay. Stay with a family for the night and enjoy a wonderful meal of local specialties.
Start the day early with a boat ride, then a bus to riverside Sadec where you start today's ride, shaking out your sea legs with a cycle through the bustling settlements along the river. Here you'll see more of local life dependent on this vital and beautiful river, including lunch at a local community. Cycle on and then take a ferry and bus to Chau Doc which is right next to the Cambodian border. Head out in search of the city's famous hot noodles and cold beer, then stay the night in your hotel.
Cycle to your last destination within Vietnam, the border town of Tinh Bien and stop for lunch. You'll then go through visa formalities and cross into Phnom Den, Cambodia. Meet your new support team and hop on your bike again on your way to Phnom Penh. You'll be cycling along dusty and bumpy roads for a while, and then along a paved highway which leads to Cambodia's capital. Once you arrive, you'll have a free evening to enjoy your first delicious Cambodian meal for the trip. Phnom Penh is quickly becoming a hot destination among foodies, so load up on grilled seafood, fish curry and green mango salad.
Spend the day enjoying a leisurely ride around Mekong Island. Visit local artisans selling quality silks, and cycle past temples and pagodas. Stop for a refreshing drink at a roadside food stall.
Today you'll confront Cambodia's tragic past with visits to several historical sites. First stop is the Tuol Sleng Genocide Museum, a former school which served as a Khmer Rouge torture centre. You'll take a guided tour of the museum where over 20,000 people were once incarcerated and tortured. Next you'll visit the Choeung Ek Memorial, where a stupa made up of some 8,000 human skulls marks the site of the infamous Killing Fields. This was where the prisoners of Tuol Sleng were executed and nearly 9,000 corpses have been exhumed from the area. Finally, learn about a brighter period in Cambodian history with a visit to the Royal Palace and Silver Pagoda.
Settle in for a long day of driving as we travel to Siem Reap. The bus ride will take about seven hours but will be full of stunning rural views of tiny towns, and it also gives you the chance to catch up on some shut-eye.
Riding distance: none
The name Angkor always captures the imagination, conjuring up images of soaring temples set in deep jungle hidden from the world for generations, and there is simply no better way to experience the allure of Cambodia's legendary Angkor temple complex than by bicycle. Faster than walking yet able to go places that the big tour buses just can't go, cycling at your own pace along quiet, secluded small roads and jungle trails gives you the feeling that you are the first person to discover Angkor as you visit many small temples hidden from everyday view.
That's not to say you miss out on the icons, with visits to Angkor Wat, the greatest Buddhist temple in the world, as well as guided visits to the iconic jungle-covered 'Tomb Raider' favourite Ta Prohm, and the sheer majesty of Angkor Thom all included. Seeing this magnificent UNESCO World Heritage Site in such an environmentally friendly way, with no pollution or strain on the environment also helps to preserve this magnificent icon for future generations.
Today you'll cover a lot of distance on your visit to Banteay Srei, the 10th century temple dedicated to the Hindu god, Shiva. The temple was rediscovered in 1914 and has some of the most intricate carvings in the world. It was restored shortly after discovery using traditional techniques and materials.
Leave from Siem Reap early in the morning and head for the border. Your crossing at Poipet/Aranyaprathet should take around 4 hours including the driving and processing time. From the border, you'll transfer to the Tha Kabark Dam. You can have a quick swim and some lunch before the next cycling leg to Sa Kaew where you'll stay for the night.
Wake up at sunrise and make your way to the local market. Here you'll see the Buddhist monks from nearby temples who come to receive food from the villagers in exchange for blessings. Perhaps offer the monks some alms before continuing on your way. Spend the rest of the day cycling along mostly flat terrain towards the small district of Kabinburi. You'll pass rubber tree and tapioca plantations as well as lush rice fields.
Make your way to Khun Dan Dam, Thailand's largest dam, for your last full day of cycling. You'll ride past small villages, paddy fields, farms and shops. Stop for lunch along the way, then enjoy a quick swim. After, pack up the bikes before transferring to Bangkok, your final destination.
There are no activities planned for today and you're able to depart the accommodation at any time. If you'd like to stay longer, just speak to your booking agent. Perhaps take a riverboat to Chinatown and explore the crowded streets, wander down the tourist mecca of Khao San Road or pay a visit to Wat Pho, home to the country's largest reclining Buddha. Explore the magnificent Grand Palace and the Temple of the Emerald Buddha, or travel by long tail boat down the Chao Phraya River to explore Bangkok's famous khlongs (canals).
Route overview
To complete this trip it is important that you are both confident and competent in riding a bicycle.
You'll be cycling for up to 70 km per day on varied terrain – this trip is for the reasonably fit.
The weather in Indochina can be varied. Be prepared to get sweaty and for the occasional rain storm, which may require a change of plans.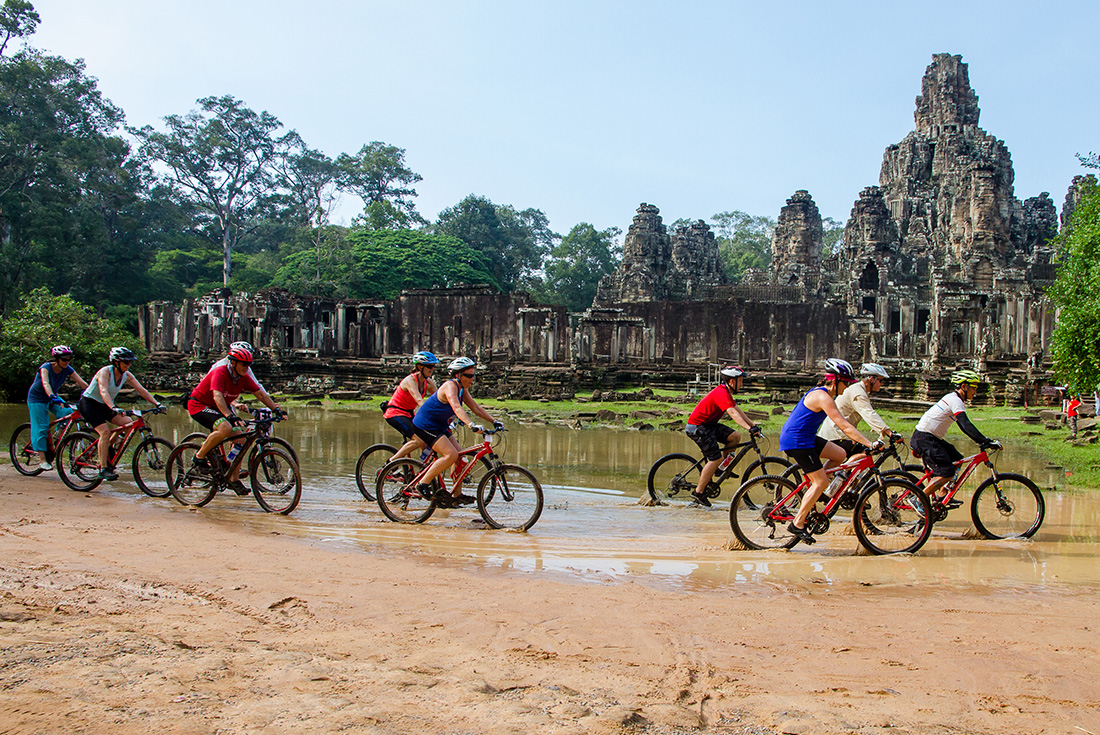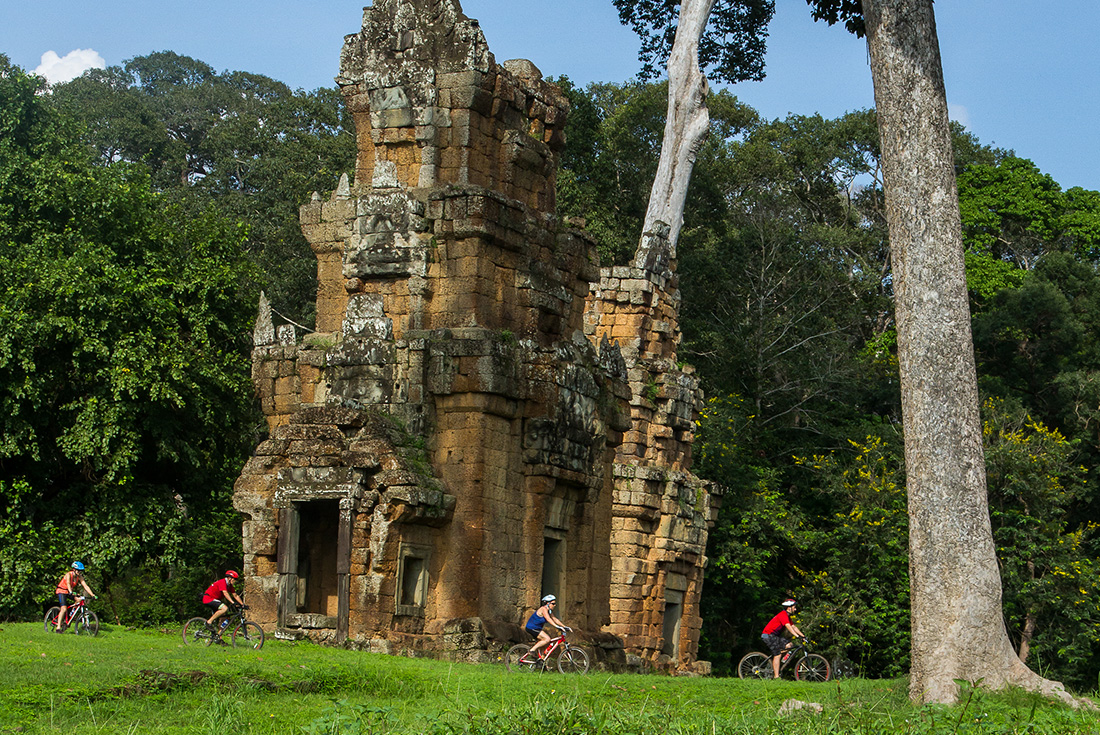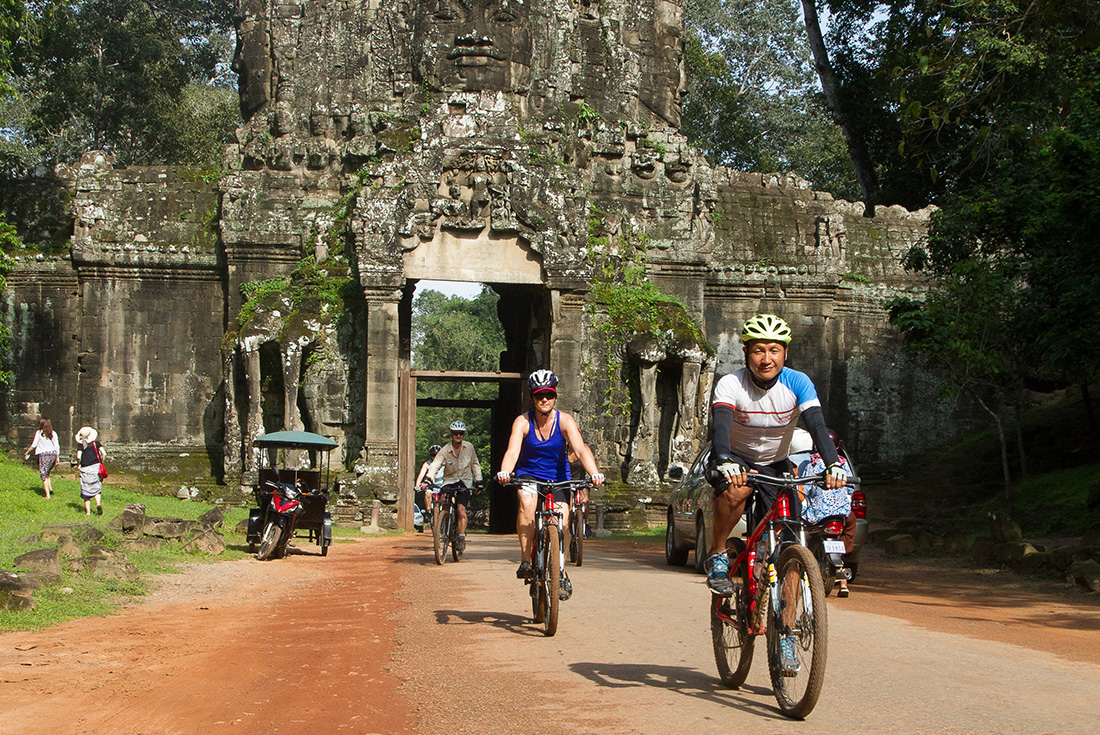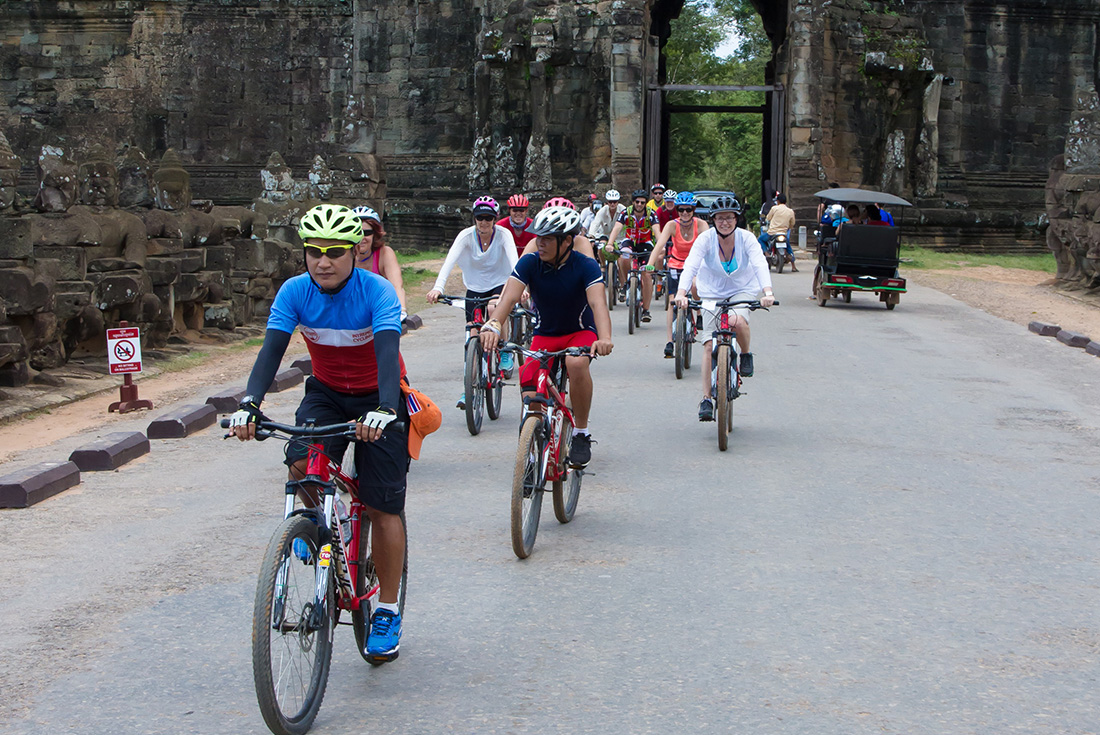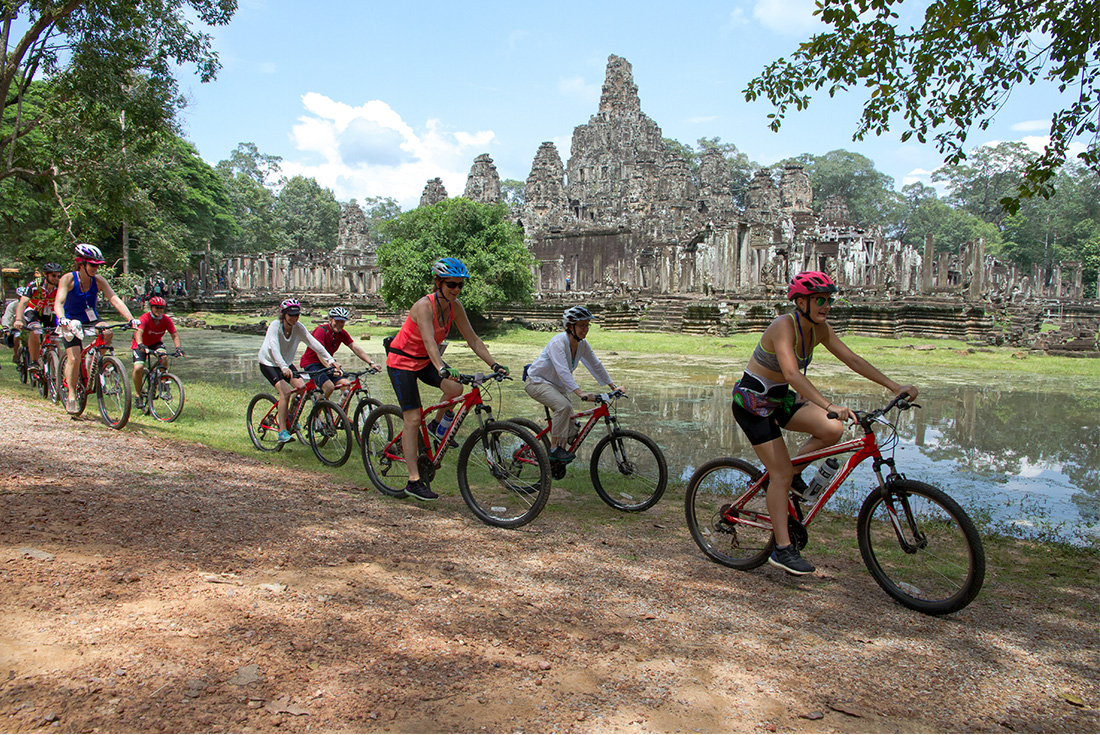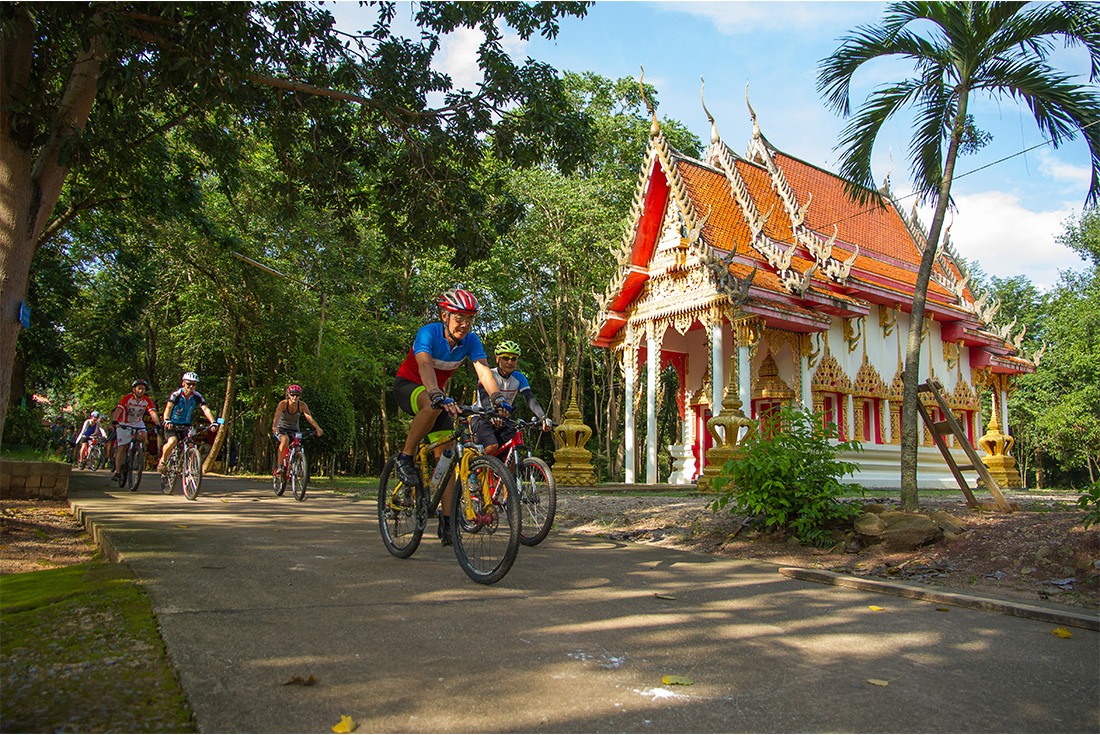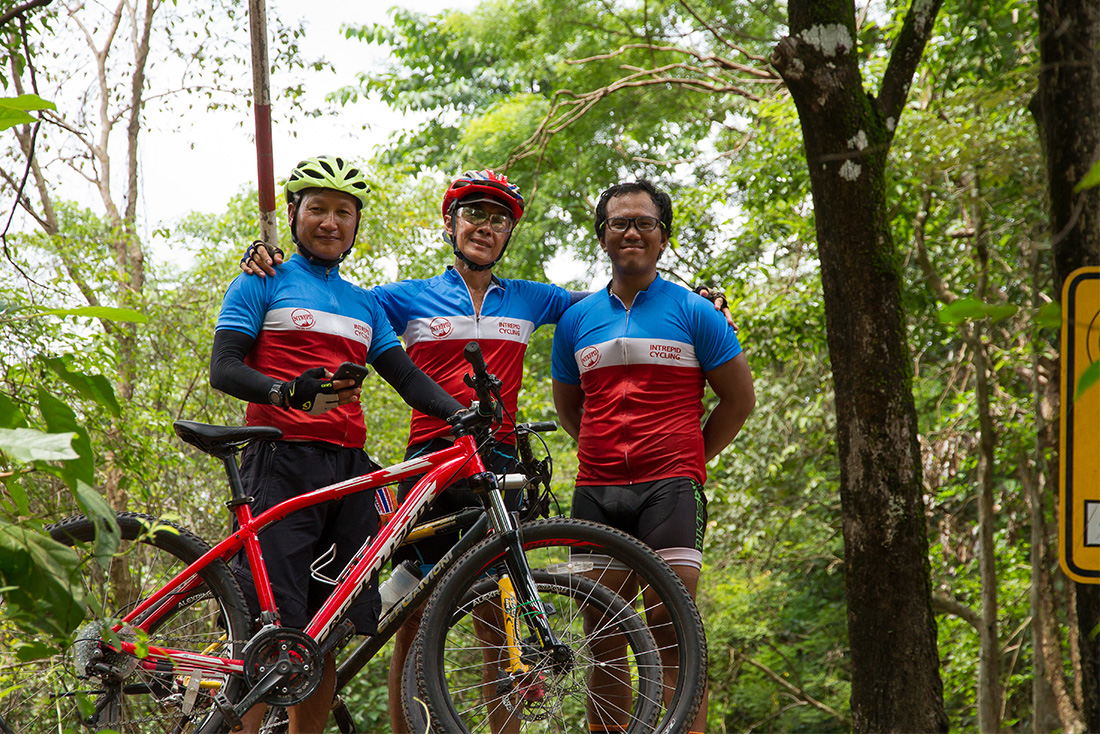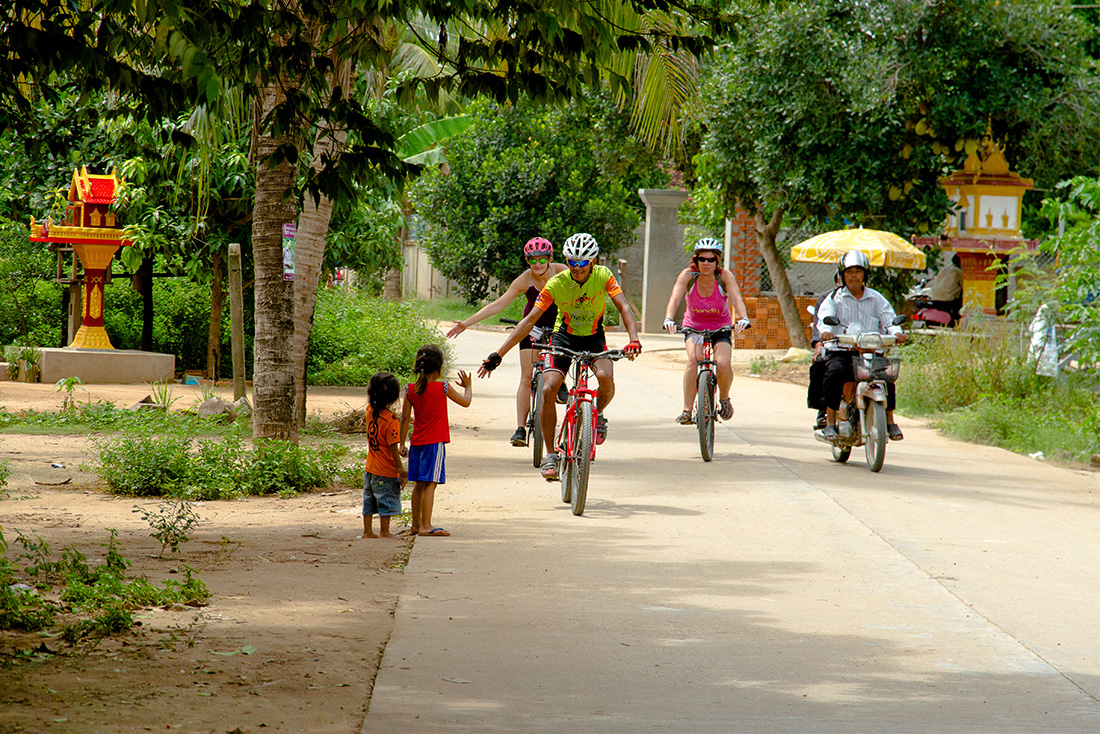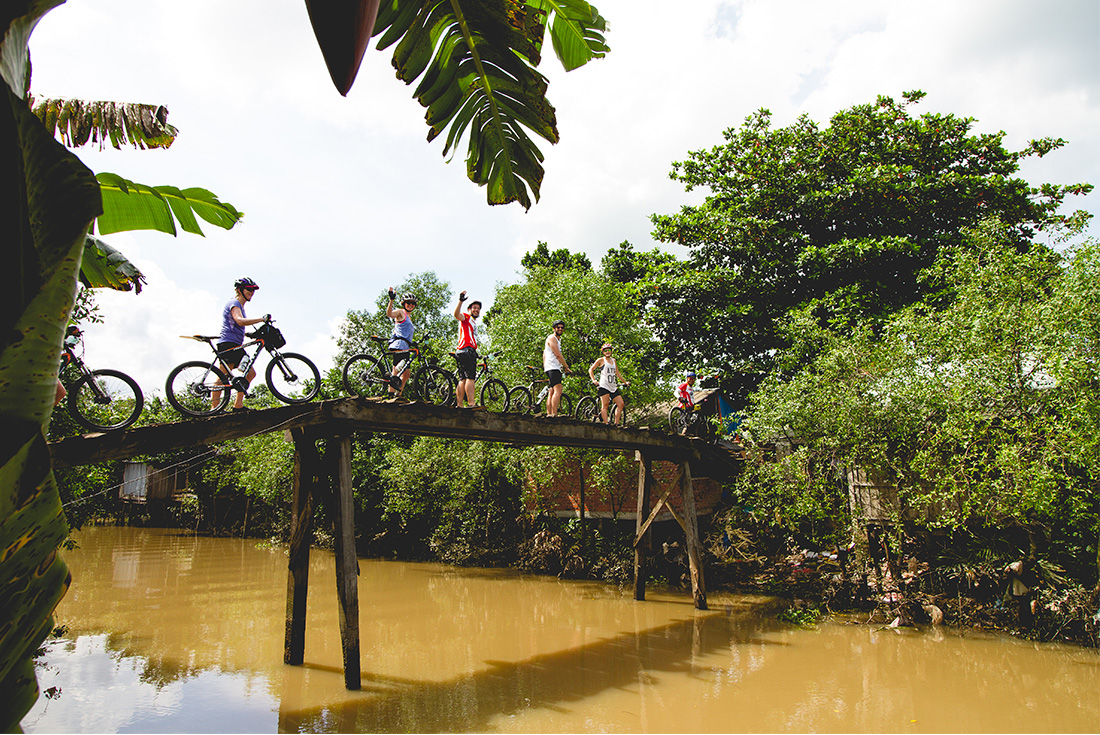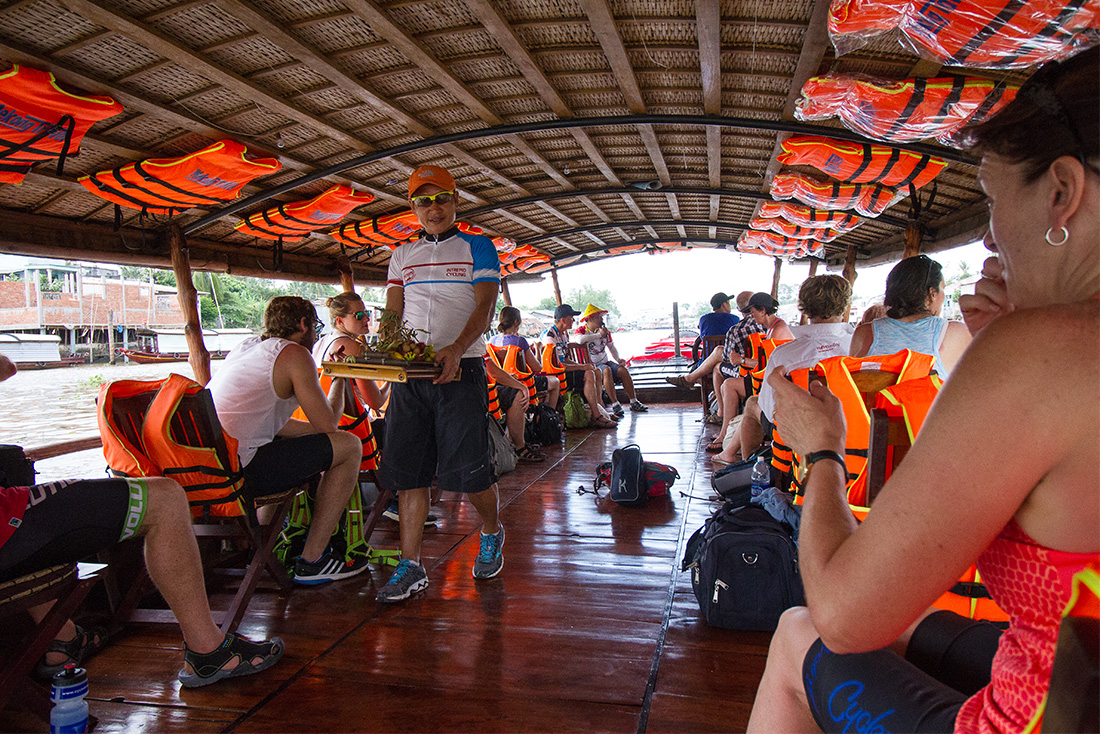 What's included
Phnom Penh - Tuol Sleng Genocide Museum (S21) & Choeung Ek
Phnom Penh - Royal Palace & Silver Pagoda
Siem Reap - Three Day Angkor Pass
Angkor - Full day temple cycling tour
Kabinburi - Alms giving at morning market
Check Availability
We have put a calendar of events together that will provide you with some inspiration of what you can expect on your holiday, and when the best time to jet off is. Now's your chance to travel further than you can by foot and be part of a memorable and exciting two-wheel journey with us.