Cycle the Baltics
Diverse, richly historic and impossibly photogenic, the Baltic states of Estonia, Latvia, and Lithuania have few rivals when it comes to cycling in Europe. This region offers up one fairytale-like scene after the next. Discover a charming cultural tapestry – from the medieval spires of Tallinn and the funky bars of Riga to the Baroque-styled quirks of Vilnius. Throw in some sand dunes, bird-filled forests, glittering lakes and world-class beaches and you might just have the perfect cycling destination.
11 days
Difficulty: Moderate
Itinerary
Spanning three countries, this itinerary boasts a great diversity of history, culture and landscapes
With its perfectly preserved medieval wall and watchtowers, Tallinn's quaint Old Town is a fantastic place to explore on foot
Cycle the famous Route 10, which cuts quite literally across the Baltic Sea, surrounded on both sides by water
Park the bike and explore incredible coastal spots along the Baltic – notably Jurmala's 33-kilometre stretch of beautiful white sand beach
Stay in a quaint farmhouse for a first-hand experience of Estonian country life
Wander the endless dunes and stunning beaches of Lithuania's Curonian Spit National Park
Tere! Welcome to Tallinn. Your cycling adventure begins today with a welcome meeting at 6pm. Please look for a note in the hotel lobby or ask the hotel reception where the meeting will take place. Your leader will be collecting your insurance details and next of kin information at this meeting so please ensure you have these ready. If you arrive in the city early, grab a city map and head out to explore Tallinn's medieval old town. With its steep red roofs, spires, pastel-coloured buildings and new restaurants and bars, Estonia's capital will entertain even the most demanding!
After breakfast there will be a bike fitting for the group, followed by a short test ride. Drive out of the city towards the port town of Virstu (approximately 2 hours), passing by lush farmland and forests. After crossing over by ferry to the island of Muhu, jump on your bicycle and explore this idyllic Estonian countryside at a close. Stop at the Muhu village museum in Koguva, a remarkable example of Estonian countryside architecture, to learn more about how the local people lived in the past. Then continue along Route 10 which connects Muhu and Saarema islands. The road literally cuts through the Baltic Sea, so take in views of the water on both sides as you go. Tonight, stay in a farmhouse where your hosts treat you to a delicious local dinner.
Start early with a drive to the southernmost point of Saaremaa island, the Sorve lighthouse. The route today is flat as you cycle back up the west coast, swapping between quiet roads and bike paths while enjoying frequent sweeping views out over the Baltic Sea.
End our ride in Kuresaare, Saarema's largest town that boasts one of the finest preserved medieval Episcopal Castles in the Baltics, built by the knights of the Teutonic order in the 14th century. It is also home to the Saaremaa Museum, one of the oldest and biggest museums in Estonia. You have ample time to explore the Lossipark, take a stroll down the main street, and sit down for dinner in one of the local restaurants before we drive back to our farmstay for the night.
On the way back to your farmstay, stop at the Kaali craters. There are numerous legends related to the site, and evidence of it being used for ritual sacrifice. The craters are estimated to be 4000–6000 years old, and the impact with which the meteor hit the ground to form the craters is comparable to the Hiroshima bomb.
Drive and ferry back to the mainland before jumping back on the bike at Virtsu harbour, cycling south through a nature reserve down to the tiny coastal village of Varbla. After lunch continue cycling through the beautiful green Estonian countryside all the way to Tostamaa before avoiding the busier traffic by driving the rest of the way to Parnu, Estonia's summer capital and a hub for beach goers, vibrant nightlife and a thriving art scene.
On arrival in Parnu, head out for an orientation walk with your tour leader. Spend the remaining part of the day exploring lively Parnu at your leisure.
Today will be a long but very pleasant cycling day. Take the road that goes along the coast of the Baltic sea and cycle your way down to Latvia. The first village across the border – Ainazi – is your home for the night. If you still have power in your legs, take a stroll on the beach in the evening, or head out to dinner with the group to get your first taste of Latvian cuisine.
Start the day with a short drive (approx. 70km/1hr) as we follow the busy coastline of the Gulf of Riga all the way down to Saulkrasti, passing into Latvia along the way.
Starting at the iconic Saulkrasti Bicycle Museum we start riding inland all the way to Sigulda, considered to be one of the most beautiful destinations in Latvia, with forested valleys and the picturesque Gauja River completing the stunning scenery.
From here we rejoin our support vehicle and drive the short distance (approx. 1hr) to Riga, Latvia's cosmopolitan capital. On arrival in the city centre your leader will take you on an orientation ride past the Central Market, St Peter's Basilica, House of the Blackheads, the Swedish Gate or the Cat House.
Cycle to the resort town of Jurmala today, a popular holiday destination for Latvians, 33-kilometre stretch of a white sand beach. Come back to Riga in the afternoon and enjoy the city at your leisure.
Today is a long driving day as we pass through the pretty Lithuanian countryside, breaking our journey at the famous Hill of Crosses – a quaint pilgrimage site, the origins of which remain a mystery. Afterwards, re-board your support vehicle and continue your journey to the west coast of Lithuania and the beachside resort town of Palanga (total drive approx. 280kms/4hrs).
After a long drive it's time to break out the bikes as we cycle along the dedicated bike path all the way to the former Prussian city of Klaipeda. Klaipeda used to be a member of the Hanseatic League and is the gateway to the Curonian Spit – a long and narrow sand dune peninsula separating the Curonian lagoon from the Baltic Sea.
Spend the day exploring the unique World Heritage-listed Curonian Spit National Park by bike. This is a spectacular landscape full of beaches, sand dunes and forested areas. The peninsula is only 400 m wide in parts but 98 km long, 52 of which belong to Lithuania, while the rest is part of the Russian enclave of Kaliningrad. It formed only 5000 years ago by strong winds and currents which constantly change the shape of the landscape to this day. Only recently a whole village was swallowed by the inexorable sand. On your day trip, explore the tiny village of Nida and the surrounding beaches by bike. Look in the distance to see the Russian border. For lunch, perhaps try the smoked pike for which the Spit is famous. Return to Klaipeda in the evening in the support vehicle.
Board the support vehicle in the morning and drive east (approx. 260kms/3hrs) to the tiny lakeside hamlet of Kloniniai Mijaugonys where we start our final ride for the trip. Passing by lakes and through scenic countryside we cycle along quiet roads all the way to Trakai, the former capital of Lithuania. He highlight is definitely the impressive 14th century Trakai castle, set on a small island in the middle of Lake Galvė. After paying a brief visit, continue on in the support vehicle to Vilnius (30 km). On arrival, your leader takes you for an orientation tour that covers the old town's highlights as well as the self-proclaimed artistic 'republic' of Uzupis, an inner-city quarter that declared symbolic independence from Lithuania in 1997.
Your cycling trip comes to an end after breakfast today. There are no more activities planned and you're able to depart the accommodation at any time. There are multiple sights and attractions to visit during your stay in Vilnius, so it may be worth booking an extra day or two so you can fit it all in. Our reservations team will be happy to help (subject to availability).
Route overview
On this trip we have a single leader that rides with the group, and another that drives the support vehicle (acting as a back marker where needed). Where the vehicle cannot travel directly with the cyclists (e.g. a cyclists-only path) your leader will assign a person from the group to act as a back marker.
As there are potholes and cobblestones in many European cities, it's recommended that you leave any wheelie bags or cases at home and bring a backpack instead.
The areas visited on this trip can be very cold at night throughout the year, especially at the start and beginning of the season. Please bring appropriate clothing for adverse weather conditions, including base layers, hat, gloves, scarf, coat and anything else that you think may be applicable.
As accommodation on this trip is multi-share, single travellers will share a room with another traveller of the same sex. This trip is a great opportunity to get to know other like-minded people, so embrace it while you can. However, if you'd prefer not to share, a single room supplement is available at an additional charge. Please ask your travel consultant for more details. Also, hotels in Europe often don't have double beds, but rather two single beds that can be pushed together/apart.
This trip is designed to give you a fair amount of free time so you can explore each destination at your own pace. We will, however, take you on regular orientation walks, so you'll be on your feet quite a lot. While this may be tiring for some, it's the best way to get your head around a place and to set yourself up for further discoveries.
This trip involves some long journeys by vehicle (sometimes up to 9 hours). Although this can be a bit tiresome, it's a great way to sit back, relax and take in the passing scenery.
This trip involves a number of vehicle transfers and frequent loading of both luggage and bikes into the support van and trailer. To make this process as quick as possible travellers are expected to assist in loading their bags and bikes.
To complete this trip it is also important that you are both confident and competent in riding a bicycle.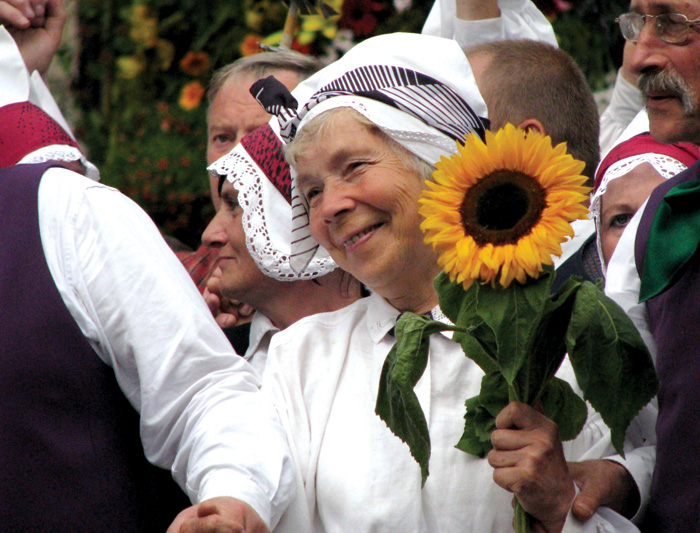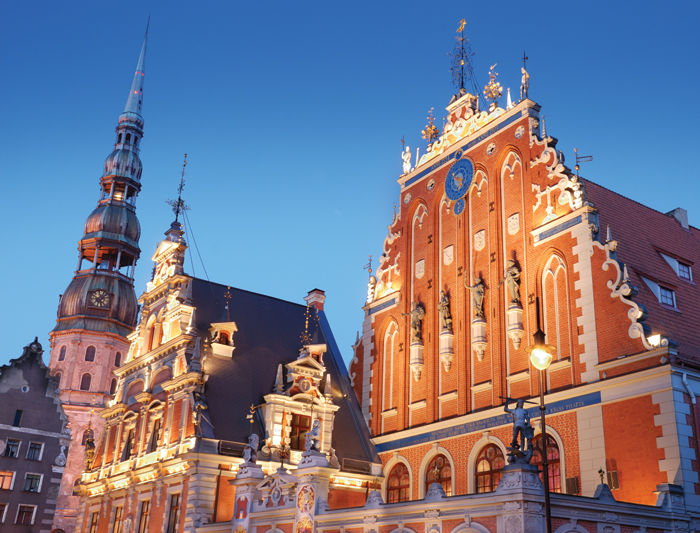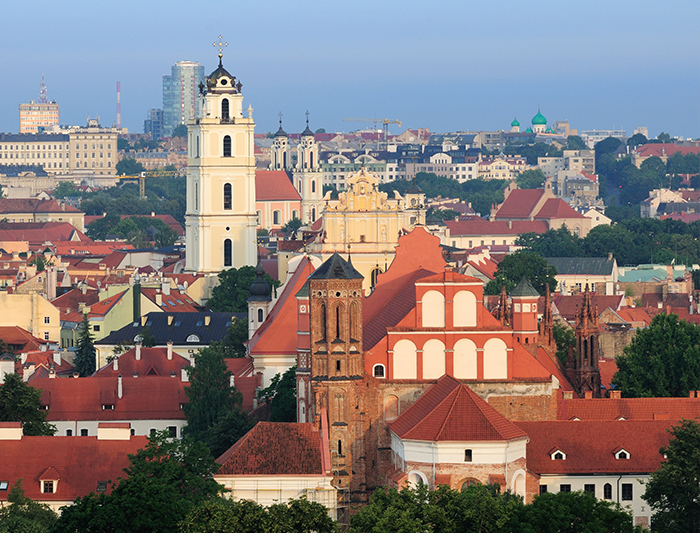 What's included
9 days included bike hire
Saarema Farmstay
Muhu and Saarema Guided & Vehicle Supported Cycling
Kaali craters
Saaremaa Island Guided & Vehicle Supported Cycling
Virtsu to Tostamaa Guided & Vehicle Supported Cycling
Parnu - Orientation Walk
Tostamaa to Ainazi Guided & Vehicle Supported Cycling
Saulkrasti to Sigulda Guided & Vehicle Supported Cycling
Riga Guided Cycling
Jurmala Guided & Vehicle Supported Cycling
Palanga to Klaipeda Guided & Vehicle Supported Cycling
Curonian Spit National Park Guided & Vehicle Supported Cycling
Vilnius - Orientation Walk
Kloniniai Mijaugonys to Trakai Guided & Vehicle Supported Cycling
Check Availability
We have put a calendar of events together that will provide you with some inspiration of what you can expect on your holiday, and when the best time to jet off is. Now's your chance to travel further than you can by foot and be part of a memorable and exciting two-wheel journey with us.