Cycle Southern Thailand
The road is laid out before you on this cycling adventure through Southern Thailand. Beginning in Bangkok with an overnight train, the route sweeps south to the deeply green prehistoric scenery that lies across the map – stunning ancient forests and limestone peaks that were formed hundreds of millions of years ago. Pass emerald waters where tiny islands of exquisite pale rock break the surface, cruising along palm-fringed routes lined with friendly locals. Pedal along undulating roads to unforgettable Khao Sok National Park, walk along dirt trails in search of wildlife, and freewheel down the Andaman Coast to relax on its powdered coastline. Ride inland to Phang Nga Bay and finish up in the classic beachside town of Ao Nang. This active nine-day journey gives a unique look at this fascinating part of the country.
9 days
Difficulty: Moderate
Itinerary
Escape the chaotic Bangkok traffic with a cycling tour that gets you behind the tourist mask and into the heart and soul of Thailand's south
Ride through a sea of greenery as a constant companion, then wind down on the famous sandy shores and azure waters of Thailand's west coast
There's no need for artificial sports drinks here – rehydrate with fresh coconut and fruit juices straight from the plant
Dive into the nature lover's paradise of ancient Khao Sok National Park, then fall asleep to the sounds of the jungle in a riverside bungalow
Witness the towering, pale limestone islands that break the surface of Phang Nga bay with an included boat cruise across these incredible waters
By travelling on this trip, you'll directly support our Intrepid Foundation partner, World Bicycle Relief. Donations provide school kids, health workers, and farmers in far-out areas with bicycles that provide access to education, healthcare, and income.
Sa-wat dee! Welcome to Thailand. Thailand's bustling capital is famous for its tuk tuks, khlong boats and street vendors serving up delicious Thai food. Your adventure begins with a welcome meeting at 6 pm. Please look for a note in the hotel lobby or ask the hotel reception where it will take place, and have your insurance details and next of kin information ready for collection. Bangkok has so much to offer those with time to explore, so perhaps arrive a day or so early and take a riverboat to Chinatown, uncover the magnificent Grand Palace and the Temple of the Emerald Buddha, wander down the tourist mecca of Khao San Road, or indulge in some Thai massage. Take a longtail boat down the Chao Phraya River and explore the famous 'khlongs' (canals) – life along these canals seems a world away from the chaotic streets of the capital. After the meeting tonight, perhaps gather your fellow travellers and tuck into some world-famous street food.
Riding distance: none
Take to the streets of Bangkok by bike and explore the backstreets, alleyways and canals on a guided cycling tour. Get away from the tourist areas and into the heart and soul of this lively city. The quietness of these areas often contrasts with the chaos this metropolis is known for. You're sure to see numerous wats along the way, and travelling around by bike allows you to move through the city quite easily and at a relaxed pace. Today's total distance cycled is around 20 kilometres. After your ride there will be ample time to get cleaned up and shop for any last-minute supplies or souvenirs before boarding an overnight train southbound for Surat Thani (approximately 13 hours).
Notes: Sleeper trains are clean and air-conditioned, and beds are multi-share compartments. Sheets, a pillow and blanket are provided (although some people prefer to bring their own sleeping sheet). Please note that you may be sharing compartments with locals of the same or opposite gender. Your baggage will travel in the carriage with you. There's also a food and drink service available on board.
Arrive in Surat Thani this morning. Avoid the busy traffic by driving 35 kilometres through small villages and palm-tree-lined roads before climbing onto your bike. The real scenic highlight of this area will then come into view – stunning limestone karsts. Formed over 260 million years ago, these karsts were once part of a prehistoric underwater reef that stretched all the way up to Vietnam and will be your constant companion for the next few days. With an average height of 400 metres and rising all the way up to almost a kilometre, they are impossible to ignore. Heading west, cycle through a sea of greenery towards the Ratchaprapha Dam (approximately 40 kilometres). Reminiscent of Guilin in China, and like the freshwater version of Phang Nga's famous limestone peaks, this is a reservoir where hundreds of tiny islands of exquisite pale rock jut out of emerald water. After lunch on the shores of the dam, we travel by vehicle to Khao Sok National Park, and fall asleep to a chorus of crickets and cicadas as a lullaby.
Established as Thailand's 22nd national park in 1980, Khao Sok is home to the oldest evergreen rainforest in the world, deep valleys, the beautiful Cheow Larn Lake, numerous caves, and a significant wild animal population. This nature lover's paradise includes elephants, exotic Hornbills, water-loving Langur Monkeys and even the occasional tiger deep inside the park. The flora is also top-notch, with the rare Rafflesia Kerri, one of the world's largest flowers, only found here. Here you'll have free time to walk along the dirt trails that snake through the quiet park, looking out for wildlife as you head for rivers and waterfalls where you might enjoy a cooling dip. If you are feeling like more cycling have a chat to your tour leader about the many options on the local tracks – our cycling experts will be happy to point you in the right direction (or maybe even join you). Spend the night amid the ancient gnarled rainforest trees in a riverside bungalow.
Begin the day in the support vehicle, leaving the verdant forests and hills behind with a drive west from Khao Sok to the nearby town of Takua Pa (approximately 40 kilometres). Then jump back on the bike again to begin the day of cycling, travelling across relatively flat terrain through the interior. Pass numerous flowing rivers, palm-fringed roads and smiling local children, then make your way down to the Andaman Coast. Here you'll run parallel to the sublime Andaman Sea before arriving at your home for the next two nights – the laid-back beach town of Khao Lak (approximately 42 kilometres). Famous for the likes of Memories Beach, Bang Niang Beach and the aptly-named White Sand Beach, Khao Lak is one Thailand's quieter beach destinations and a great place to unwind after a long but enjoyable day in the saddle.
Today is a free day to enjoy the beautiful surrounds of the Andaman Coast. For a sobering insight into the area's recent history, perhaps visit the International Tsunami Museum, a reminder of the 2004 tragedy. Here there is a memorial to the 3000 people who died in the area. There are numerous beaches to chill out on, waterfalls (like Ton Chong Fa) to swim in, fishing trips to take, and if you're feeling active, bike routes to cycle or underwater worlds to explore by scuba or snorkel. For something different, perhaps hone your culinary skills with a Thai cooking class. There is as much, or as little, to do here as you like.
Leave the coast and head inland today, cycling eastwards through rolling hills past forests orchards, and rubber plantations to Phang Nga. This town sits at the end of the tributaries that empty into the bay of the same name (approximately 52 kilometres). Known for its relaxed atmosphere, cheap and authentic food, and some spectacular sights, Phang Nga is the perfect place to taste Southern Thailand. As reflected in the local food, Phang Nga has a diverse culture, with Buddhist temples, mosques, and Taoist Chinese shrines all found within walking distance of one another. After a relaxing lunch you'll take a boat on the Phang-Nga Bay, where limestone rocks famously erupt out of the water, creating what is, for many, the iconic image of Thailand. You'll stop by the famous James Bond Island, immortalised in the movie 'The Man With the Golden Gun', and Koh Panyee, an extraordinary Muslim fishing village built over water on stilts, with its own mosque and even a floating football pitch.
The final day on the bike begins with a 45-kilometre transfer in the support vehicle. Then it's on to your two-wheeled friend for a 50-kilometre ride through beautiful inland landscapes and down the coast to the classic Thai beachside town of Ao Nang. After so much time spent moving at a slow pace, Ao Nang comes as a welcome change, with its lively atmosphere, shops that light up the sidewalk, and an enormous selection of food and drink on every corner. While the front beach here is good, the spectacular nearby shores of Tonsai, Railay, Ko Hong, Ko Poda and Ko Gai are true highlights and easily reachable as a day trip. Further afield there's easy boat access to the islands of Ko Phi Phi and Phuket. If you've had enough of the beach, perhaps go rock climbing. Whether you're a novice or a pro, looking down on the jungle and ocean from a limestone cliff face is unforgettable. Meet up again in the evening to say goodbye to your biking crew, then perhaps enjoy a final night dinner with the group.
Your cycling adventure comes to an end today. There are no activities planned and you are free to leave at any time, or perhaps extend our stay in this idyllic beachside town.
Route overview
To complete this trip it is important that you are both confident and competent in riding a bicycle.
While the cycling distances are relatively short and the terrain relatively flat, the climate is usually warm, so you'll need to be reasonably fit. Keep in mind the support vehicle will always be on hand if you need a break.
The riding is mostly done on sealed roads, with the occasional gravel cycle path, so there are no special technical skills required. However, some downhill practice is a great idea prior to your trip.
Please note that both cycling and driving distances may vary due to local circumstances out of our control.
There's the possibility of a few hiccups along the way – a puncture here and there maybe – but there's no doubt this is an incredibly rewarding adventure.
The weather in this region varies seasonally. Be prepared to get sweaty, and for the occasional rainstorm which may require a change of plans.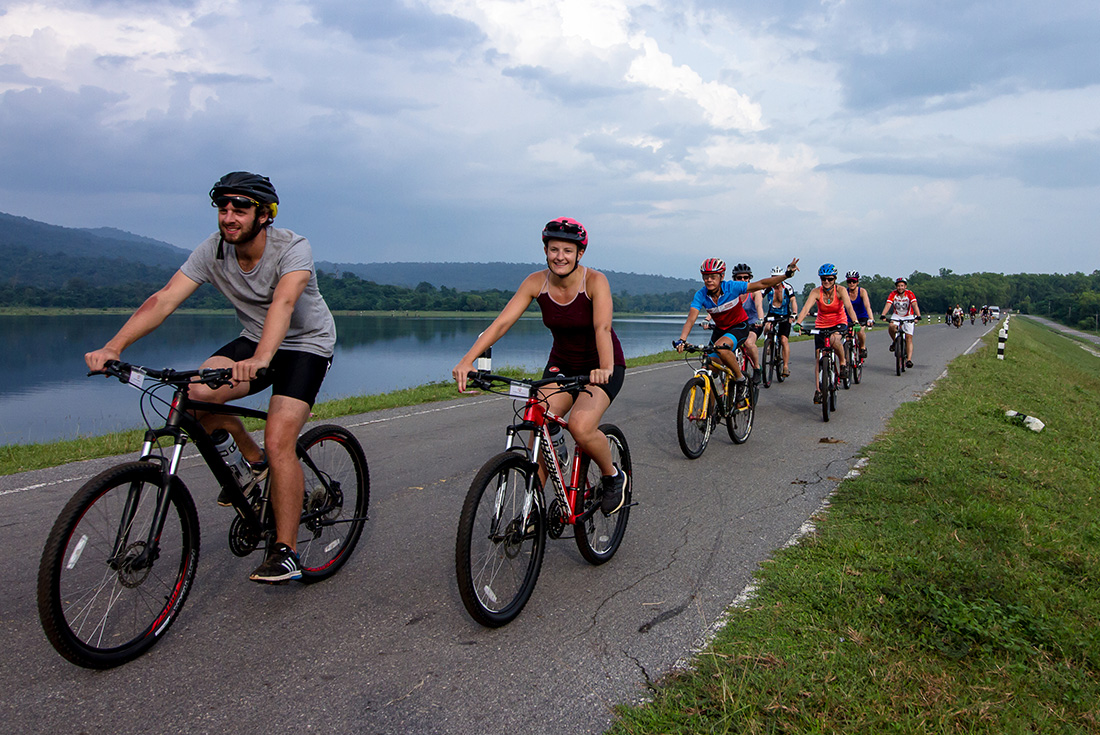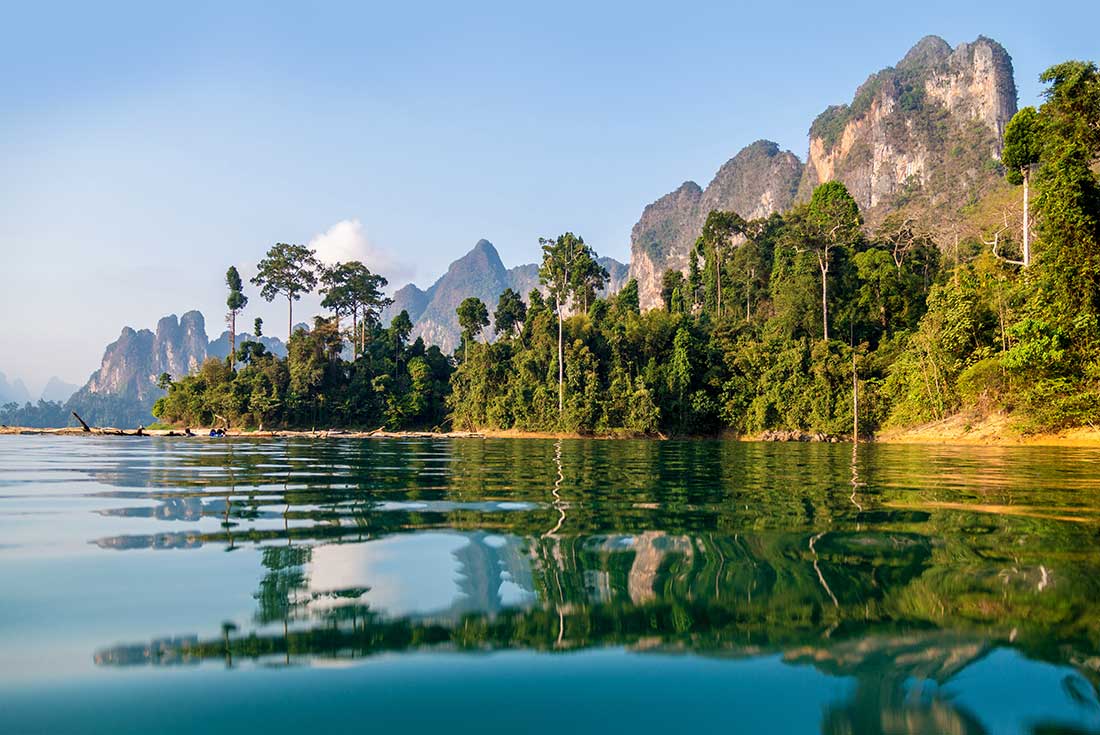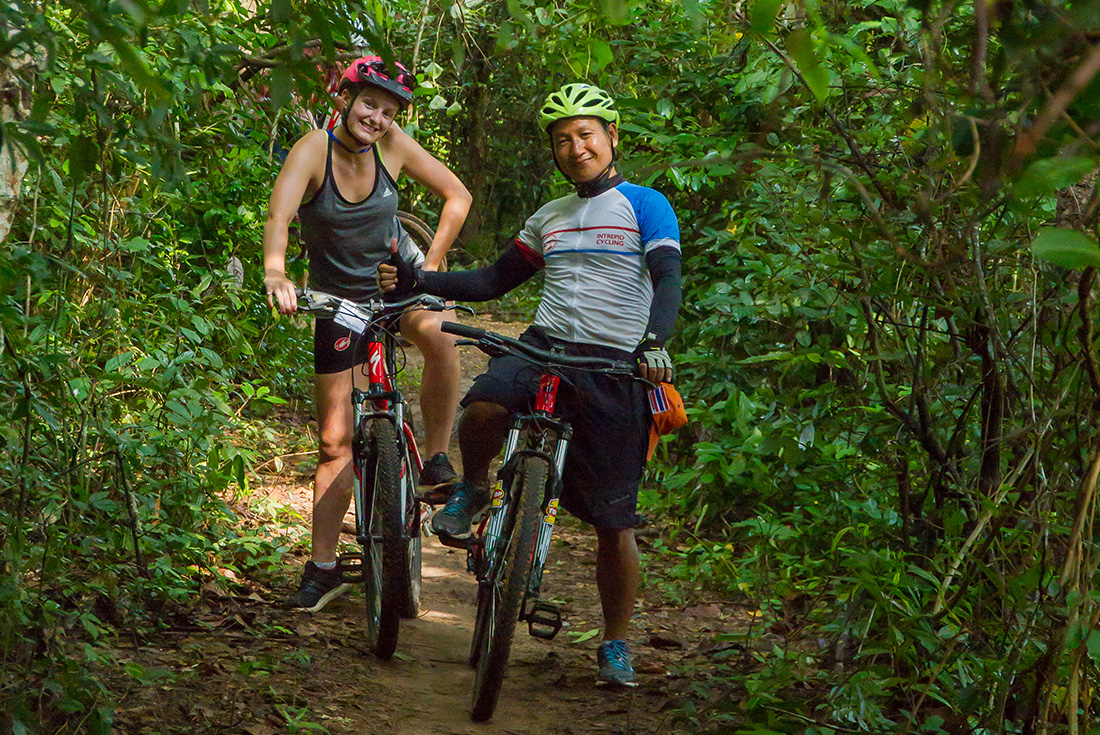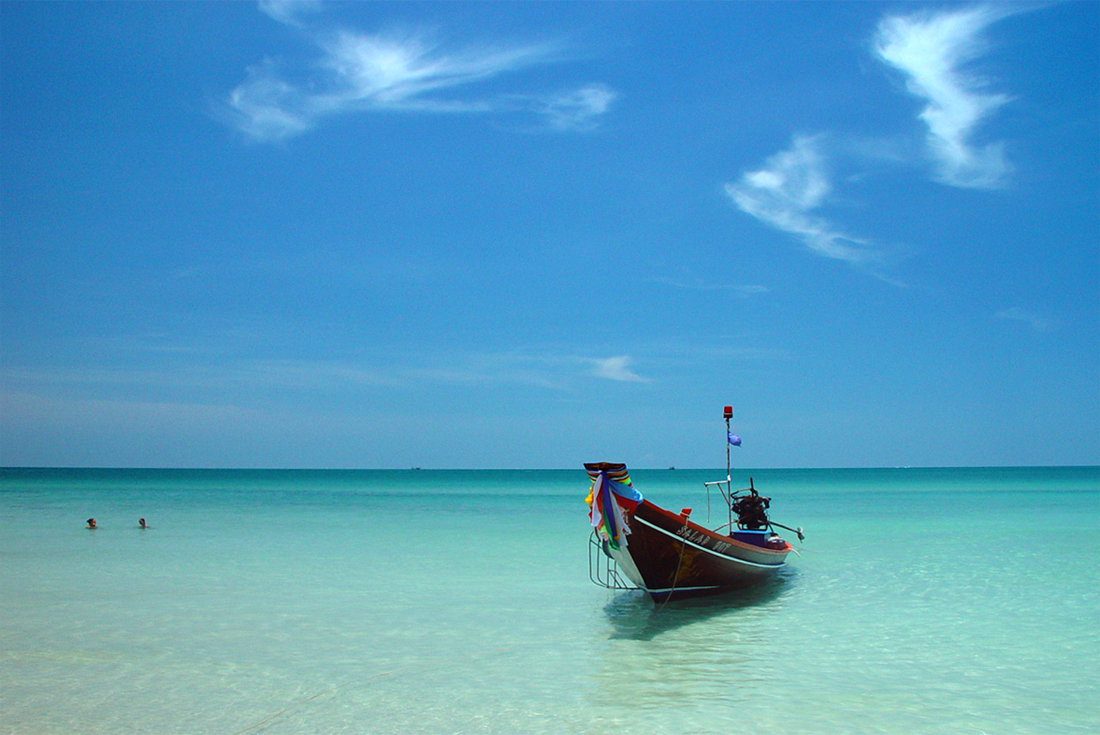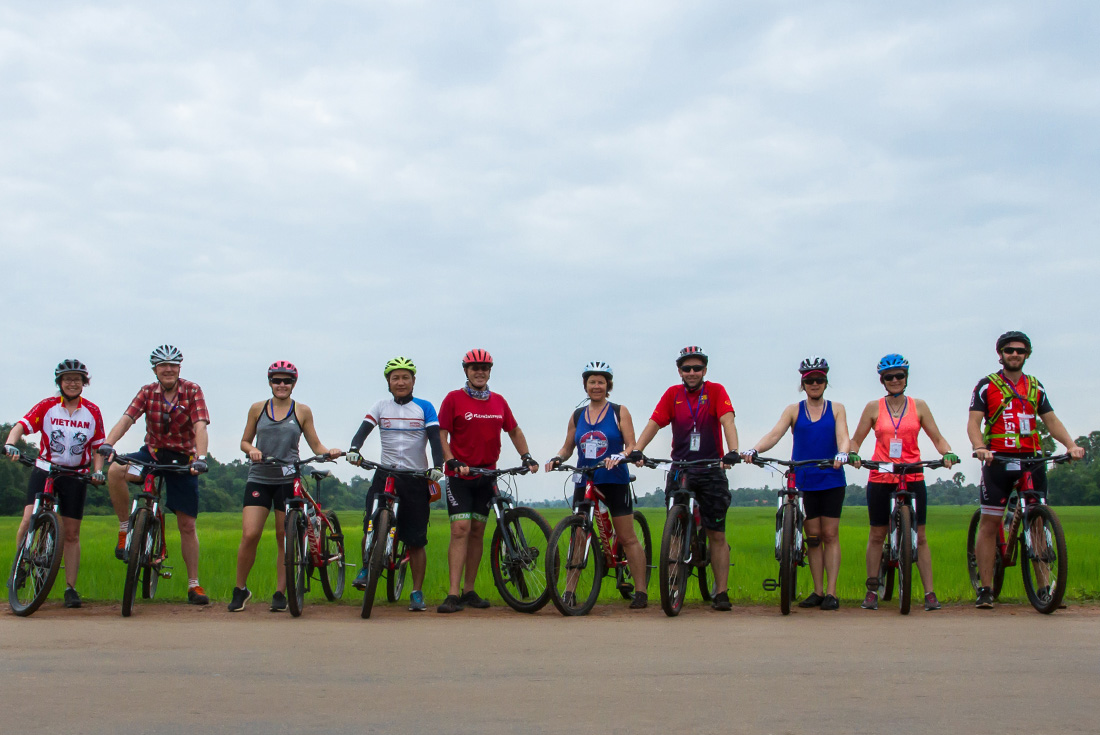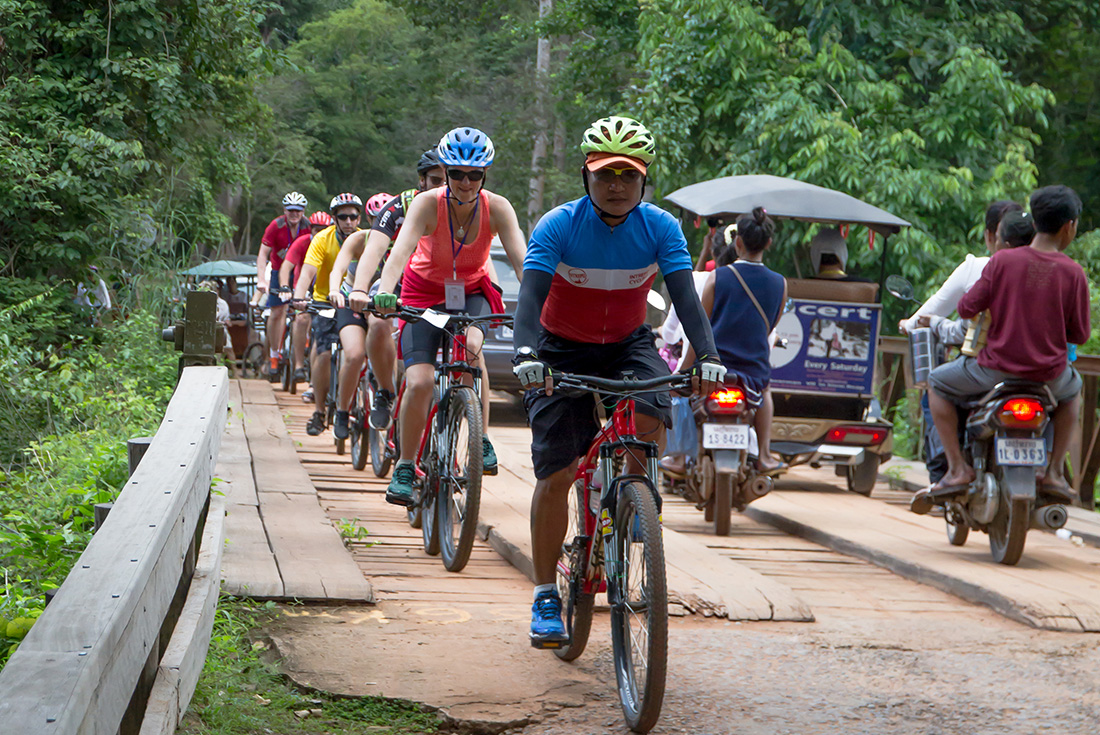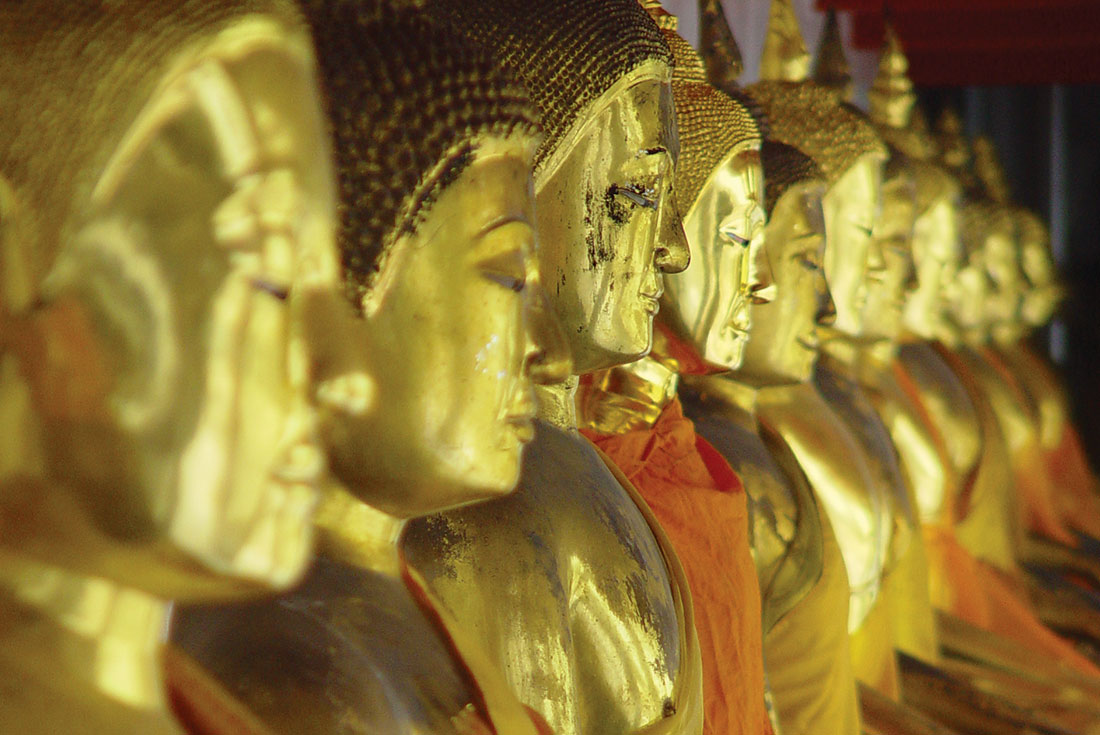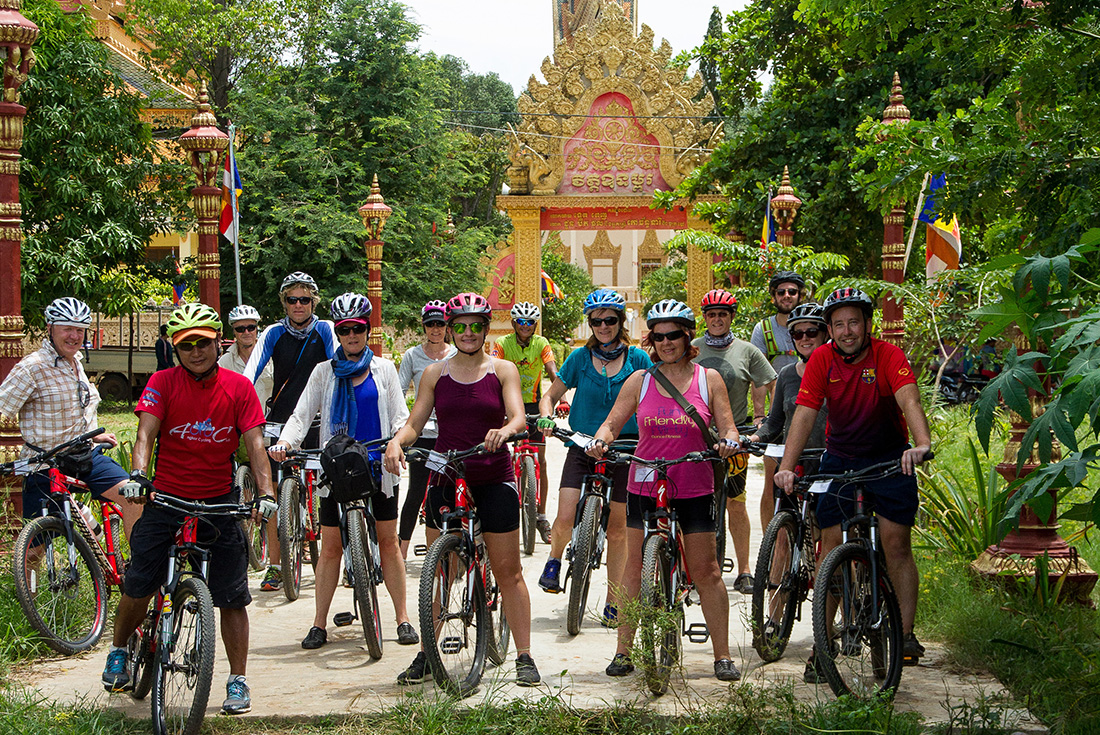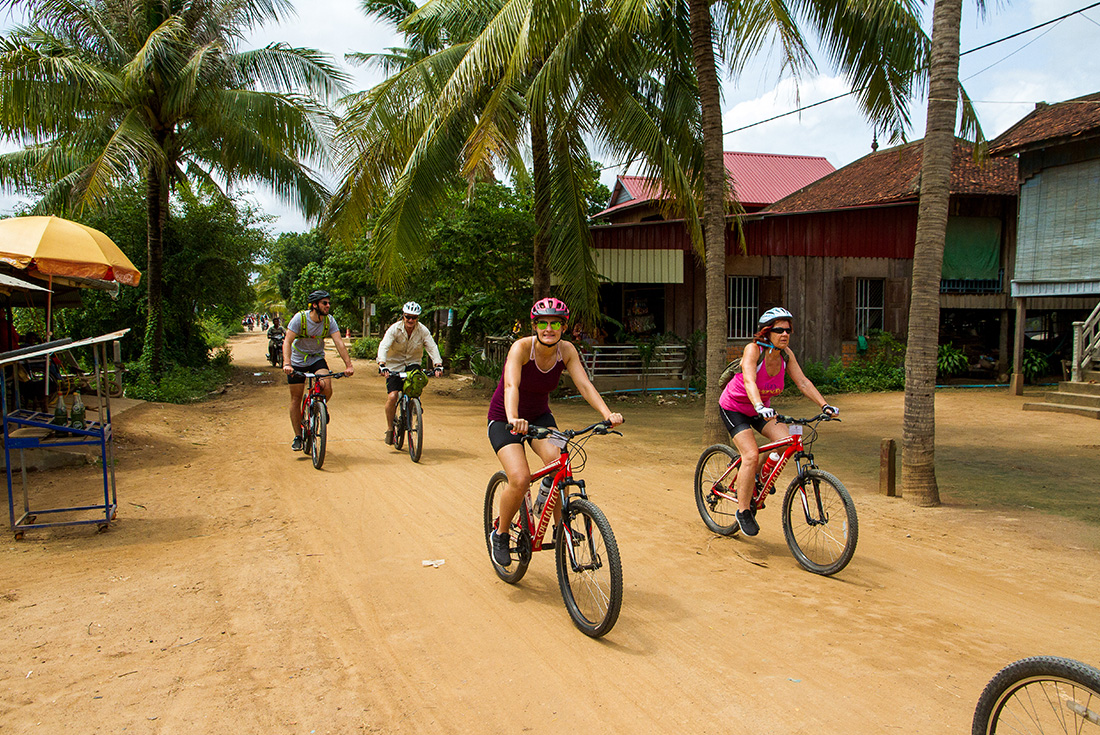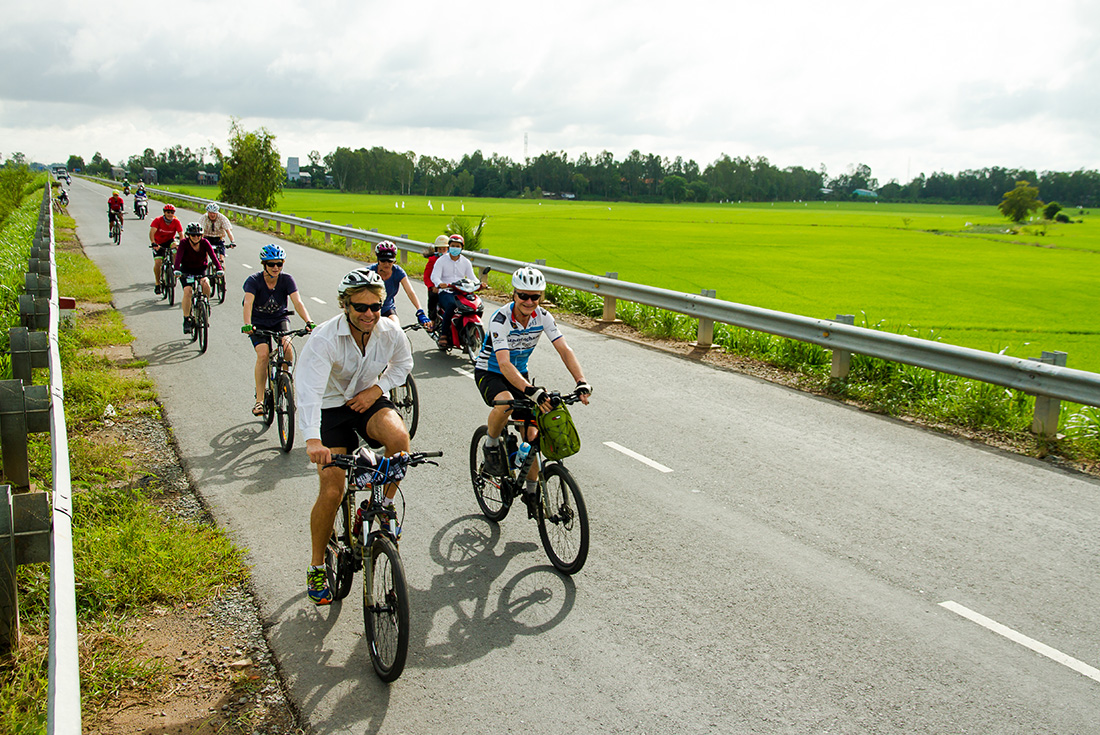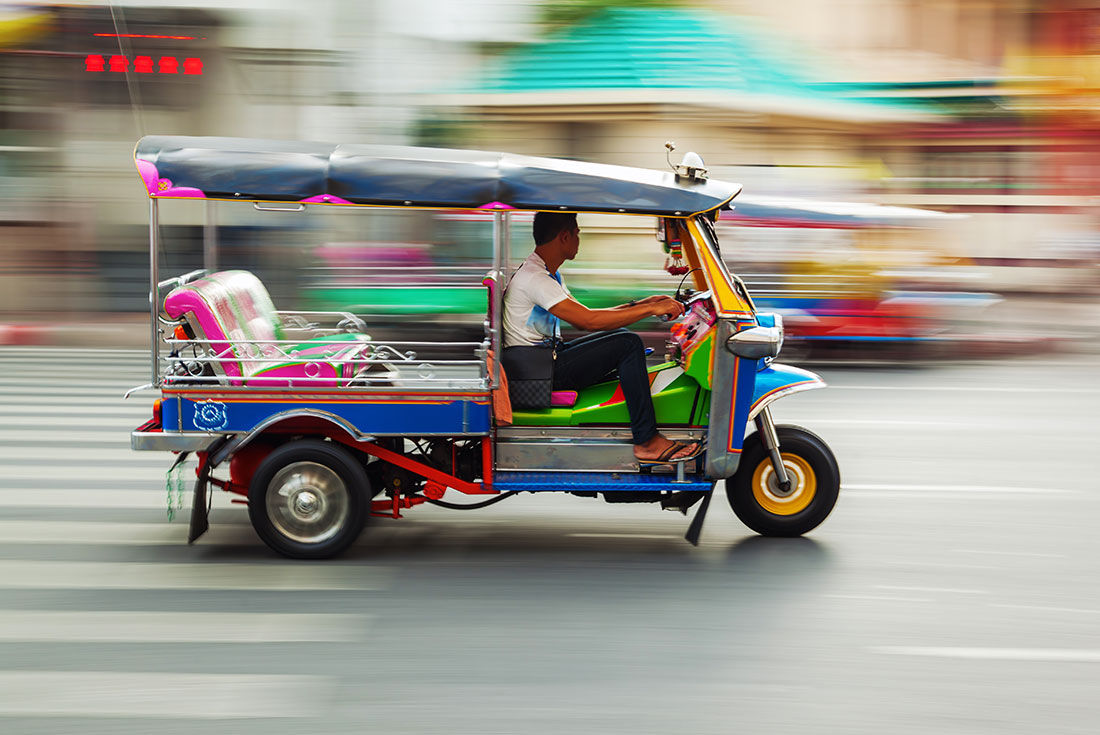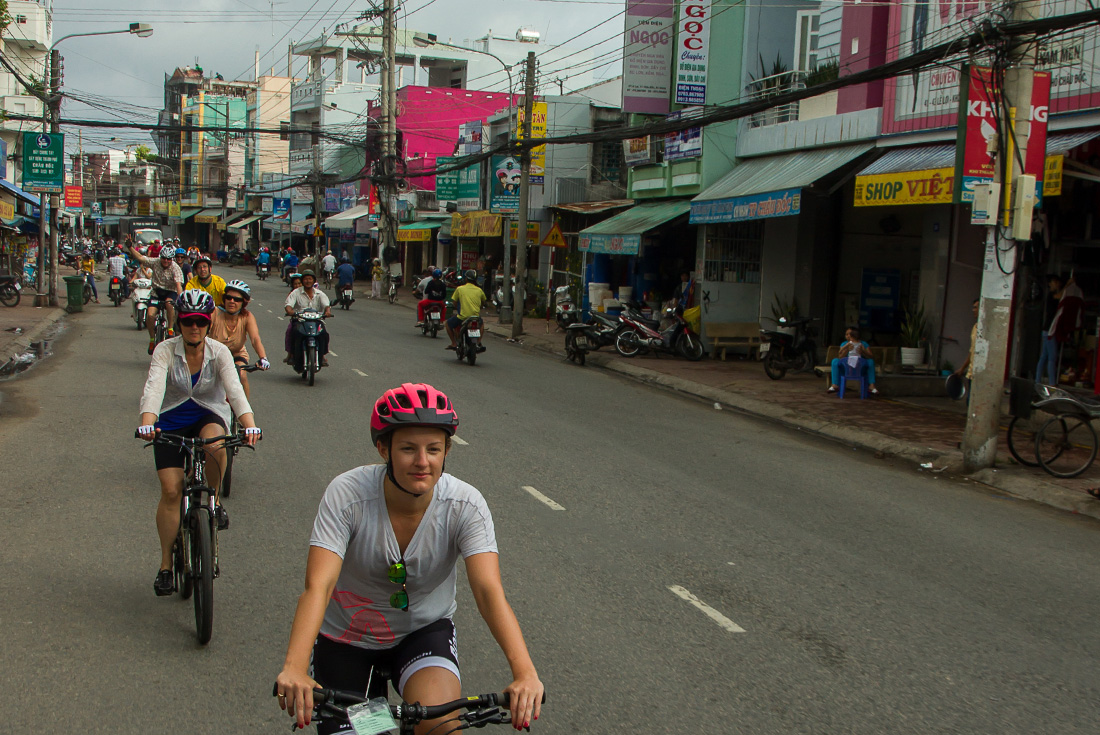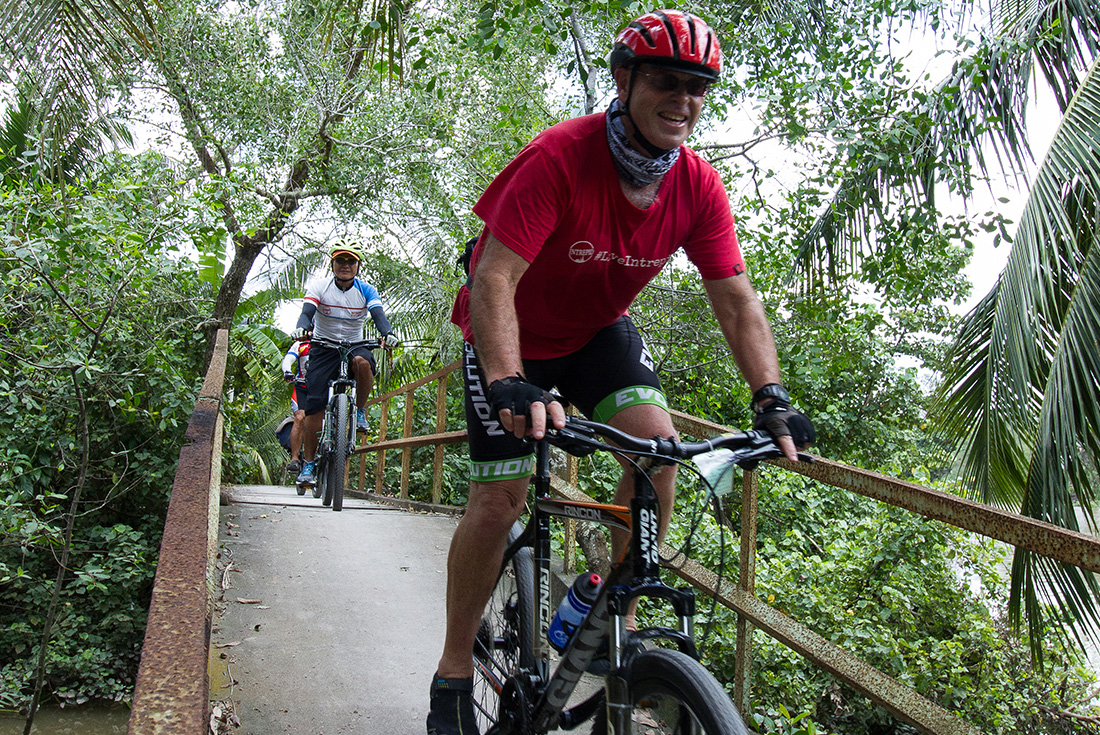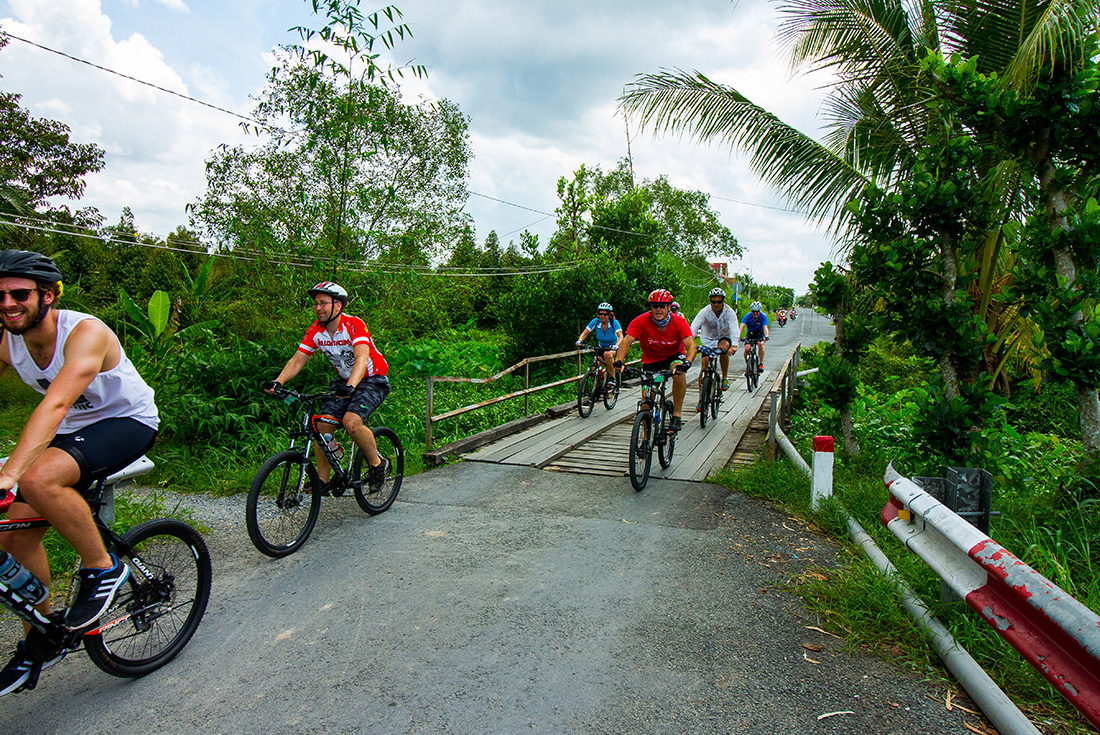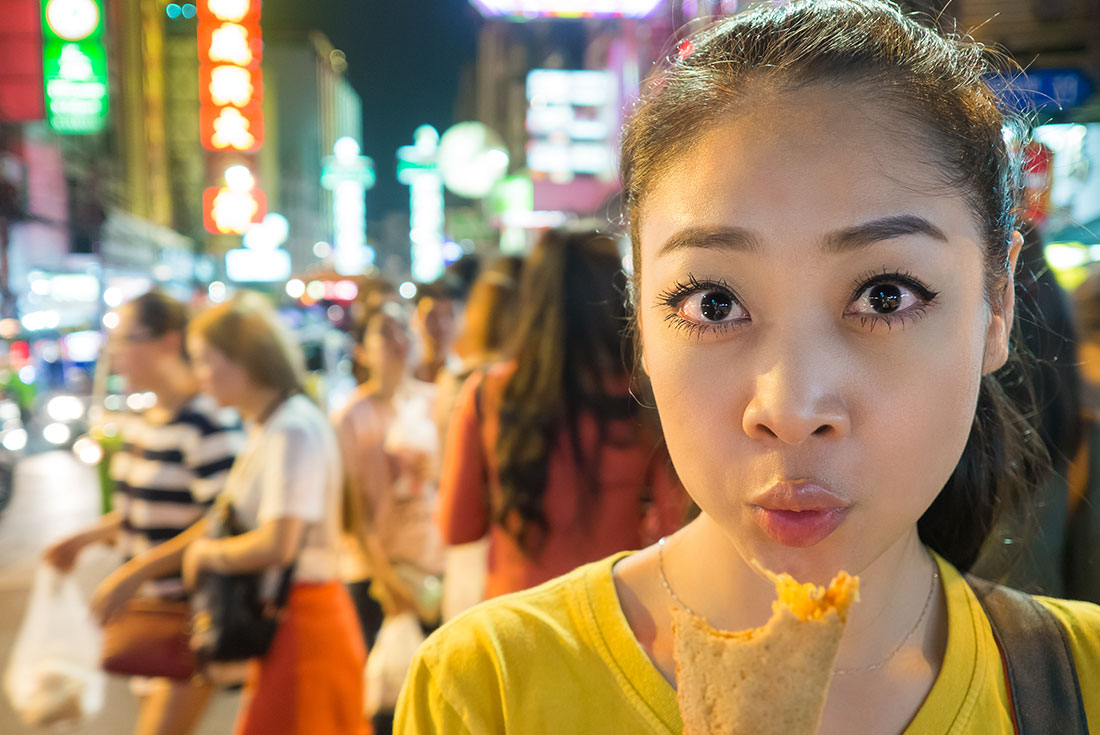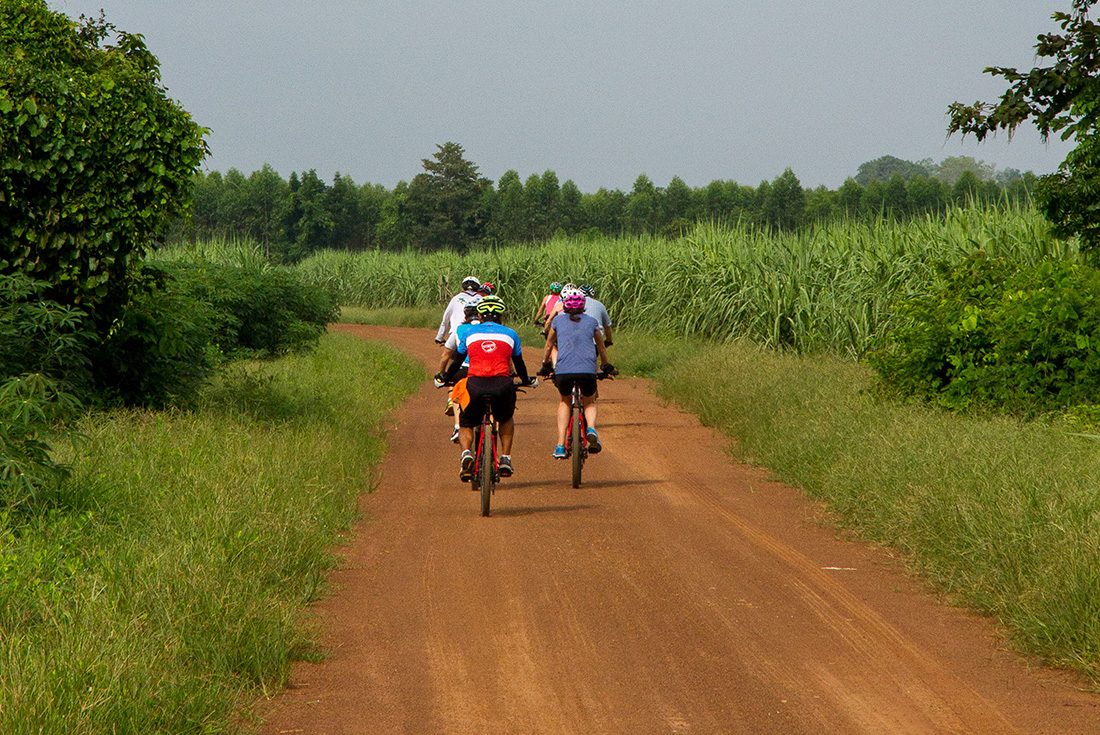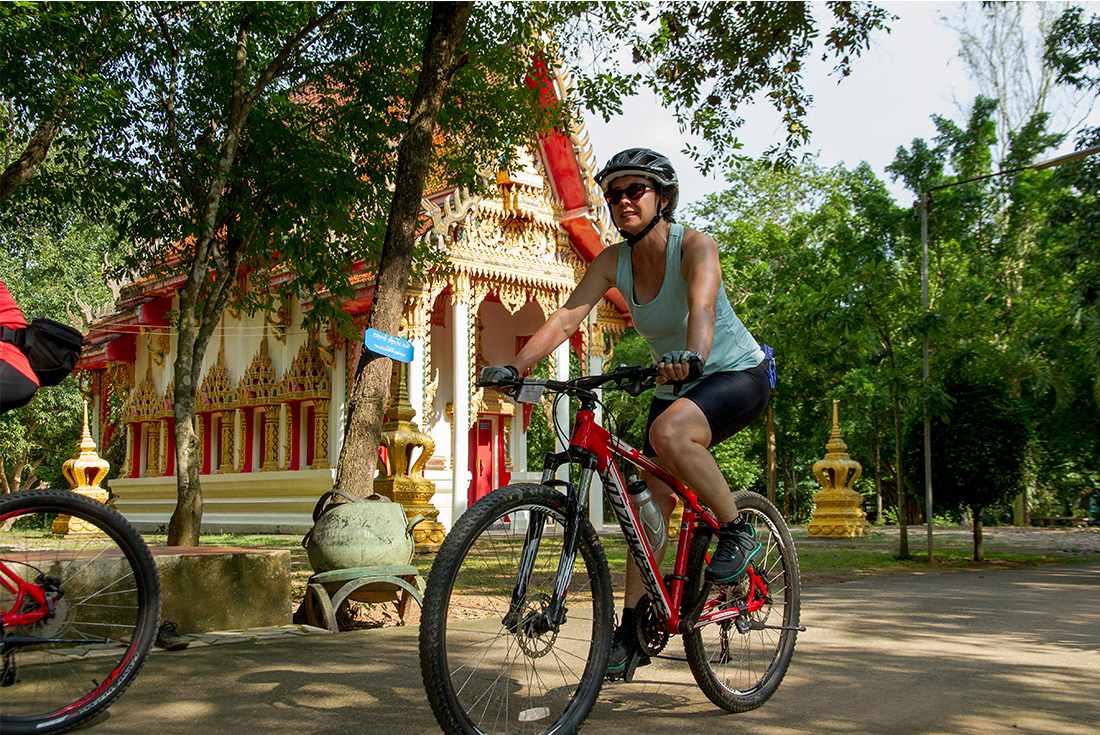 What's included
Expert Cycling Guide and Support Vehicle
7 day Bicycle hire
Bangkok Guided cycling tour
Ratchaprapha Dam guided & vehicle supported cycling
Khao Sok National Park
Takua Pa to Khao Lak guided & vehicle supported cycling
Phang Nga - Longtail Boat to James Bond Island
Phang Nga National Marine Park
Khao Lak to Phang Nga guided & vehicle supported cycling
Phang Nga National Marine Park boat tour
Phang Nga to Ao Nang (Krabi) guided & vehicle supported cycling
Check Availability
We have put a calendar of events together that will provide you with some inspiration of what you can expect on your holiday, and when the best time to jet off is. Now's your chance to travel further than you can by foot and be part of a memorable and exciting two-wheel journey with us.