Cycle Rajasthan
The enchanting northern province of Rajasthan is awash with all the colours of India. On our cycling adventure we see all sides of this fascinating state. Cycling means that everything is slower and up close in India. Interact with the wonderful local population of small towns, drink chai under a roadside tree with friendly locals. From the opulence and splendour of Maharajahs' palaces to Holy Lakes and the beauty of the Taj Mahal this cycling adventure has it all.
15 days
Difficulty: Moderate
Itinerary
Take the road less travelled as you cycle through the rural villages and majestic countryside of Rajasthan
Discover the rich history and architecture of Amber Fort, just outside of Jaipur, with the expertise of a local guide
Search for wildlife in the jungle of Ranthambhore National Park, the best place to see wild tigers in Rajasthan
Relive the legacy of the Rajput warriors by spending a night in a 400-year-old fort, which is now a family-run hotel surrounded by mango orchards
Marvel at the Taj Mahal, one of the most recognisable buildings in the world with the power to surprise even the most jaded traveller
By travelling on this trip, you'll directly support our Intrepid Foundation partner, World Bicycle Relief. Donations provide school kids, health workers, and farmers in far-out areas with bicycles that provide access to education, healthcare, and income.
By travelling on this trip, you'll directly support our Intrepid Foundation partner, World Bicycle Relief. Donations provide school kids, health workers, and farmers in far-out areas with bicycles that provide access to education, healthcare, and income.
Namaste and welcome to India. Please attend a welcome group meeting today at 6 pm to meet your fellow travellers and trip leader. You'll also meet your cycling crew and get fitted out for your bike. Please look for a note in the hotel lobby or ask reception where the meeting will take place. If you can't arrange a flight that will arrive in time, you may wish to arrive a day early so you're able to attend. We'll be happy to book additional accommodation for you (subject to availability). If you're going to be late, please inform the hotel reception. We'll be collecting your insurance details and next of kin information at this meeting, so please ensure you have all these details to provide to your leader. If you arrive into Delhi early, there are plenty of things to see and do. Perhaps pay a visit to the World Heritage-listed Humayun's Tomb or the 12th-century Qutub Minar. As the former residence of royal families and British soldiers, the Red Fort plays a vital part in Delhi's history and is a must-see. Otherwise book an Urban Adventure to see Delhi through the eyes of a local.
Riding distance: None
The day begins with an early morning warm-up ride (approximately 25kms). For the rest of the day, tour the sights of Delhi in a private vehicle. Explore Old Delhi, which has been an important city in India for well over 2,000 years. Visit the Jama Masjid (Delhi's oldest and India's largest mosque), the Sikh temple of Sheeshganj Gurudwara and India Gate, the latter commemorating soldiers who lost their lives fighting for the British Indian Army in World War I. In the late afternoon, take a five-hour train journey to Jaipur, the capital of Rajasthan. Bikes will be transported separately by vehicle to Jaipur.
Cycling distance: approx. 25kms/16 miles, mostly flat with approx. 125m/410ft of elevation gain, duration 2 to 2 ½ hours.
This morning explore the 'Pink City' of Jaipur by private vehicle and on foot. Visit the Amber Fort. Set atop a hill overlooking Maota Lake, the fort is a superb example of Rajput architecture. Entering the Sheesh Mahal (Hall of Mirrors) is a particularly memorable experience. You'll also have the option to visit Jaipur's Royal City Palace and/or one of the five astronomical observatories built by the founder, Jaipur Maharaja Jai Singh. At the end of the day you might like to sit back in the iconic Raj Mandir Cinema and enjoy a Bollywood blockbuster.
Riding distance: None
Depart Jaipur after breakfast and enjoy a ride to the sacred city of Pushkar. On the way pass several forts and make brief stops to take pictures. Upon reaching Pushkar in the evening, take a guided walk around the town. Pass the holy Pushkar Lake, where pilgrims come to cleanse themselves of sins and disease by bathing along the lake's 52 ghats. As the most important temple of its kind, head to Brahma Mandir – one of India's few temples dedicated to the Hindu creator-god Brahma. The main street of the town is a bustling tourist market and well worth a visit if you want to stock up on souvenirs.
Cycling distance: approx. 100kms/62 miles, mostly flat for the first 48kms/30 miles, then undulating, with approx. 465m/1525ft of elevation gain.
Spend the day cycling to the 'White City' of Udaipur. Known as the 'Venice of the East', Udaipur is often regarded as the most romantic city in India. Set amid the Aravalli Hills, the city curls around Lake Pichola, the two palaces of Jag Mandir and Jag Nivas rising out of the water in their own reflections.
Cycling distance: approx. 68kms/42 miles, undulating for the first 17kms/10 miles, then flat, with approx. 490m/1610ft of elevation gain.
Spend the day touring the sights of Udaipur with the group. Wind through narrow streets to the City Palace complex on the banks of Lake Pichola, which is the largest palace in Rajasthan. Pop into the impressive Jagdish Temple, dedicated to the Lord Vishnu. If time allows, perhaps visit the rose gardens of the Gulab Bagh, take a boat trip across Lake Pichola or participate in a Sitar lesson.
Cycling distance: approx. 14kms/9 miles, flat with approx. 90m/295ft of elevation gain.
We start our day with a 50km ride through the Chittorgarh countryside before boarding our support vehicle and driving towards Chittaurgarh itself (55kms, 1.5hrs) then climb back onto our bikes and cycle 22kms through the hills towards Bijaipur. From here we avoid riding on a main highway and transport south to Pangarh Lake, spending the night sleeping in a comfortable permanent tent camp.
On arrival, unwind with a cup of chai while watching the sunset over the lake and serene Vindhya Range. Enjoy a view out to the 15th-century Pangarh Fort, perched atop a hill to the north side of the lake.
Ride 1 – Cycling distance: approx. 53kms/33 miles, lightly downhill/flat with approx. 390m/1280ft of elevation gain.
Ride 2 – Cycling distance: approx. 22 kms/14 miles, uphill for the first 15kms, then downhill, with approx. 210m/690ft of elevation gain.
This morning, leave the campsite and cycle through farmland to the village of Bijaipur. On the way witness local rural life in action and, depending on the season, opium poppy fields in harvest. In Bijaipur stay in the 16th-century Castle Bijaipur, which is now a heritage hotel within the original fortified walls. Enjoy the palace's blend of colonial and Mughal architecture as you relax by the pool or in the gardens, pampered by the Mewar hospitality of the hotel's owners.
Cycling distance: approx. 17 kms/11 miles, undulating with approx. 150 m/490ft of elevation gain.
After breakfast, cycle on to charming Bundi. On arrival, explore the town on an orientation tour. Wander narrow streets packed with blue Brahmin houses, bazaars, temples and shops, and mingle with locals in the downtown market. Visit Bundi's ancient and ornately carved baoris (step wells), which once provided water to the city. Imposing itself over the town is the 17th-century Bundi Palace, where you can check out some exquisite murals.
Cycling distance: approx. 70 kms/43 miles, undulating/hilly with approx. 720m/2360ft of elevation gain.
Today, ride to Ranthambhore National Park. Once a hunting ground for the Maharajas of Jaipur, today it's a major wildlife park and the best place in Rajasthan to see tigers in the wild. The group will reach Ranthambhore by late afternoon, so you'll have plenty of time to rest up for an early start the next day.
Cycling distance: approx. 70 kms/43 miles, undulating with approx. 540m/1770ft of elevation gain.
Embark on a 4WD safari before dawn in search of leopards, wild boar, hyenas, nilgai, birds and of course, tigers. Deep in the jungle of the park is Ranthambhore Fort. Founded in 944 AD, few buildings have survived the ravages of war and time, but the ruins of Badal Mahal and Hammirs Court pavilions hint at its previous grandeur. In the late afternoon, explore a different sector of the park via 4WD to increase the chance of tiger sightings.
Notes: Ranthambhore National Park is closed between 1 July and 30 September each year. On the trips affected, we'll visit nearby Mansingh Sanctuary instead.
Cycling distance: none
Today is the final day of cycling. Depart Ranthambhore and reach your destination of Madhogarh by late afternoon. After saying goodbye to the cycling crew, explore the small village with your group. Enjoy famous Rajput hospitality when you spend the night in the 400-year-old Fort Madhogarh, built by Madho Singh Ji and once the battlefield of the Kachwaha Rajputs. In 2000, the fort was converted into a family-run hotel in order to finance its upkeep.
Cycling distance: approx. 31 kms/19 miles, flat/lightly undulating with approx. 320m/1050ft of elevation gain.
Today, travel by bus to Agra. Agra is a city of temples, gardens and palaces and is rich in Mughal heritage. Visit the Taj Mahal, built by Emperor Shah Jahan as a memorial to his wife Mumtaz. As described by the poet Rabindranath Tagore, this 'teardrop on the face of eternity' never fails to amaze. If you like, continue on to Akbar's Mausoleum.
Cycling distance: none
In the morning, tour the spectacular Red Fort. Founded by Emperor Akbar in the 16th century, its sandstone walls once enclosed the imperial city of the Mughal rulers. Wander around the fort's palaces, mosques and halls before the afternoon drive back to Delhi arriving late afternoon at about 5pm.
Cycling distance: none
There are no activities planned for the final day and you're able to depart the accommodation at any time. If you have a few extra days in Delhi why not jump on an Urban Adventure.
Cycling distance: none
Route overview
To complete this trip it is important that you are both confident and competent in riding a bicycle.
This trip covers anywhere between 25 to 90 km of cycling each day, so a reasonable level of fitness is required, although you'll have plenty of rest breaks. A support vehicle will also be with you at all times, so if you get tired you can jump in. This trip is suitable for those seeking an active adventure and is a wonderful way to see the sights of Rajasthan from a different perspective.
While riding the bikes you'll be exposed to the elements, so please ensure you're well prepared with waterproof clothing suitable for both warm and cold weather conditions.
We visit a number of temples on this trip, which requires a certain level of modesty. Please bring clothes that cover the arms and shoulders, with pants/skirts that go past the knee. A light-scarf is also ideal for covering shoulders and arms when it's hot.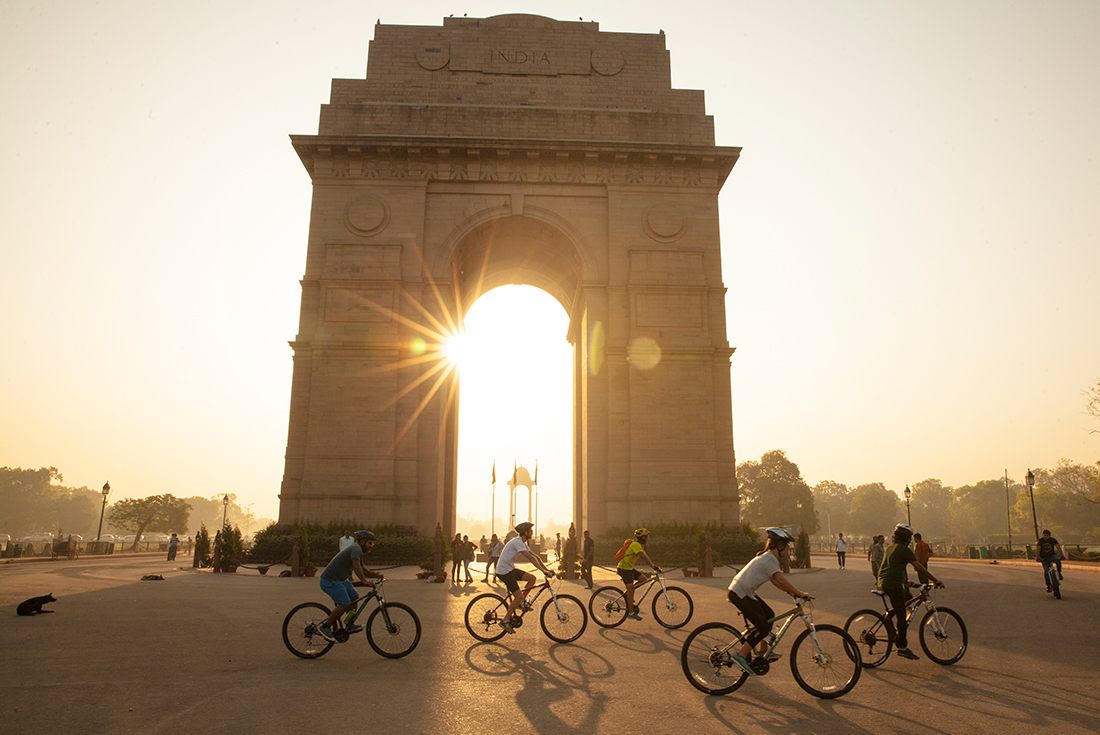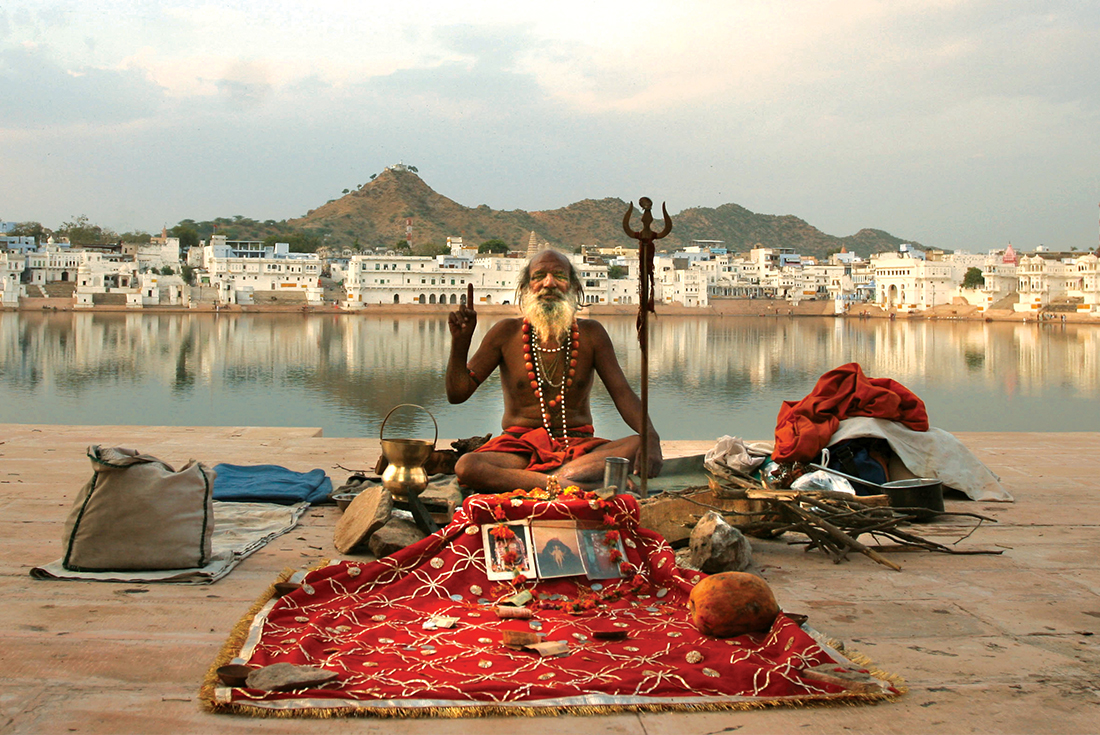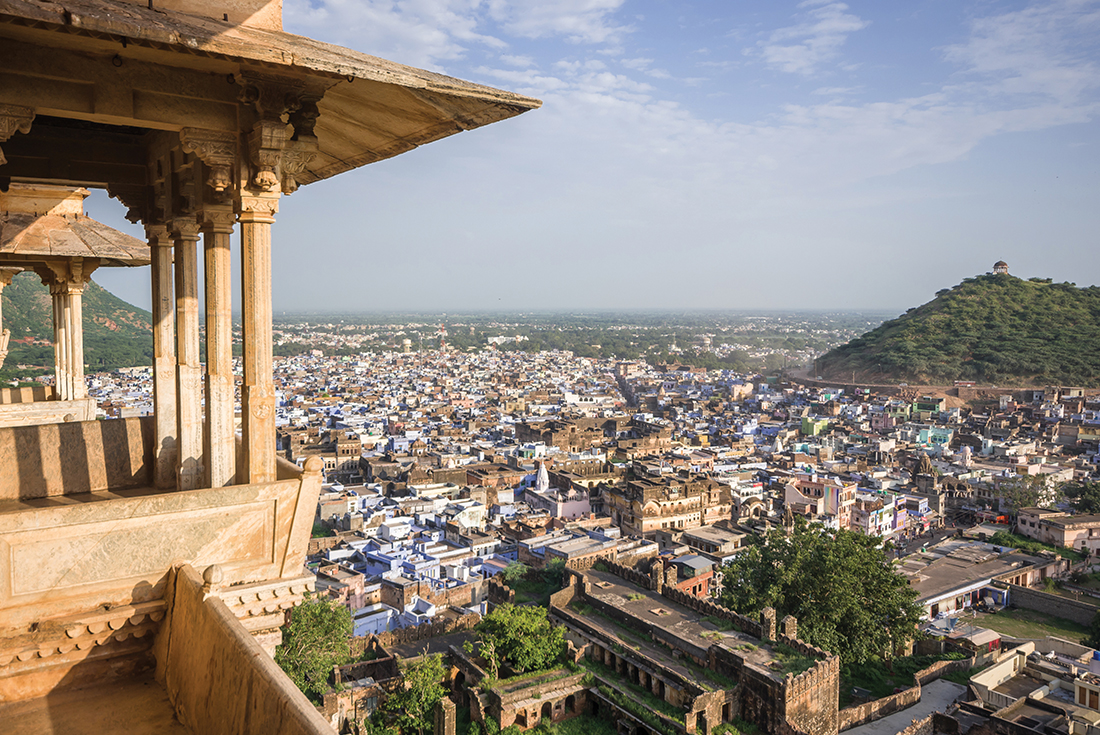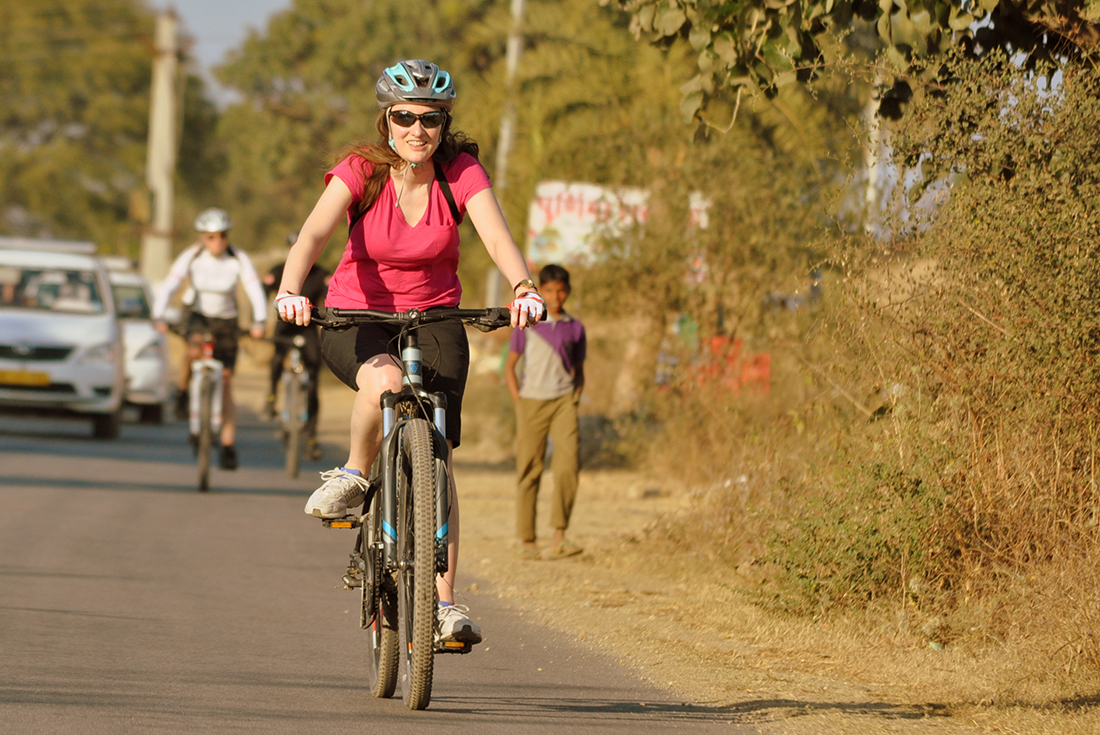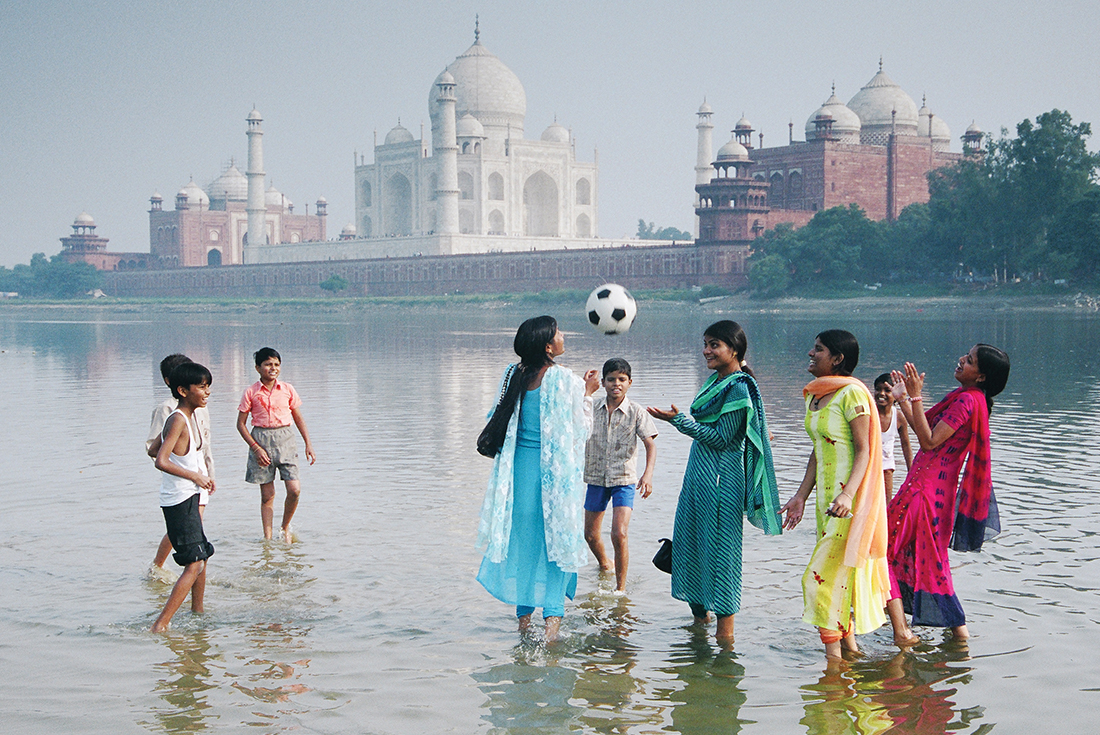 What's included
Delhi - Visit to the Jama Masjid Mosque
Delhi - Sheeshganj Gurudwara (Sikh Temple)
Delhi - Leader-led Old Delhi walking & rickshaw tour
Jaipur - Leader-led walking & market tour
Jaipur - Amber Fort
Pushkar - Leader-led walking tour
Udaipur - Leader-led walking tour
Udaipur - City Palace
Ranthambhore National Park - Morning Wildlife Safari
Madhogarh - Leader-led village walk
Agra - Taj Mahal
Agra - Agra Fort
Check Availability
We have put a calendar of events together that will provide you with some inspiration of what you can expect on your holiday, and when the best time to jet off is. Now's your chance to travel further than you can by foot and be part of a memorable and exciting two-wheel journey with us.