Cycle Provence
Wind your way past neat rows of vineyards, beneath towering aqueducts and through forests on this active cycling adventure through Provence. This journey through Southern France is an idyllic blend of scenic trail riding, historical sights and wine tasting. Visit the serene gardens of St Remy to see where Vincent van Gogh created his famous works. Savour regional red wines at a vineyard outside Avignon. Walk the cobbled streets of Les Baux and marvel at the stunning views from atop its limestone cliffs.
8 days
Difficulty: Moderate
Itinerary
Cycle through the same landscapes that inspired some of Vincent van Gogh's greatest masterpieces
Encounter rich Roman history and architecture in the historic towns of Arles and Orange
Stop in at famous vineyards outside Avignon and savour iconic French wines
Pass by fragrant fields en route to the spectacular three-tiered city of Pont du Gard
Search for wild white horses outside Camargue as you cycle to the Mediterranean Sea
By travelling on this trip, you'll directly support our Intrepid Foundation partner, World Bicycle Relief. Donations provide school kids, health workers, and farmers in far-out areas with bicycles that provide access to education, healthcare, and income.
Welcome to Avignon! Today is arrival day. There are no activities planned for today except for a welcome meeting at 6 pm. Your leader will be collecting insurance and next of kin details at this meeting, so please make sure you arrange a flight that will deliver you in time. If arriving early, perhaps pay a visit to the historic Palais des Papes and the Pont d'Avignon, or simply take some time to explore the leafy streets of this French city. 
Riding distance: none
After breakfast there will be a bike fitting session for the group followed by a short test ride to ensure everyone's equipment has been set up properly. Depart Avignon and cycle approximately 32 kilometres on quiet and flat country roads en route to Orange. Along the way, pass through the famous wine region of Chateauneuf du Pape and have the option to stop and enjoy a vineyard visit. Sample (in moderation) some of the red wine the region is so famous for then continue on the road to Orange. Note that the terrain will become a little more hilly as you approach Orange. After checking in to the hotel in Orange and cleaning up, head out on an orientation walk of this compact town, visiting the Arc de Triomphe d'Orange and the outstanding Roman Theatre, one of the best preserved Roman theatres in Europe.
Ride distance: approx. 32 kms/20 miles, mostly flat with a 100m climb near the end, approx. 250m/820ft of elevation gain.
Leave Orange behind and ride the quiet roads south to the delightful walled Provencal commune of Caderousse. Here, cross the mighty Rhone river and pass the medieval village of Saint-Laurent-des-Arbres, cycling past the vineyards producing Lirac wines, the favourite wines of historic kings and the papal community in Avignon. Continue west through wine country and on to the legendary Pont du Gard, widely considered to be one of the world's best preserved examples of a Roman Aqueduct. Towering high above the Gardon River, this three-tiered stone masterpiece never fails to impress. On a quiet day there may even be an opportunity to ride across it! After visiting the Pont du Gard we proceed west to the small town of Uzes with its graceful circuit of boulevards and cute cafes.
Ride distance: approx. 70 kms/44 miles, undulating with approx. 630m/2065ft of elevation gain
Today is a long day in the saddle that will be rewarded with impressive sights along the way. Hopefully the infamous mistral wind will be blowing from the northwest, providing a tailwind all the way to Saint Remy! Winding back across the Rhone, travel beneath the old city gate and into the small town of Tarascon. Take a short break from cycling to visit the imposing medieval castle, before sitting on the riverbank to learn about the legend of the Tarasque, the namesake of the town. After lunch, continue to the charming village of Saint-Remy-de-Provence. In distinct contrast to the surrounding larger cities and towns, Saint Remy displays a typically Provencal way of life. Visit the serene gardens of Saint-Paul Asylum where Vincent van Gogh was a self-admitted patient and where he painted many works of art, including 'Irises' and the famous 'The Starry Night'.
Ride distance: approx. 68 kms/43 miles, undulating with approx. 400m/1315ft of elevation gain.
Today is a free day off the bike to explore charming Saint Remy and it's surrounds. Indulge your inner Van Gogh, chill out in a Provencal cafe or if you are still keen for a ride our crew can suggest a short ride around the local area.
For those wanting a real cycling challenge we offer the option of tackling the legendary Mont Ventoux on a carbon road bike. Driving from Saint Remy to Bedoin early you will be riding on the mountain as the sun rises to beat the infamous Ventoux winds and summer heat. The unguided ride should take 3-4hrs, leaving enough time to grab a coffee and croissant before you rejoin your driver in Bedoin and then drive back in Saint Remy for a well-earned rest. This is at an additional cost – please book our 'Mont Ventoux Extension' by contacting your booking agent.
Ride distance: None
Hit the road again after breakfast. Today you start with a short 10 kilometre ride to the magical hilltop commune of Les Baux-de-Provence. Although the distance is short, it is also one of the more difficult rides. For those not wanting to ride uphill, your support vehicle is always available. The first climb through the forest is over quite quickly and is rewarded with a short but beautiful descent on possibly the smoothest road in all of France. Carry on through olive groves and vineyards before arriving at Les Baux, declared "one of the Most Beautiful Villages in France" thanks to its narrow cobbled streets and jaw dropping views of the surrounding countryside. Visit Chateau des Baux, which sits perched on a limestone cliff with magnificent 360 degree views.
After visiting Les Baux it's time to hop back on the bikes for a short ride through the Val d'Enfer (Valley of Hell) and its beautiful white limestone rock formations. From here, it is a pleasant downhill and flat ride to Fontvieille then follow the peaceful Canal d'Arles alonside the Rhone River all the way into Arles (approximately 40 kilometres). Park the bikes and enjoy an orientation walk of this popular Roman town, passing by many famous sites such as the Place de la République, Van Gogh's Cafe Terrace on the Place du Forum and the UNESCO World Heritage listed Roman Amphitheatre. For those wanting to explore further there are countless museums, Roman buildings and reminders of Vincent Van Gogh's glorious paintings on every street.
Ride distance: approx. 50 kms/31 miles, hilly for the first 20kms then mostly flat with approx. 425m/1395ft of elevation gain.
Swap vineyards for waves on a ride south to the capital of the Camargue, Saintes-Maries-de-la-Mer on the shores of the Mediterranean Sea (approximately 41 kilometres). Set on the Rhône River delta, the lakes of Camargue are a bird spotters paradise and home to more than 400 species of birds. The area is also known for its famous white Camarguais horses, often seen running free around Camargue.
After lunch we return to Arles by vehicle. If you are feeling fit you may choose to ride back to Arles but please note that this is optional and will not be supported by either the leader or our vehicle, as that is driving back to Arles.
Tonight the group will enjoy a final dinner together.
Ride distance: approx. 41 kms/26 miles, completely flat with approx. 25m/80ft of elevation gain.
This cycling adventure comes to an end. Say farewell to your new friends and depart Arles at any time.
Ride distance: none
Route overview
This trip covers quite some distance, with cycling for up to 60 kilometres a day on varied terrain with a few hills. As well as obviously the ability to confidently ride a bike, in reality you only require a reasonable level of fitness to participate.
On this trip we have a single leader that rides with the group, and another that drives the support vehicle (acting as a back marker where needed). Where the vehicle cannot travel directly with the cyclists (e.g. a cyclists-only path) your leader will assign a person from the group to act as a back marker.
There's the possibility of a few hiccups along the way – a puncture here and there – but there's no doubt this is an incredibly rewarding adventure.
You'll be spending your nights in hotels all the way, ranging from comfortable to basic level, but they'll always be authentic and a great opportunity to interact with the locals and fellow travellers.
The weather in this region can be varied depending on the season. Be prepared to get sweaty and for the occasional rainstorm, which may require a change of plans.
If you feel like doing all the riding but with less effort we have the option of hiring an electric bike (e-bike) on this trip.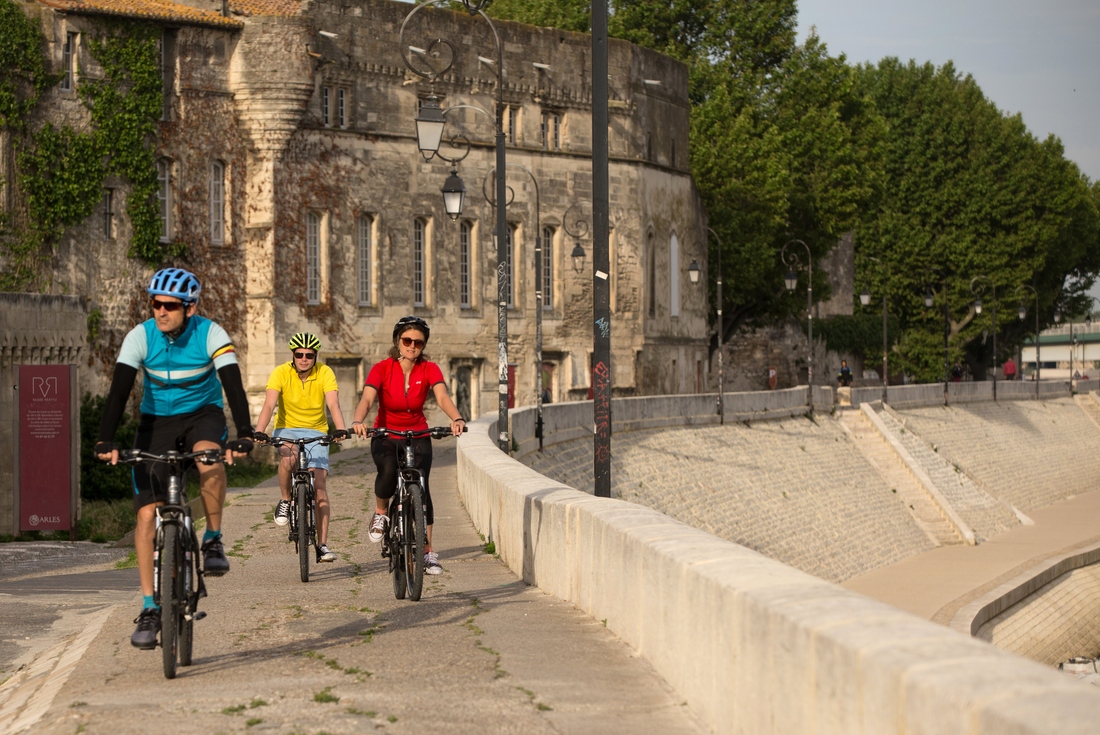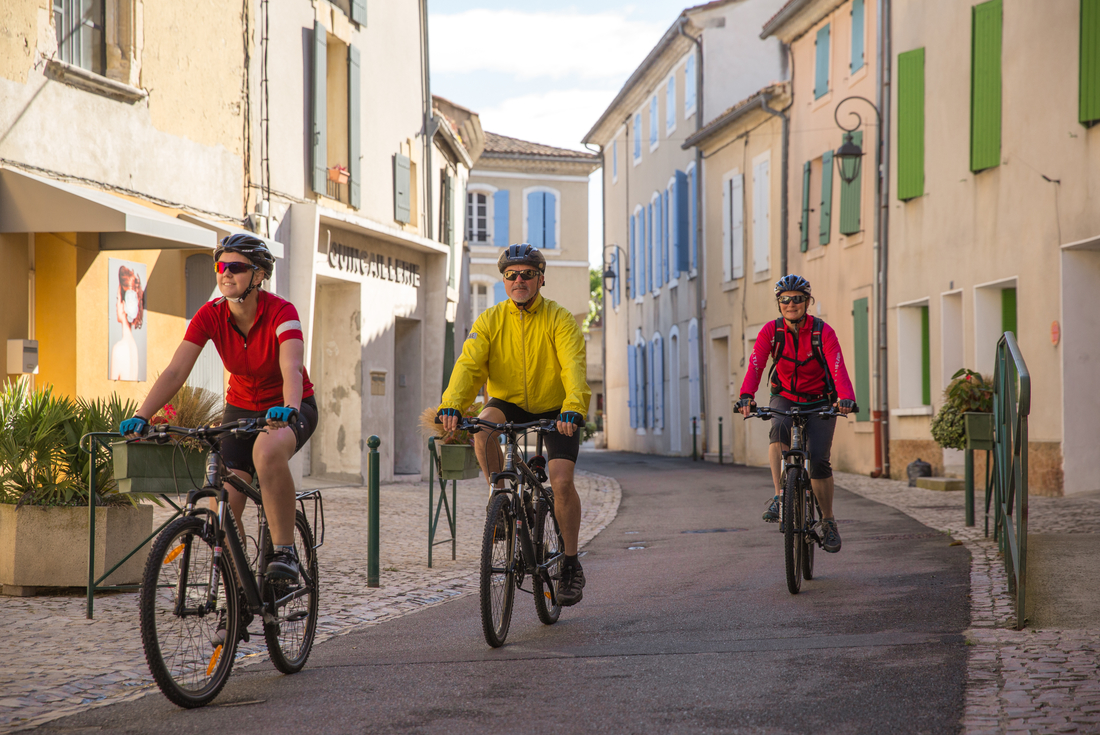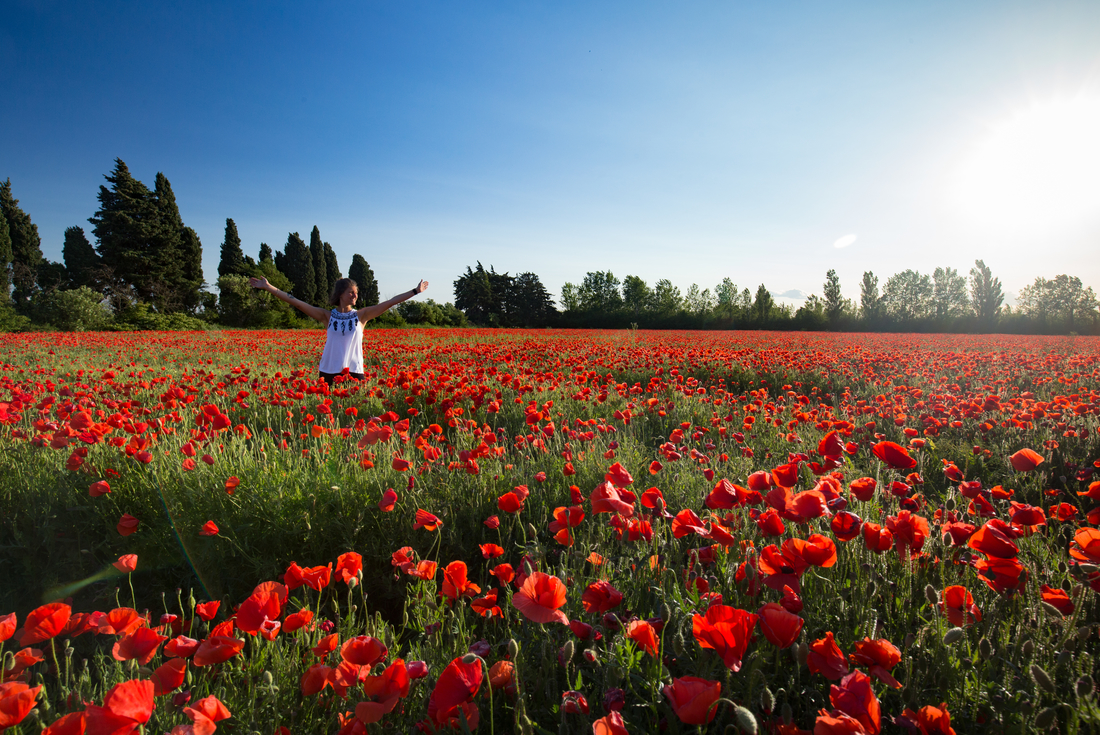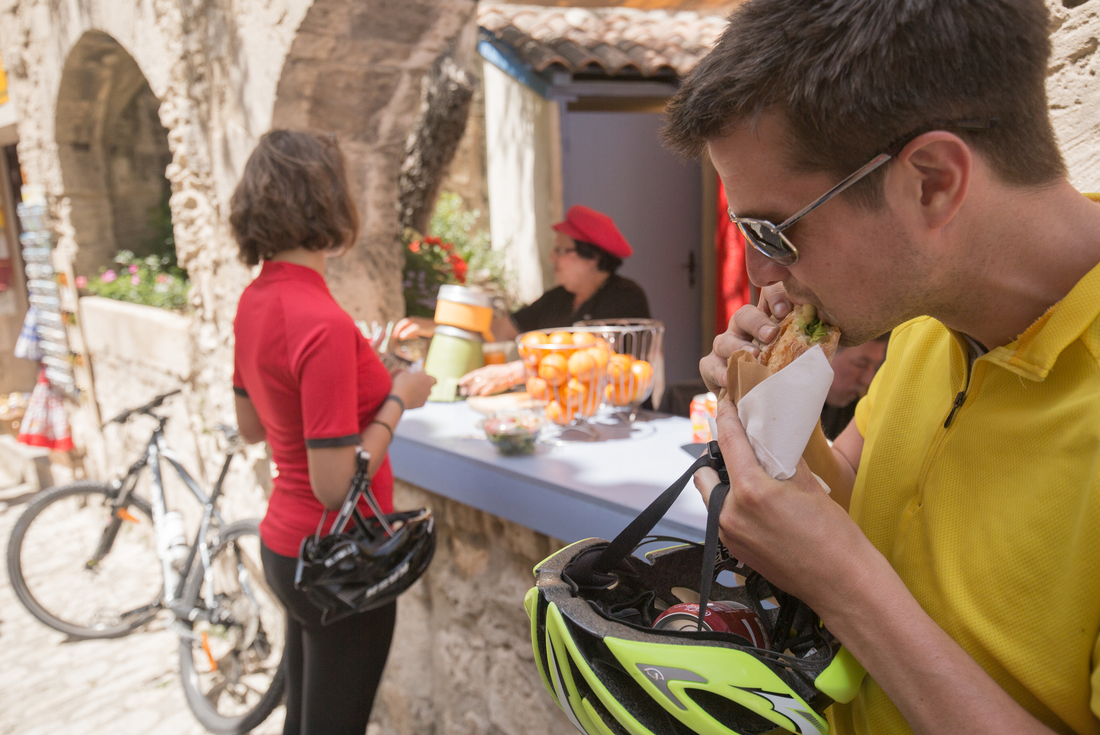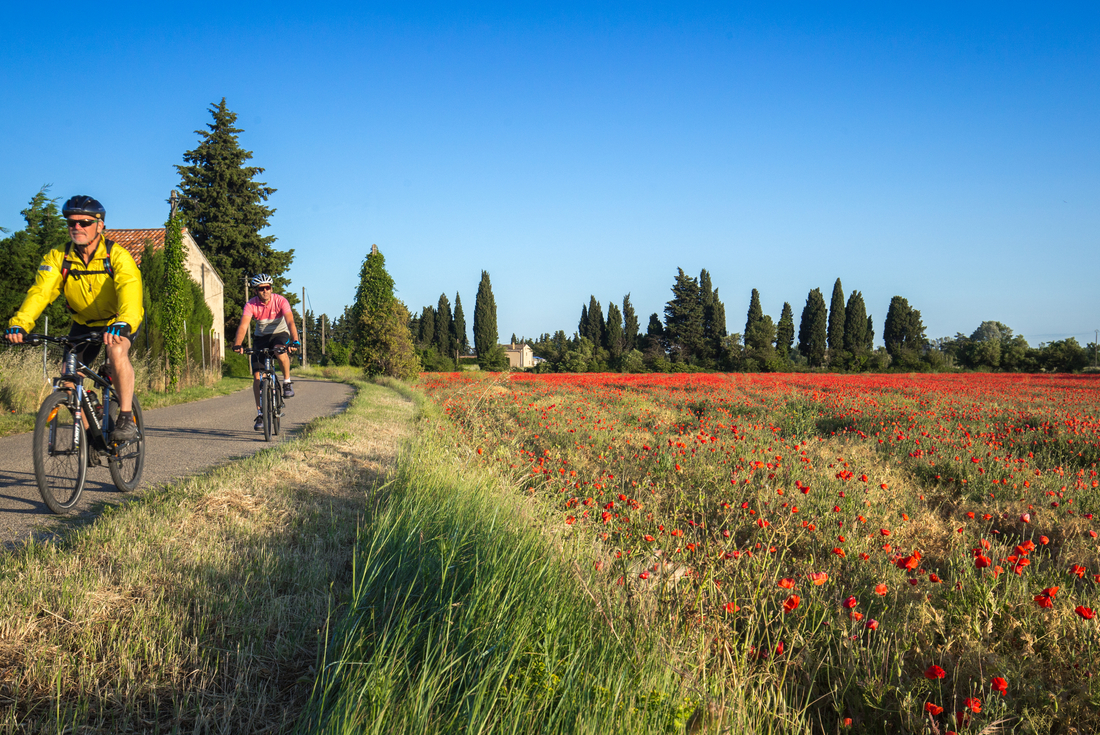 What's included
Orange Roman Theatre
Pont du Gard Entrance
Saint Remy - Van Gogh Asylum visit
Arles Amphitheatre
Castle Visit - Les Baux de Provence
Check Availability
We have put a calendar of events together that will provide you with some inspiration of what you can expect on your holiday, and when the best time to jet off is. Now's your chance to travel further than you can by foot and be part of a memorable and exciting two-wheel journey with us.