Cycle Japan
From world-class sushi to legendary geisha, enthralling Japan is the perfect destination to discover by bicycle. Our cycling adventure gives you a slowed down, up close look of this fascinating country and allows ample opportunity to meet locals and glimpse the unique culture of the Land of the Rising Sun. From the temples, shrines and geisha of Kyoto to the frenetic but exhilarating chaos of Tokyo, and the beautiful serenity of the Noto Peninsula countryside in between, this cycling adventure has it all.
11 days
Difficulty: Moderate
Itinerary
Cycling allows you to get closer to the real Japan – from bicycles to Pokemon, serene temples to the organised chaos of the big cities, this classic adventure has it all.
Choose to end rewarding days in the saddle with amazing Japanese feasts of sushi, unagi, tempura or even fugu, all washed down with a traditional sake or Sapporo beer.
Ride both bikes and trains for the ultimate change of pace.
Cycle through peaceful landscapes that show a land far from the big city lights of Tokyo.
By travelling on this trip, you'll directly support our Intrepid Foundation partner, World Bicycle Relief. Donations provide school kids, health workers, and farmers in far-out areas with bicycles that provide access to education, healthcare, and income.
Konnichiwa! Welcome to Kyoto. Serving as Japan's capital and the emperor's residence from 794 until 1868, Kyoto is the spiritual centre of Zen Buddhism and one of the most historically important cities in Japan. Unlike many of its neighbours Kyoto escaped destruction during World War II and thousands of temples, shrines and other historically invaluable structures survive in the city today. This adventure begins with a welcome meeting at 6 pm where you'll meet your tour leader and fellow travellers. You can arrive at any time during the day as there are no activities planned until this important meeting. Afterwards, head out on an evening walk before choosing whether you want to join the group for an optional dinner or hit the streets solo.
If you arrive early, Kyoto offers a myriad of options to explore. For a taste of Shogun life, head to the World Heritage-listed Nijo Castle, perhaps the best surviving example of castle palace architecture from Japan's feudal era. See how the Emperor lived at the Sento Imperial Palace within Kyoto Imperial Park, an attractive park in the centre of the city. Or for a quieter moment, you may wish to contemplate silently in one of the serene karesansui (Zen gardens) that dot the city.
Ride distance – no included riding today
After breakfast and a safety talk by your leader, familiarise yourself with your bike and take a short test ride before cycling with the group west from our ryokan to the Katsura River, then north along a dedicated cycling path past traditional houses and community gardens to the ancient imperial resort of Arashiyama. Stop off for a coffee break in Arashiyama, well-known for its gorgeous bamboo forests. After a caffeine hit and a chance to soak up the peaceful atmosphere, ride on to Tenryuji Temple and Ryoanji Temple, with its famous white Zen rock garden. Pause here to contemplate the sound of one hand clapping and then move on to contemplate some lunch.
Afterwards, cycle east across the north end of Kyoto and then onto the Path of Philosophy and the Higashiyama area before returning to our accommodation. The ride today will be gentle, with only slight elevation on the roads as we head into Arashiyama. We start with a 5 kilometre ride on a main road, then follow dedicated bicycle paths and secondary roads for the rest of the day.
On arrival back into Kyoto, take an evening orientation tour of Kyoto's Gion district. Observe Geisha and Maiko (apprentice Geisha) from key spots in the city's old back streets and be tempted by some of the area's great local restaurants, perhaps doubling back to visit for dinner after the tour has ended.
Kyoto's streets are laid out in a convenient grid pattern, which is unusual for Japanese cities. In the 8th century, imperial city planners copied the grid layout of Chang'an (now Xian), the capital of the Tang Dynasty China. That's not the only benefit we reap from the Tang Dynasty today – two well-known Tang engineers, Ma Jun and Zhang Heng, invented the mechanical gear system used by the bikes we ride around this easy-to- navigate city. Arigato Tang Dynasty!
Ride distance: approx. 40kms/25 miles, undulating with approx. 230m/755ft of elevation gain.
The cycling route takes you through beautiful Japanese scenery on a dedicated riverside cycling path from the old capital of Kyoto to the even older capital of Nara. Here, you'll see the Giant Buddha housed in the largest wooden structure on the planet. This city is well known for its Todaiji Temple and its cute, free-roaming wild deer. Head south along the river for most of the day, stopping briefly at Nagarebashi Bridge, a 356-metre wooden bridge that is a popular film location for samurai dramas.
Return by train to Kyoto.
Ride distance: approx. 50kms/31 miles, mostly flat with approx. 240m/790ft of elevation gain..
It's a fairly relaxing day today as we rest up before hitting the hills of the Noto Peninsula.
Take the train from Kyoto to Kanazawa where we enjoy a leisurely bike ride across the city seeing the best it has to offer. Ride past the famous gardens, including leafy Kenrokuen, one of Japan's greatest gardens, and the old Geisha and Samurai districts. It's a truly beautiful place to enjoy by bike. Please note we ride to most of the sites but cover them by foot once we are there.
Ride distance: Approx. 10-15 kms (6-9 miles), mostly flat with approx. 80-140m (260-460ft) of elevation gain
Over the next four days, discover the heart of the rustic Noto Peninsula. This laid back part of Japan truly captures the Japanese concept of ''satoyama', society in harmony with nature, and 'satoumi', coastal areas in which the sea has a strong connection with peoples' livelihoods.
Your first ride on the Noto Peninsula is a special one as you cycle along the scenic coast to Myojoji Temple for an introduction to Japanese Nichiren Buddhism. Discover quiet coastal roads and spectacular ocean views, riding back in time through sleepy fishing villages and farmland.
Highlights today including riding on Chirihama Beach Drive, an 8 km stretch of beach along the Sea of Japan that allows you to take a short ride along the sand right along the water's edge, as well as passing by the Hatagoiwa rocks, home to Japanese sacred spirits.
Tonight we sleep in the small town of Togi.
Ride distance: approx. 80kms/50 miles, undulating with approx. 520m/1700ft of elevation gain.
A slightly shorter ride today as we cycle northwards along more scenic coastal lanes, small villages and beautiful rice paddy terraces. Leaving the coast, the road passes through the hilly Noto mountains to the charming port-town of Wajima, known producing some of the finest lacquerware in Japan.
Along the way take a short rest at Masuhogaura Beach – at 460m/1500ft long you should be able to find some space on the 'World's Longest Bench' to stretch those tired legs – and also keep an eye out for the famous Totoro rock along the way. Experience some of the Noto Peninsula's culture as we visit the Kadomi House – a traditional house owned by small cargo vessel wholesaler. Built in the 1870s it is a fascinating insight into traditional Japanese life.
Ride distance: Approx. 55kms/35 miles, undulating with a longer climb at 38kms. Last 10kms is downhill. Approx. 520m/1700ft of elevation gain.
Today is our toughest riding day, but one rich in rewards as you hug the dramatic and hilly coastline of the Sea of Japan. Marvel at the famed Shiroyone Senmaida (A Thousand Rice Paddies in Shiroyone) where the 1004 small rice paddies cling impossibly to the steep slopes that plunge towards water, creating a beautiful and bright contrast to the background of the deep blue Sea of Japan. Passing by the small villages and dramatic waterfalls we make our way up the peninsula to coastal Suzu, at the very tip of the Noto Peninsula. You'll also visit a unique local salt farm that uses a traditional salt-making method called "Agehama-style salt-making" has been passed down through the generations.
After a long ride choose to put your feet up, visit a Suzu-yaki pottery shop, check out the sea (and lighthouse) views at Rokko Saki Point or marvel at the Mitsukejima (Found Island), a massive rock island right off the coast of Suzu.
Ride distance: approx. 80kms/50 miles, undulating with several steep hills, flat towards the end, with approx. 1150m/3775ft of elevation gain.
Your final ride on the Noto Peninsula sees you heading south, passing small rural villages, towering mountains and some of the most beautiful coastline and beaches in the area, finishing in Anamizu before boarding a local train for the rest of the journey. Your final destination today is Wakura Onsen, a hot spring town with a history stretching back 1200 years. Today is again an undulating ride but a fairly relaxed one – and the chance to soak your weary legs in the therapeutic waters of the hot spring baths is usually motivation enough to keep going!
Ride distance: approx. 70kms/43 miles, undulating with several steep hills, approx. 770m/2525ft of elevation gain.
No trip to Japan is complete without experiencing the country's legendary train system. Swap your bike for a train and watch the scenic landscape fly by on a  journey (approx. 5 hours) to Tokyo. Hit the streets on arrival for a night-time orientation walk. Explore the contemporary centre of town as well as the old streets, and feel the hum of modern life in this famous city.
Riding distance: None
Hold on to your helmets because there's a real treat today – two rides in one day! Get a better feel for the different areas of the city this morning as you cycle along the same local paths Tokyoites use to cut through the city. There are surprises, both old and modern, waiting at every turn along the way and architecture aficionados will be in heaven.
Along the way we visit many of Tokyo's most famous landmarks; the first ride passing along the cherry tree lined paths of Ueno Park, home of Tokyo's most popular museums and temples, Akihabara gadget town, the 'Japan Bridge' district of Nihonbashi, and upmarket the district of Ginza with its dazzling array of high-end shops, galleries and cafes.
We break between rides to enjoy lunch at the famous Tsukiji Outer Fish Market before commencing our second ride to see such luminaries as the Edo-era Imperial Palace, the 333m-high Eiffel Tower lookalike Tokyo Tower, the elegant Hachimangu Shrine, Tsukishima (Moon Island), the manmade island in Tokyo Bay, and of course the Skytree Asakusa, at 634m the tallest building in all of Japan
Later enjoy a free evening to spend as you see fit – enjoy a quiet night, let loose at karaoke, or walk and drink your way across the city with your local leader.
Ride distance: approx. 40kms/25 miles, mostly flat with approx. 200m/650ft of elevation gain.
Sadly it's time to say farewell to this great Japanese adventure. There are no activities planned for the day and you're able to depart the hotel at any time. Check-out time is 11 am but if you're departing later, you can arrange luggage storage at the hotel. If you have time why not check out the amazing Urban Adventures on offer in this eclectic city such as 'Japan's Cultural Curiosities'. Read more at: www.urbanadventures.com/tokyo-tour-Japan-s-Cultural-Curiosities
Ride distance: none
Route overview
While the cycling distances on this trip are relatively short (anywhere from 10 to 80km / 6-50 miles of cycling each day) the terrain of the Noto Peninsular is naturally hilly and, being coastal, the climate can vary dramatically. Most people with a reasonable level of fitness will enjoy the trip, but remember we will always have the support vehicle on hand if you need to take a break for an hour or a day.
To complete this trip it is important that you are confident and competent in riding a bicycle, both solo and in a group environment.
While we always aim to ride to our next accommodation, outside of the main cities a support vehicle will also be with you at all times. Please note that the maximum number of cyclists we can fit in the support vehicle is 6.
On this trip we have a single leader that rides with the group, and another that drives the support vehicle (acting as a back-marker where needed) There may be times when a client is asked to be the back marker if the vehicle cannot travel directly behind the group.
If you feel like doing all the riding but with less effort we have the option of hiring an electric bike (e-bike) on this trip. Limited sizes are available so book quickly!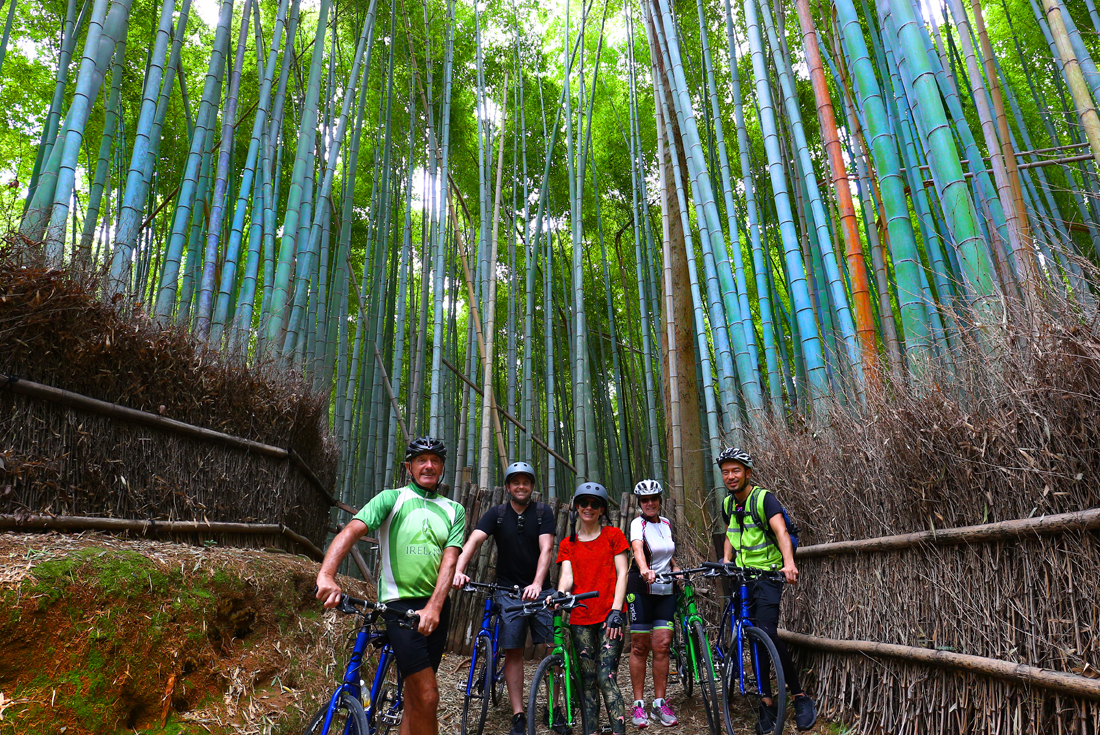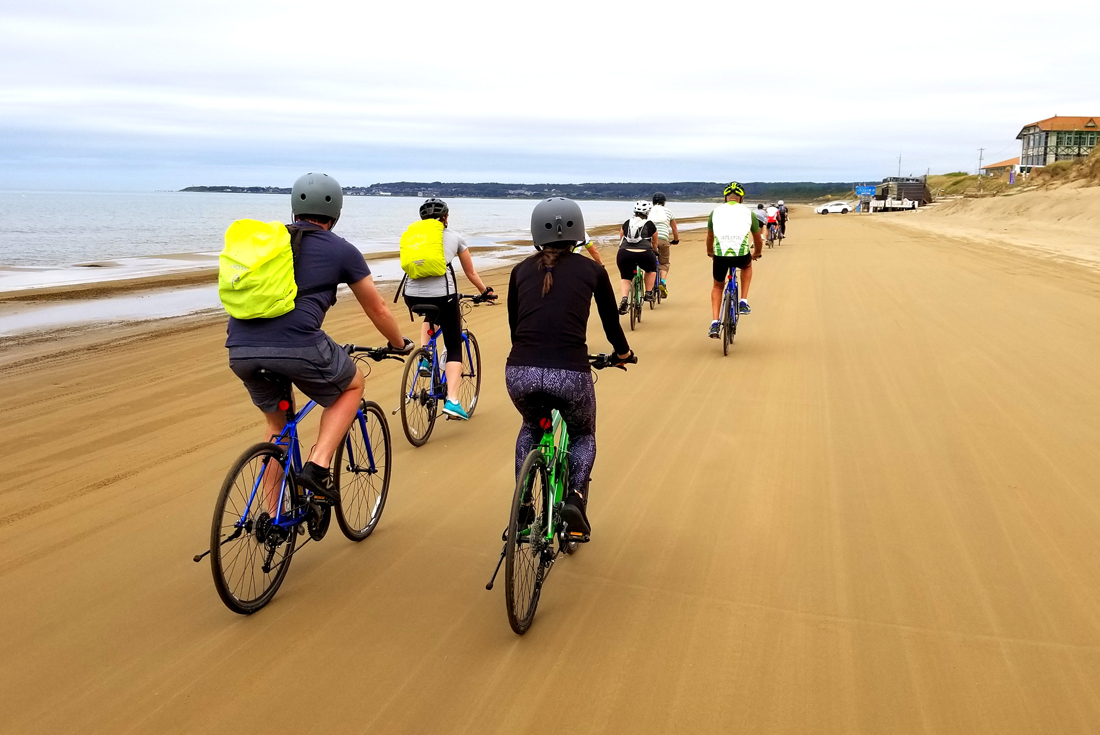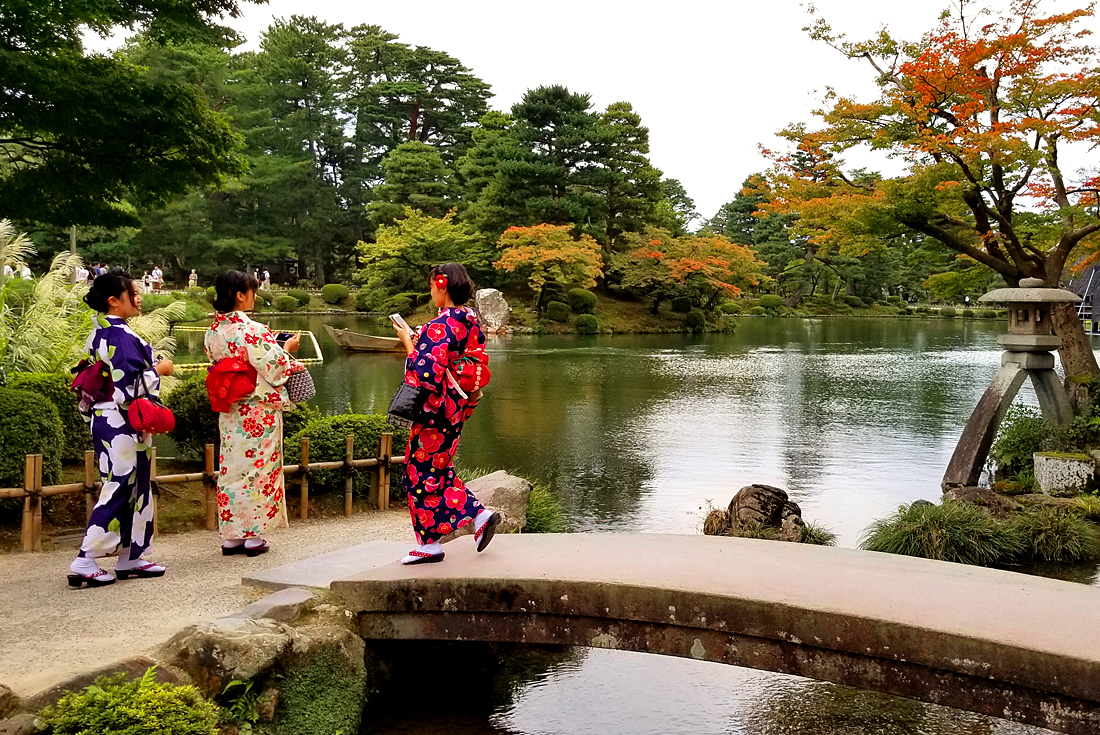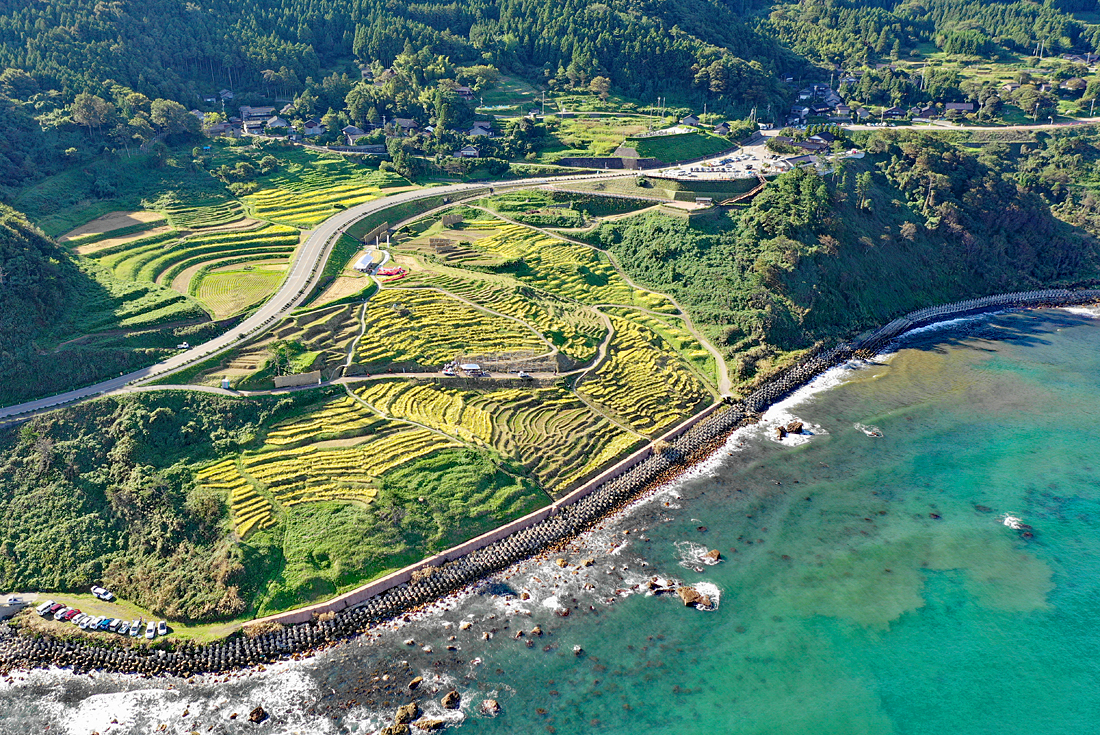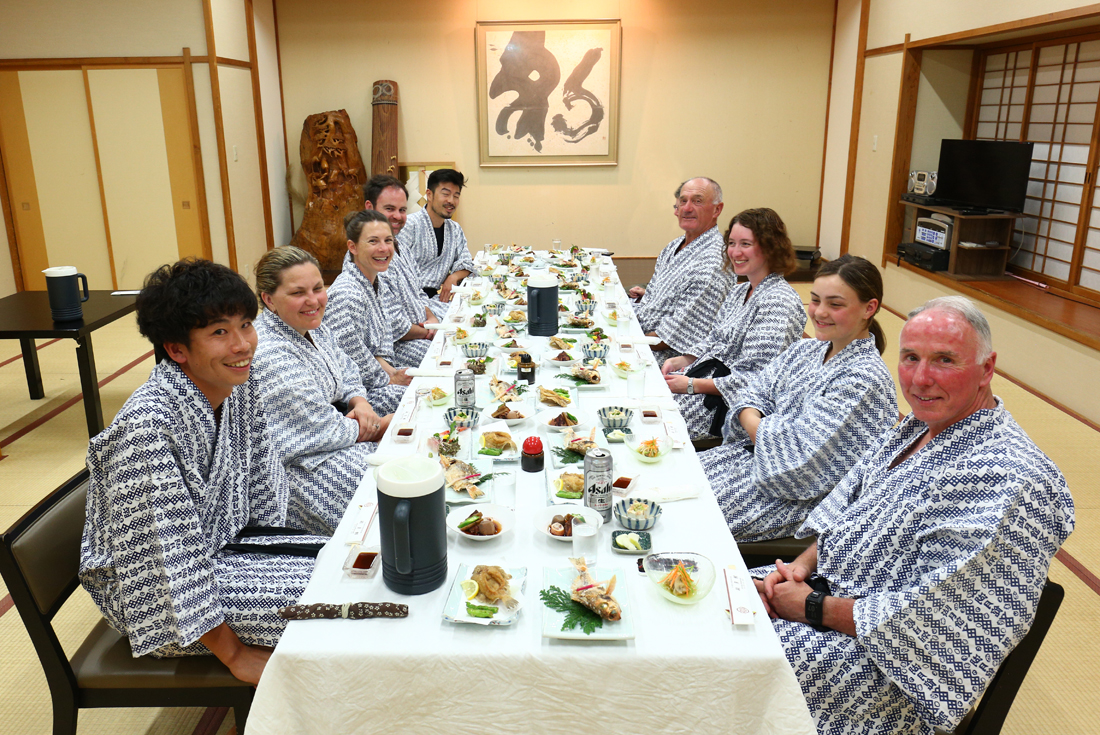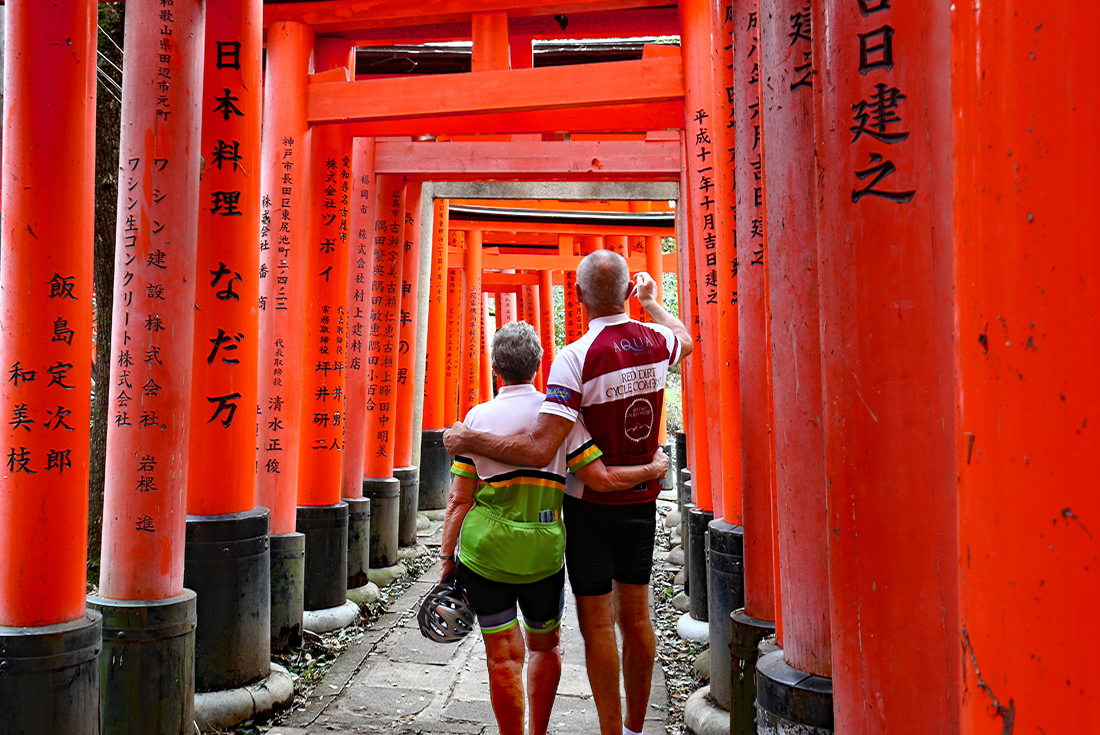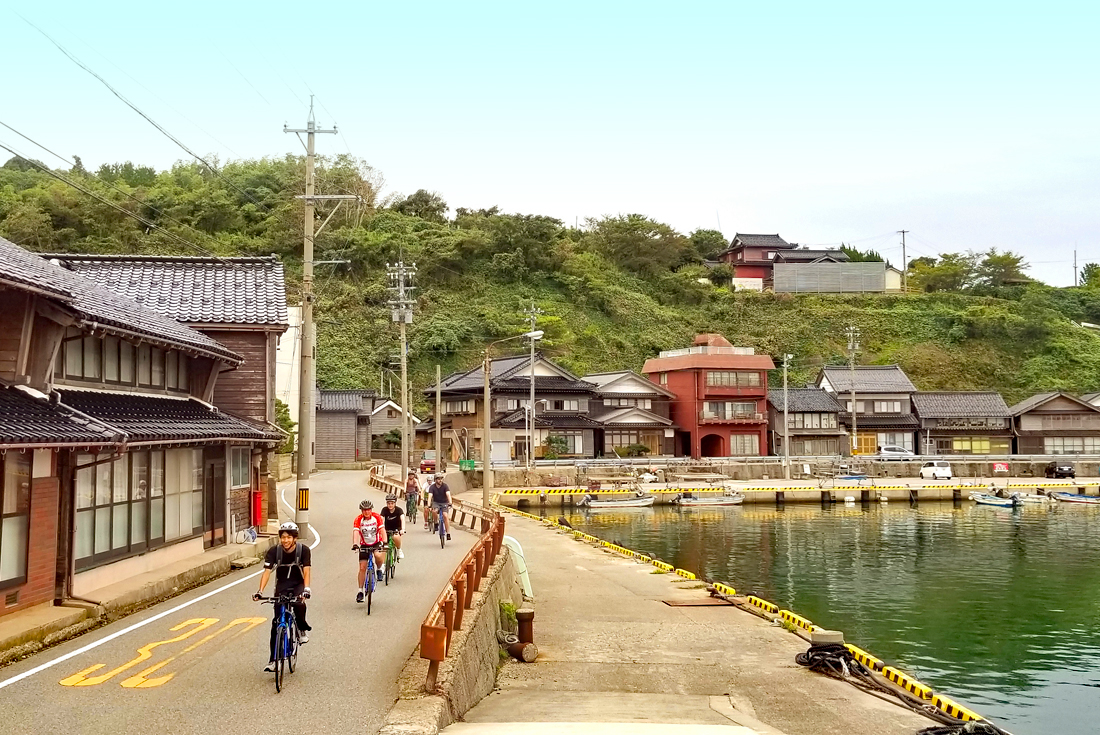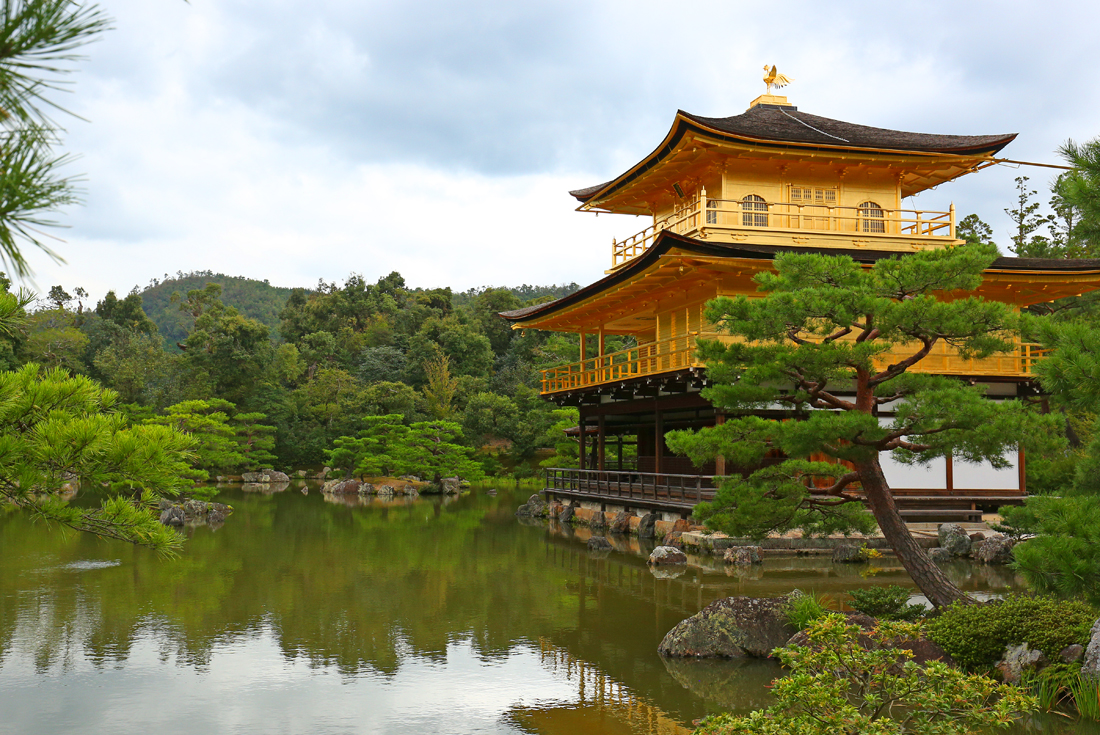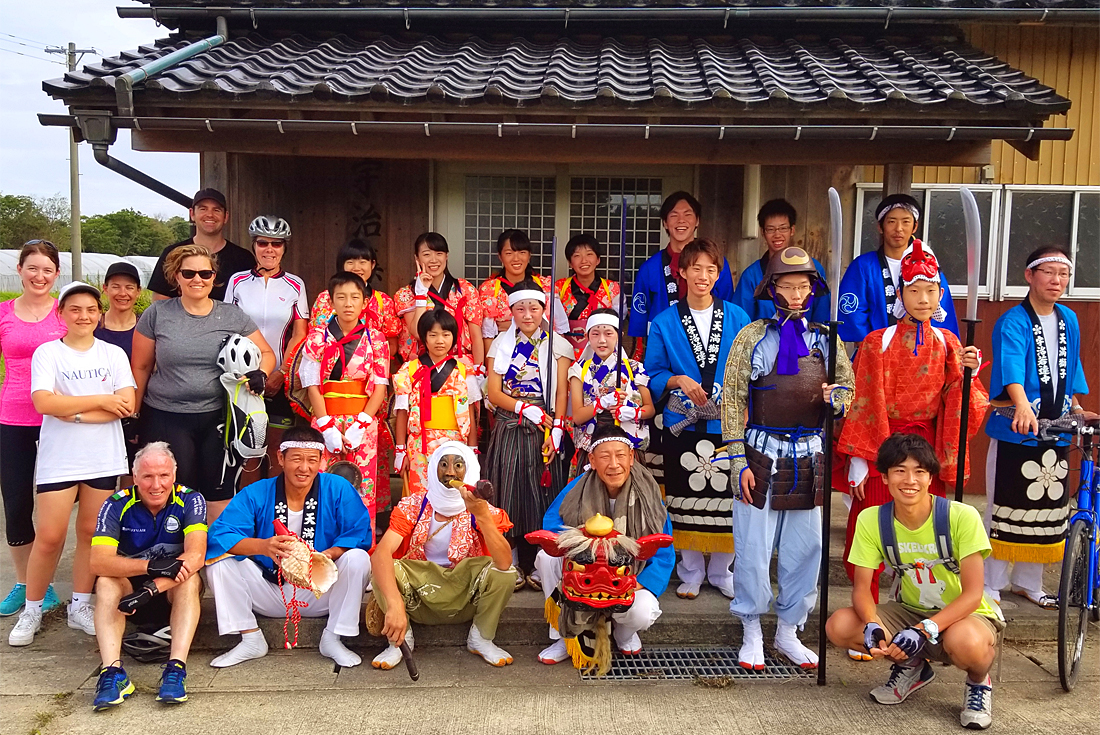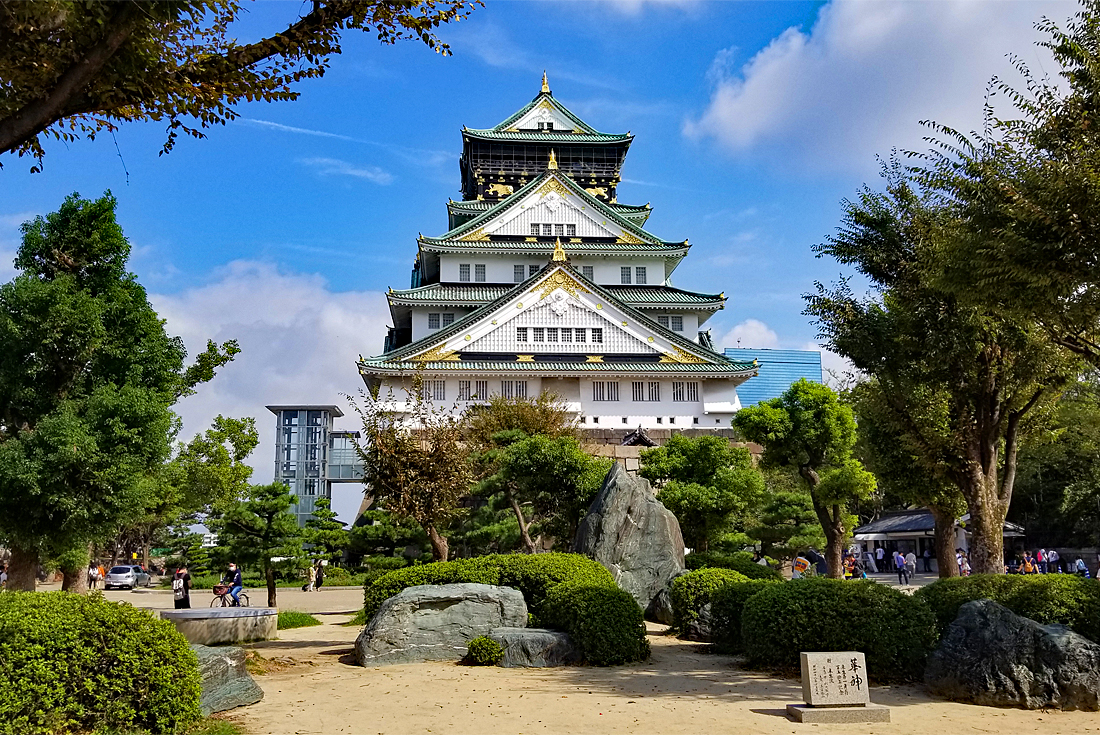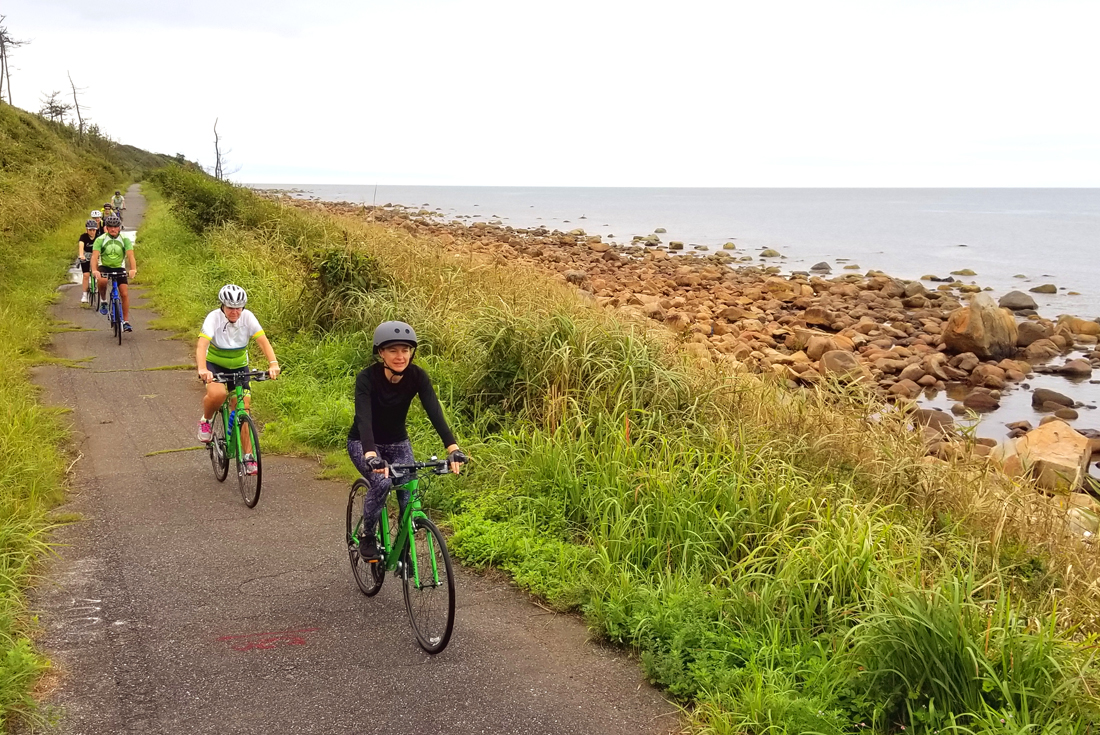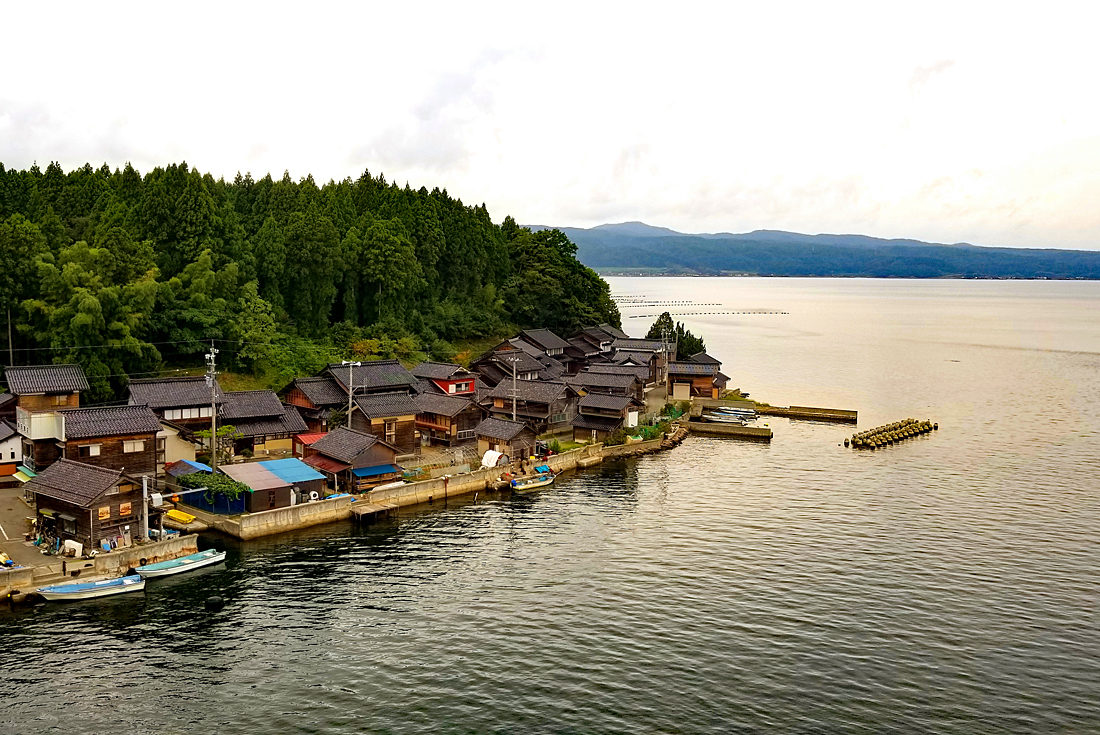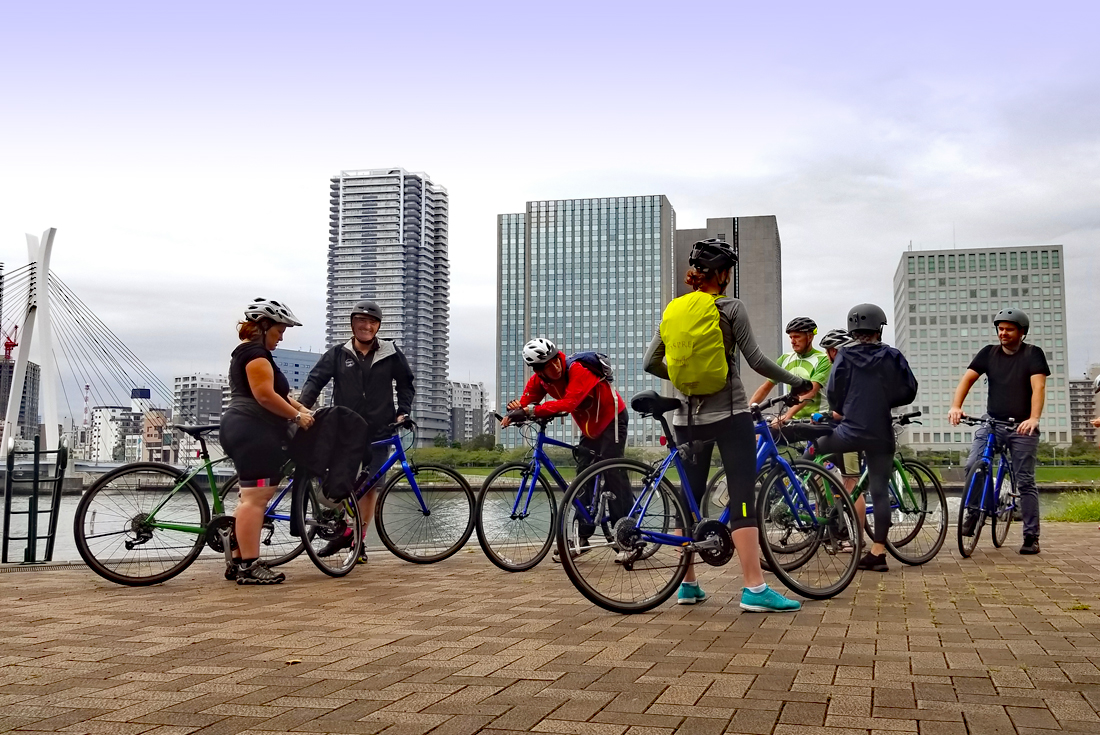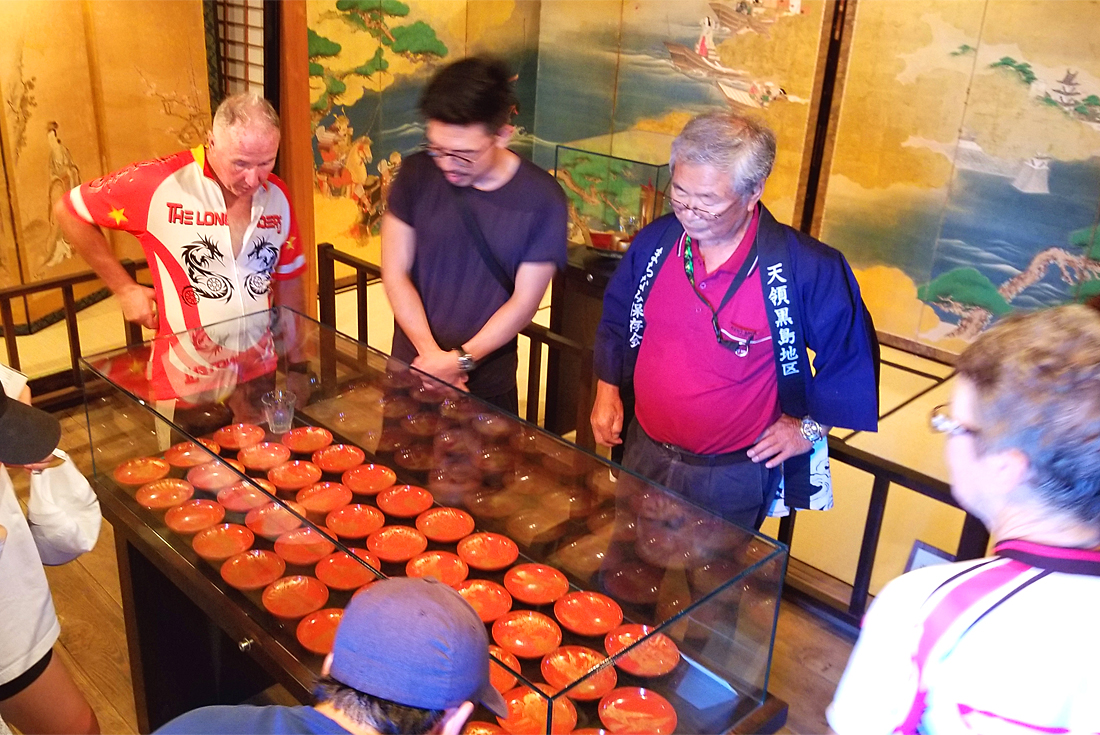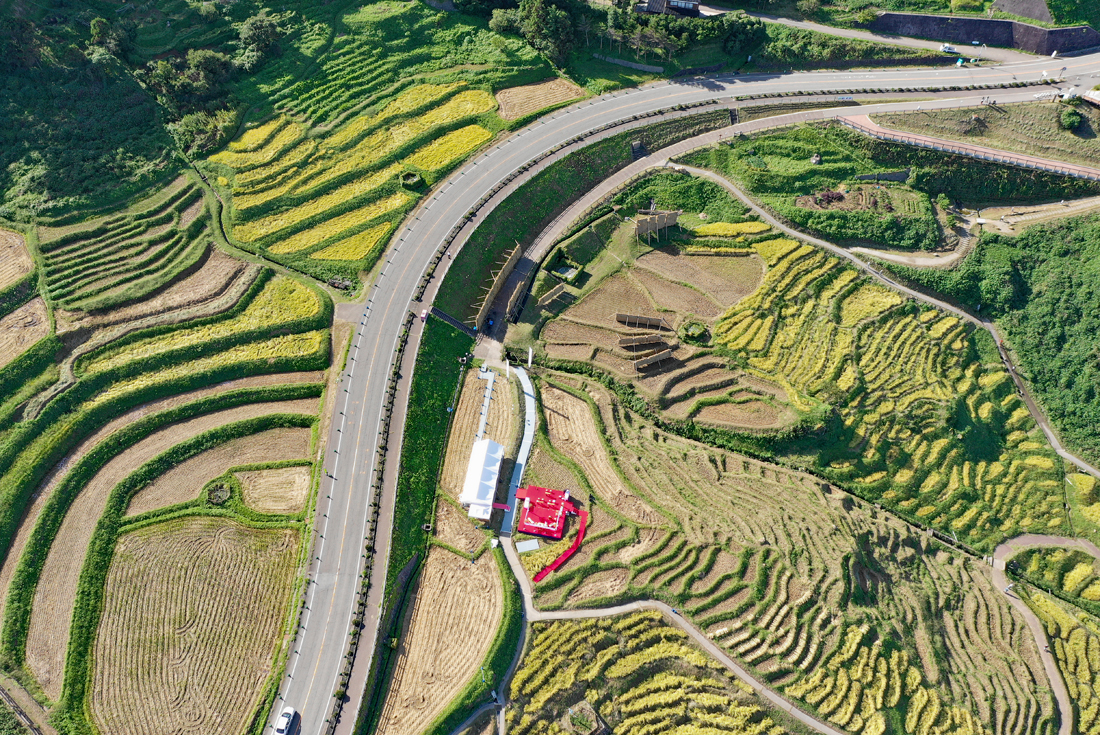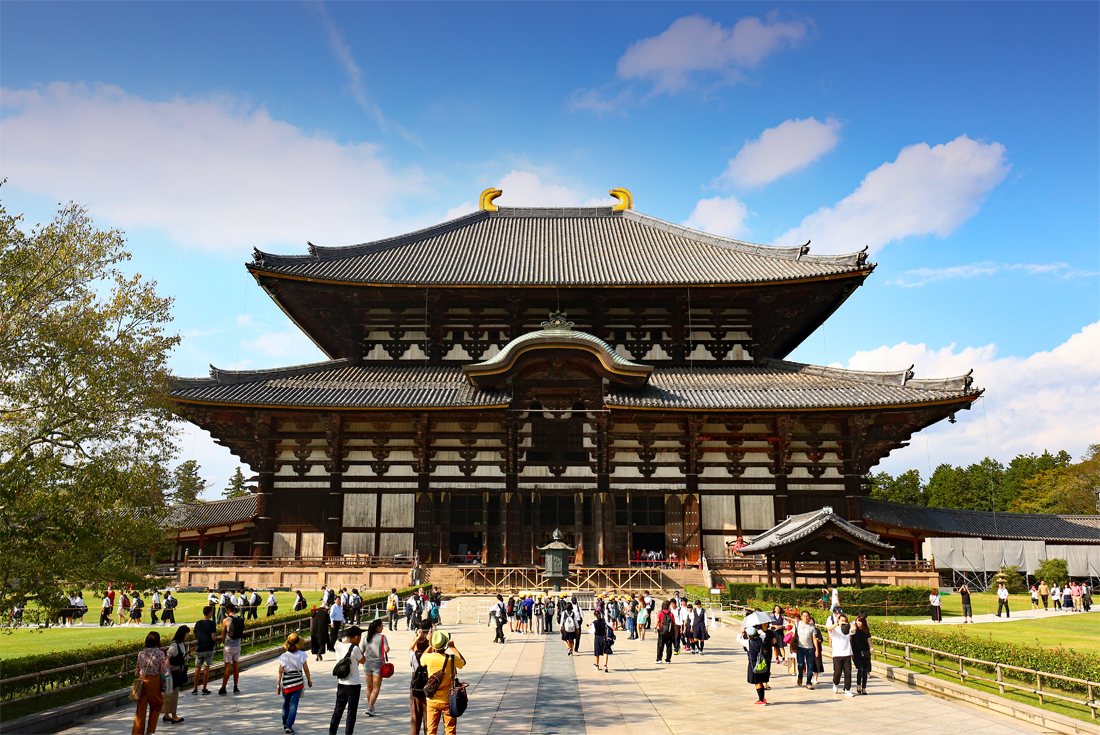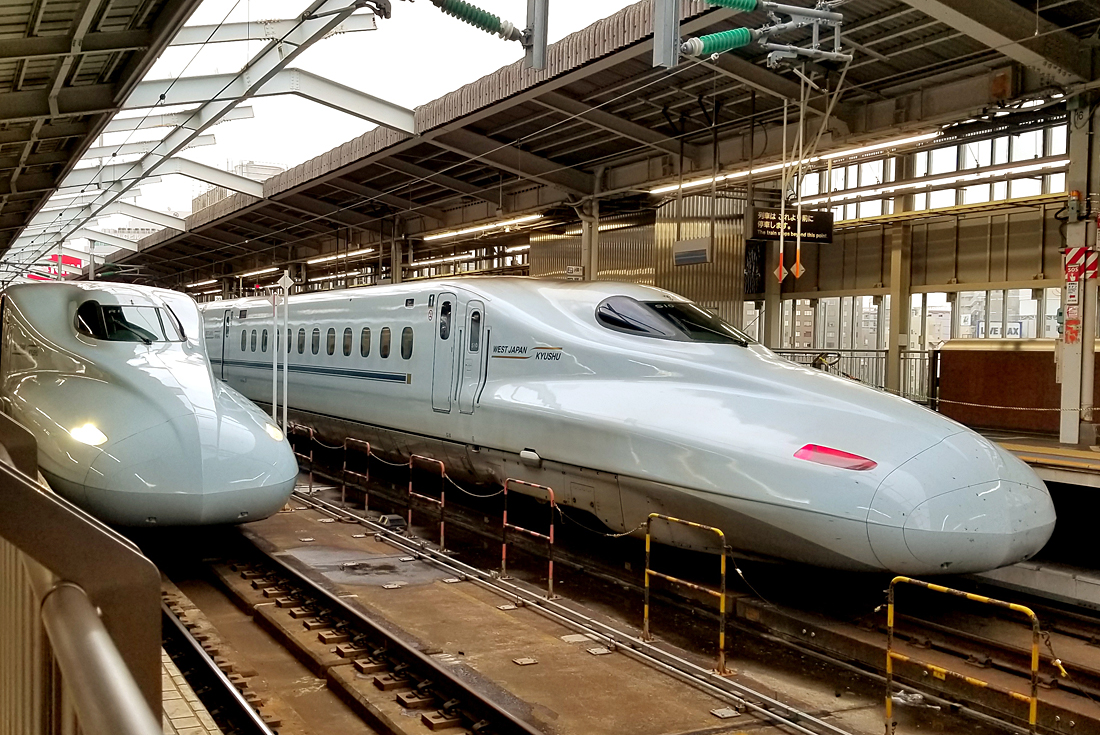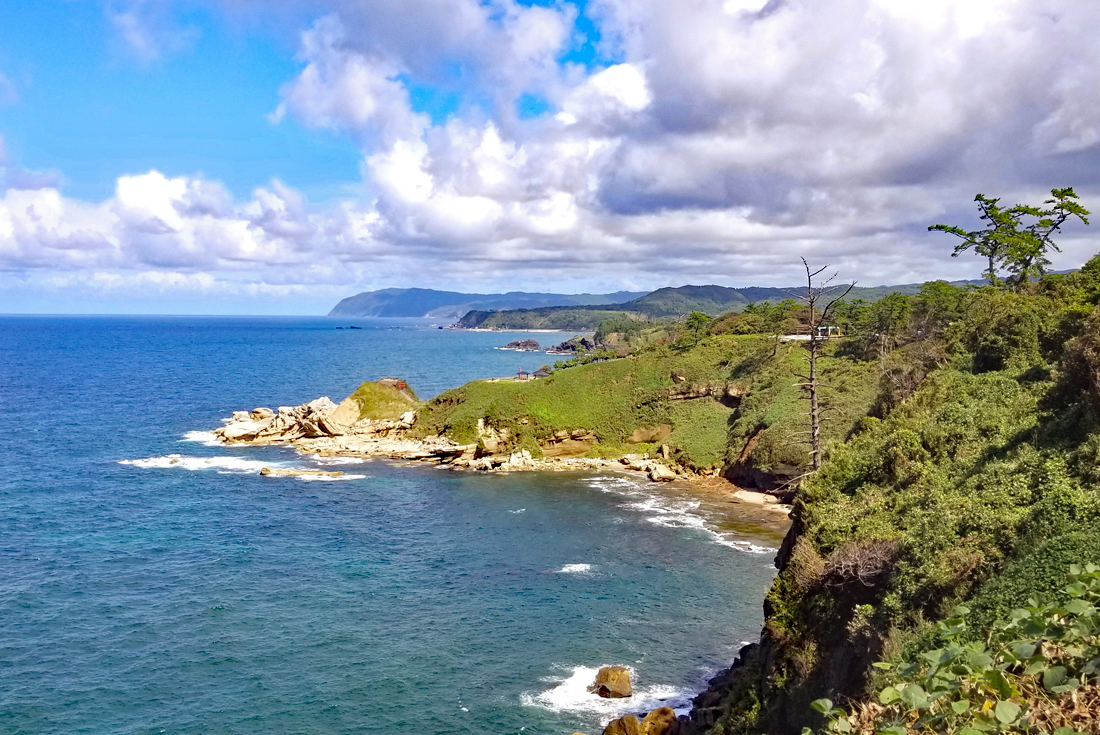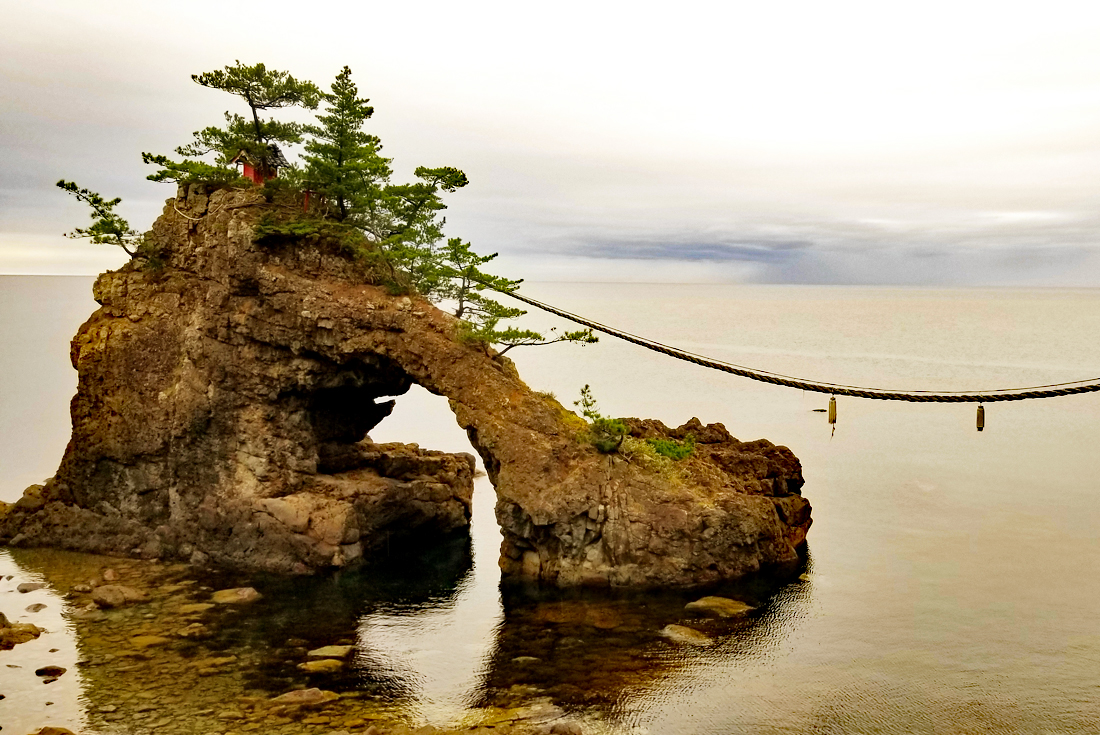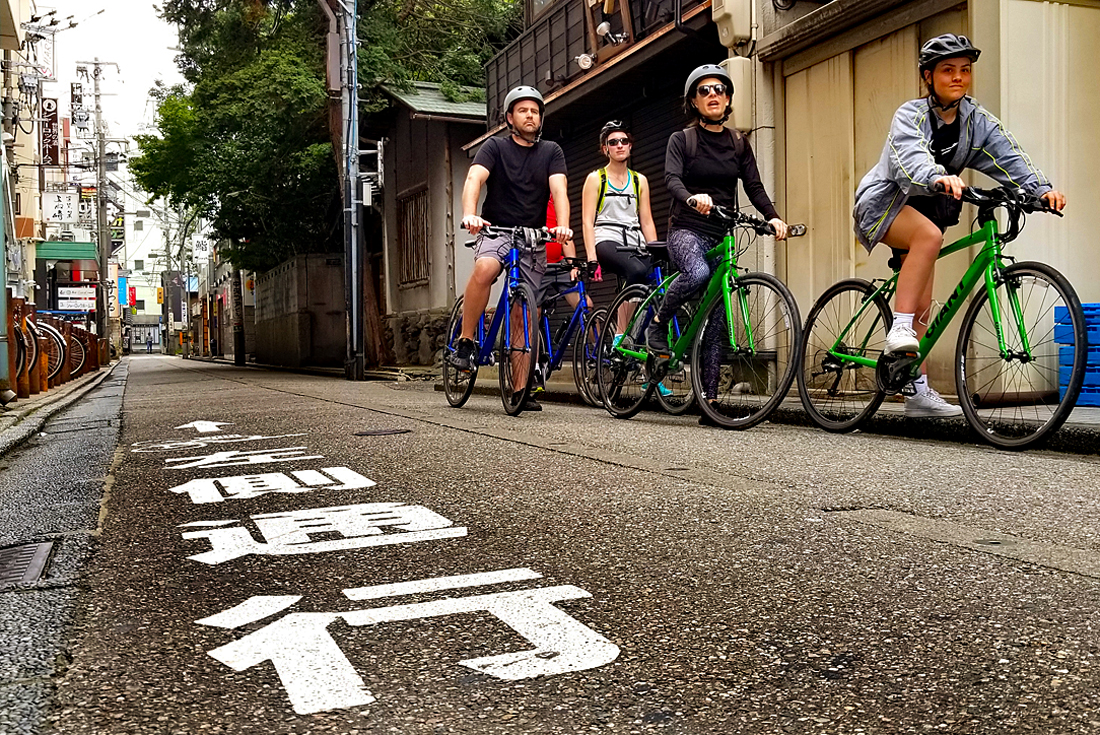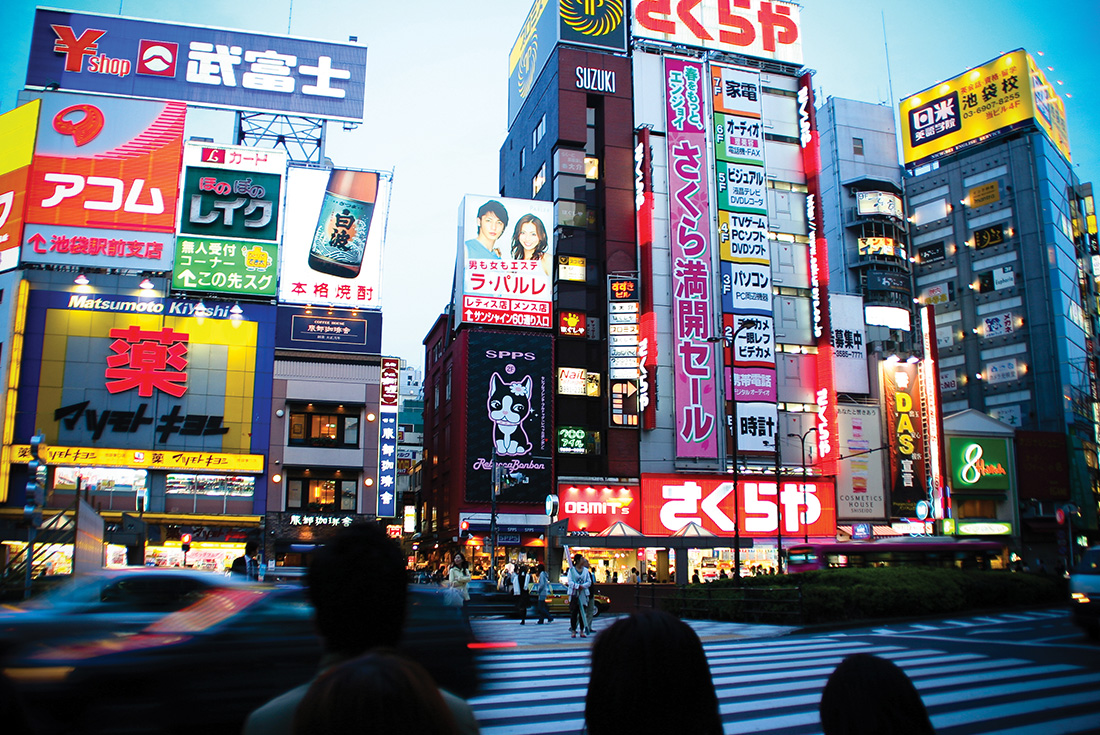 What's included
9 days guided & vehicle-supported cycling
9 Days Included Bicycle Hire
Kyoto - Gion District walk
Kyoto - Arashiyama Bamboo Forest
Kanazawa - Kenroku-en Garden
Kanazawa - Nomura Samurai House
Myojoji Temple
Cycling on Chirihama Beach
Kadomi Traditional House Visit
Agehama-style traditional salt-making farm
Shiroyone Thousand Rice Paddies Visit
Tokyo - Sensoji Temple
Tokyo - Tsukiji Fish Market
Check Availability
We have put a calendar of events together that will provide you with some inspiration of what you can expect on your holiday, and when the best time to jet off is. Now's your chance to travel further than you can by foot and be part of a memorable and exciting two-wheel journey with us.