Cycle Colombia
Cycle the serene highlands of Colombia's famed coffee region and discover the sweeter, softer side to this often misunderstood country. Learn how to roast the perfect blend during a tour of a working coffee plantation, be beguiled by the laid-back pace of charming Salento, try your hand at tejo, an explosive local pastime, and of course ride through some of the most stunning scenery this region has to offer.
8 days
Difficulty: Challenging
Itinerary
Bogota is the treasure trove of Colombia's rich history. Explore its museums and galleries at your leisure, then tour its excellent Paloquemao Market.
Enjoy a "Ciclovía" morning, the way literally millions of locals do, having the opportunity to see different areas of cosmopolitan Bogota.
Cycle and sweat through steamy jungle scenery, coffee plantations and colonial towns nestled in verdant hills.
Embark on a spectacular guided hike through the Cocora Valley, home to hummingbirds and the world's tallest palm trees
By travelling on this trip, you'll directly support our Intrepid Foundation partner, World Bicycle Relief. Donations provide school kids, health workers, and farmers in far-out areas with bicycles that provide access to education, healthcare, and income.
Welcome to Bogota! Situated at 2644 metres, Colombia's lofty capital is a charming, yet hectic, mix of old and new. You'll meet your group this evening at 6 pm and can then join them for an optional group dinner. If you arrive early, head down La Candelaria, Bogota's cobblestoned Old Town, and check out Plaza de Bolivar, the Botero Museum and the Gold Museum.
A complimentary transfer from the airport to your Starting point hotel is included, please provide your booking agent with your flight details (flight number and arrival time)
Heard of Ciclovia? It's incredible. Every Sunday and public holiday, from 7 am till 2 pm, Bogota shuts down certain streets in the city to create over 100 km of car-free space for cyclists. There are also stages set up in parks and public areas so non-cyclists can participate in group activities like aerobics or yoga. Spend the morning riding through the flat streets with over one million locals then explore the sights with your group on an orientation walking tour of the Old Town.
Hop on a flight to Armenia this evening, Colombia's coffee-growing centre to the west of Bogota.
Jump in the saddle for the first long ride of your trip, cycling from Calarcá to
Salento. At a distance of almost 60 km, you can expect a sweaty, humid affair gliding past coffee plantations and steamy jungle scenery. Spend the afternoon exploring Salento, a colourful colonial town known, of course, for its coffee. To make sure you get the full experience a coffee tasting is included.
You'll also get to enjoy a hand at the local Colombian game of tejo – which involves throwing a metal disk at small envelopes of gun powder. Seriously. Hit an envelope and it explodes and, for better or worse, tradition stipulates a beer should be drunk while playing.
Take a short guided hike in the Cocora Valley this morning, a beautiful, verdant landscape dotted with tallest palm trees in the world. Enjoy the outdoor serenity where the only sounds are the call of birds and the wind rustling through the long grass and iconic Wax Palms.
After lunch, ride the green-fringed small roads from the Cocora Valley to Filandia. While similar to Salento in its architecture and coffee culture, Filandia is smaller and visited much less frequently. Shop for local handwoven baskets in the market or perhaps climb to the top of the observation tower for unbroken views of the surrounding countryside.
Today you'll cycle 30 km, mainly downhill, from Filandia to Alcala. Take a break and rest your legs in the middle of the ride for a coffee experience tour at Cafe de Altura in Quimbaya. Cafe de Altura is a family-run business and the restaurant is as good as the coffee, so this is where the group will have lunch and refuel for the rest of the ride, especially the last climb to to your hotel for the night.
Check in to the hotel and maybe enjoy a different kind of adrenaline, optional zip-lining over the coffee plantation before taking it easy for the evening.
Enjoy your final ride of the trip from Alcala to Cerritos, a distance of 75km. Ease into the day with a slight downhill before dipping into a valley, then pedal on mainly flat roads until the final 5 km, where a final ascent will have you earning your treats in Cerritos. Visit the embroidery factory in Cartago en route and learn about the region's history with the needle and thread. Check in to the hotel where an optional massage (not included) will help soothe those overworked quads, as will a soak in the swimming pool.
There's potential for an early start (5 am) to sneak one extra ride in this morning before transferring to Pereira's airport and flying to Bogota. Touch down and transfer to the hotel, then maybe enjoy a farewell dinner with your group before tomorrow's departure.
Your Colombian cycling trip comes to an end this morning. There are no activities planned and you're free to depart whenever you'd like after check-out.
A complimentary transfer from the finish point hotel to the airport is included, please provide your booking agent with your flight details (flight number and arrival time)
Route overview
Just as a heads up before you book: this trip is new to our range this year. And while we have thoroughly researched every detail of the logistics, new destinations can sometimes throw us some unexpected surprises. More often than not, it'll be a great surprise. But every now and again there might be a hiccup. We like to think that's what puts the 'adventure' in 'adventure travel'.
Colombia, especially the coffee growing region we cycle through, is naturally hilly. While we try and minimise the times spent climbing there are still some significant altitude gains, especially on Day 3 (see the day to day itinerary for more details)
On this trip we have a single leader that rides with the group, and another that drives the support vehicle (acting as a back marker where needed). Where the vehicle cannot travel directly with the cyclists (e.g. a cyclists-only path) your leader will assign a person from the group to act as a back marker.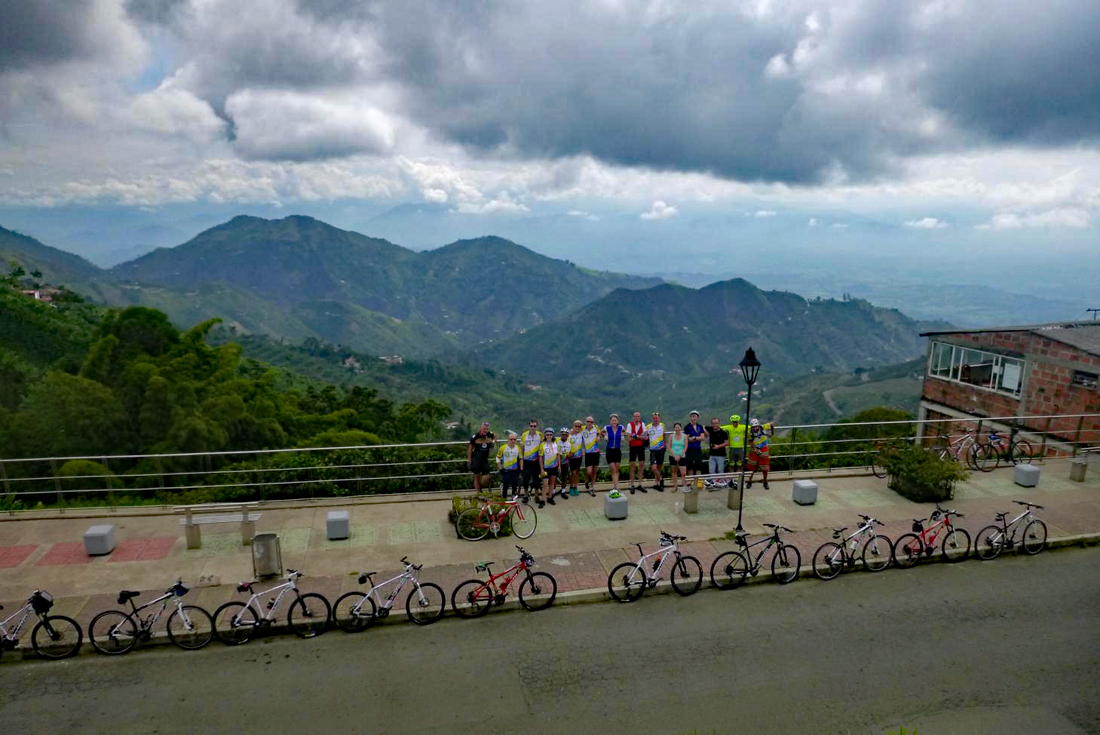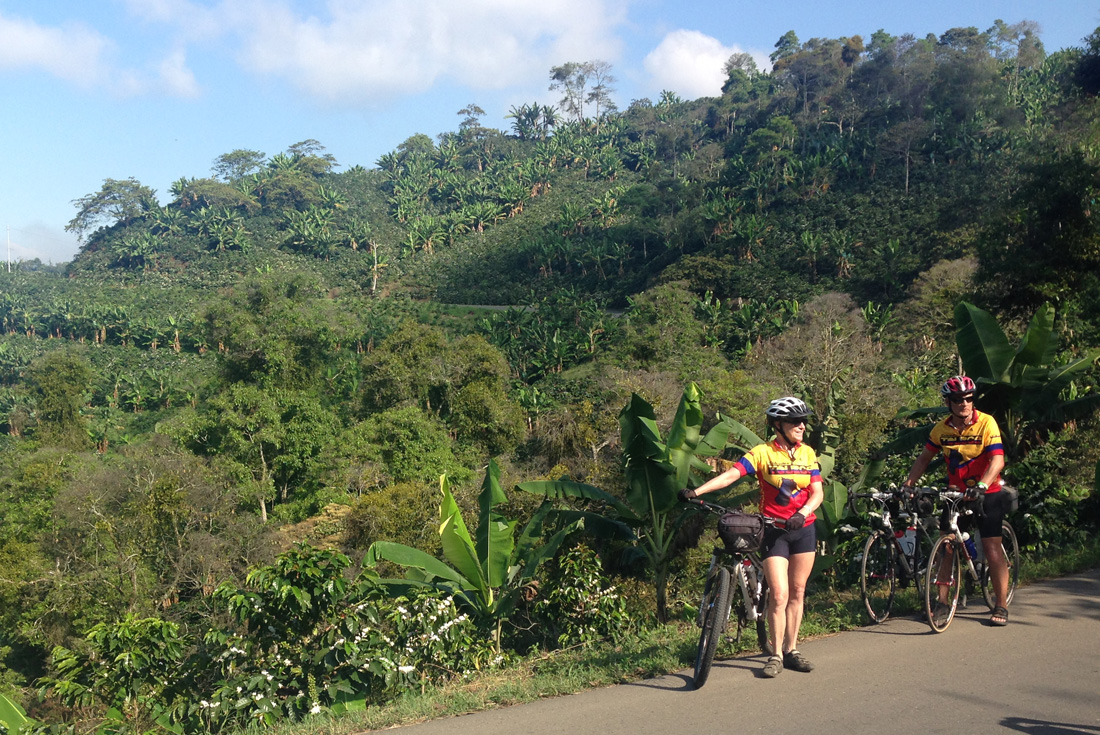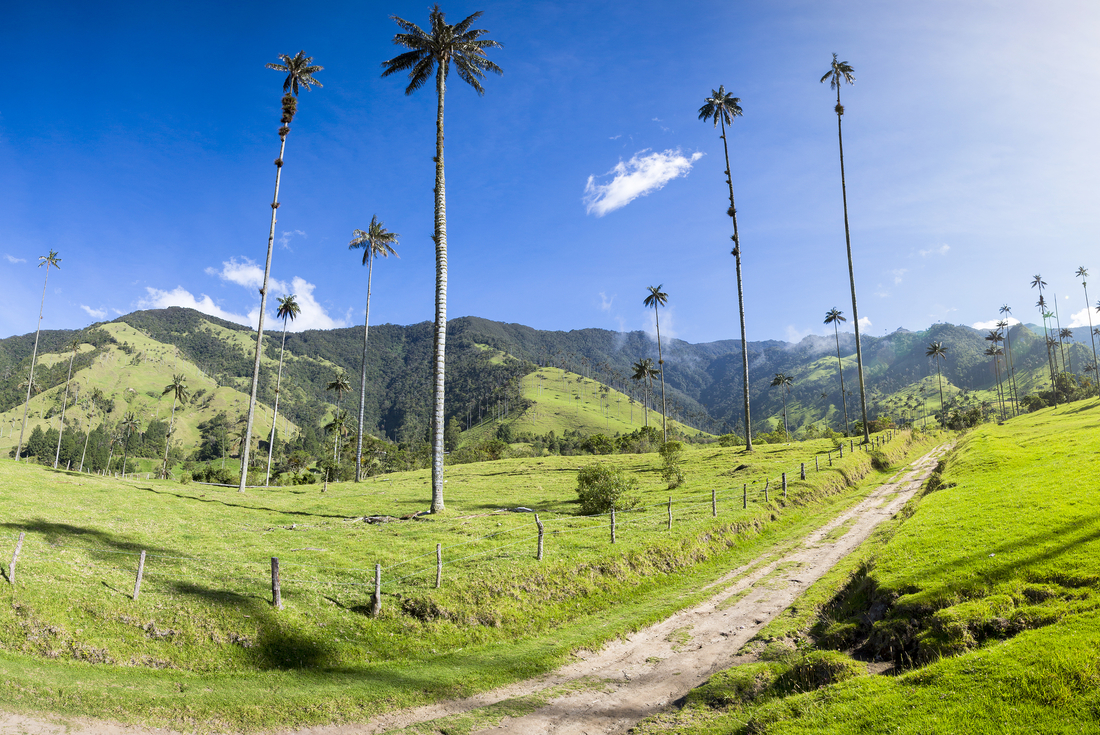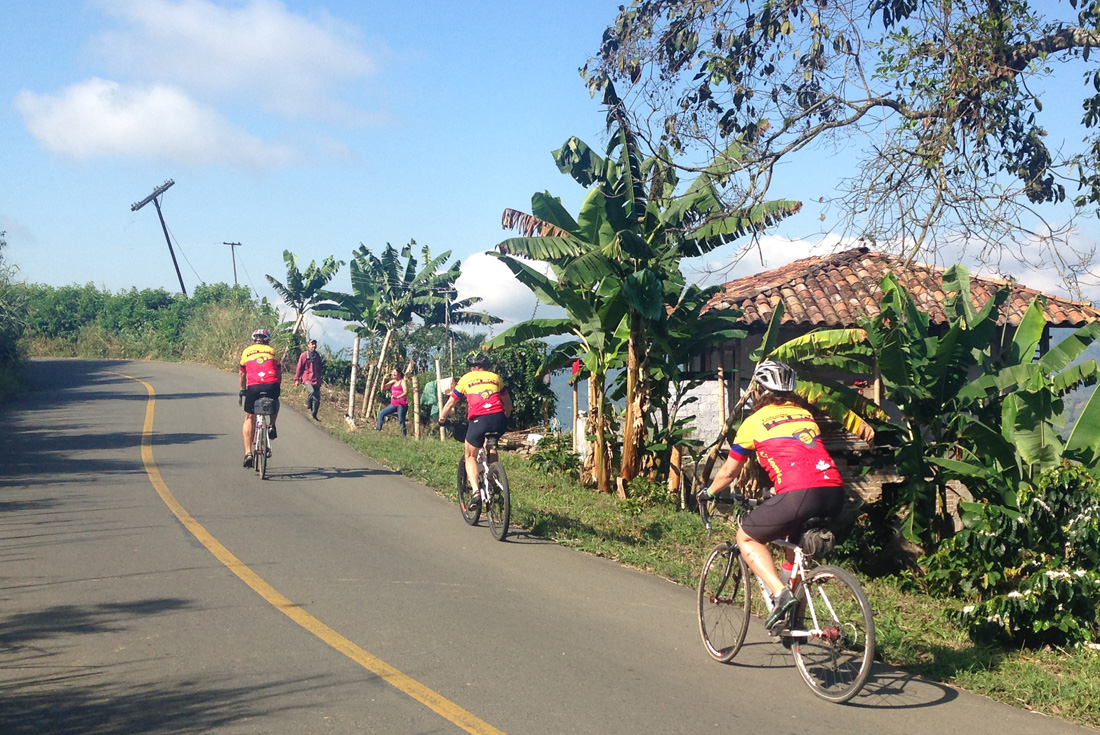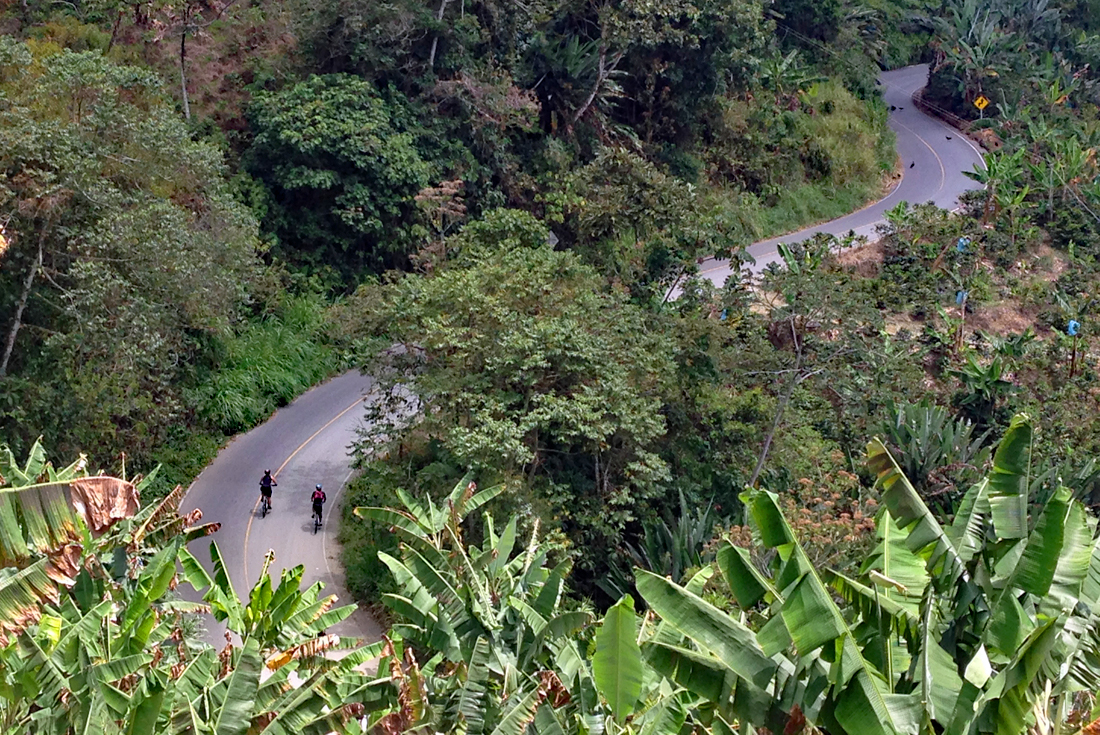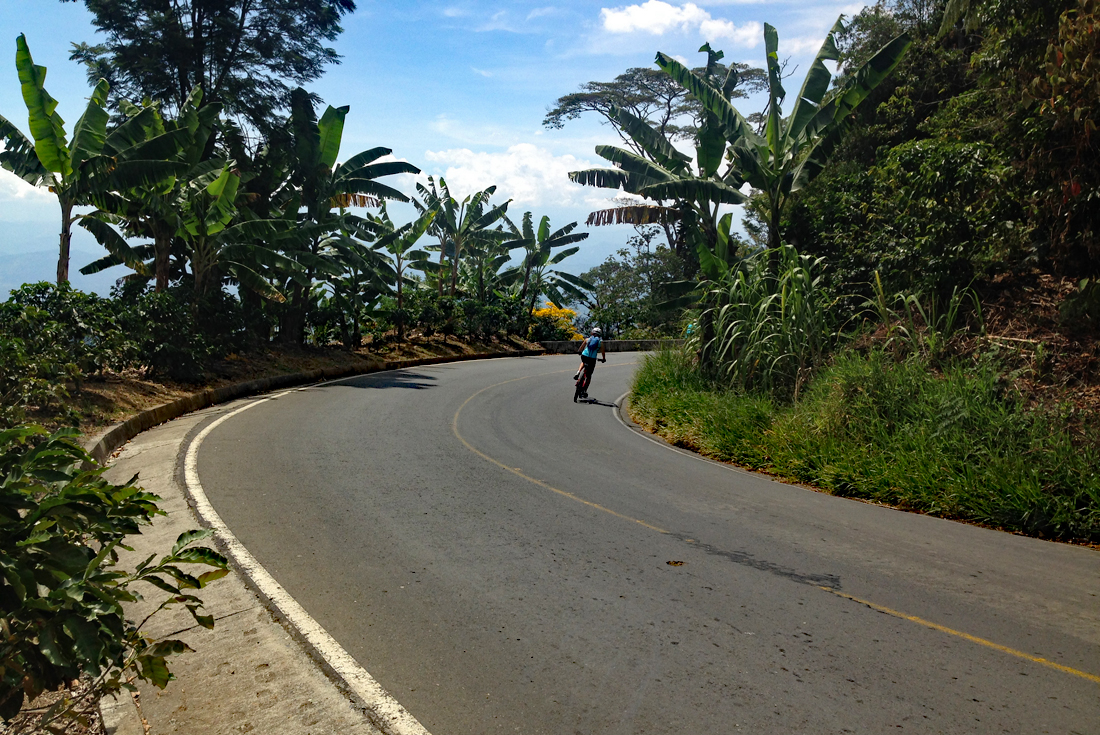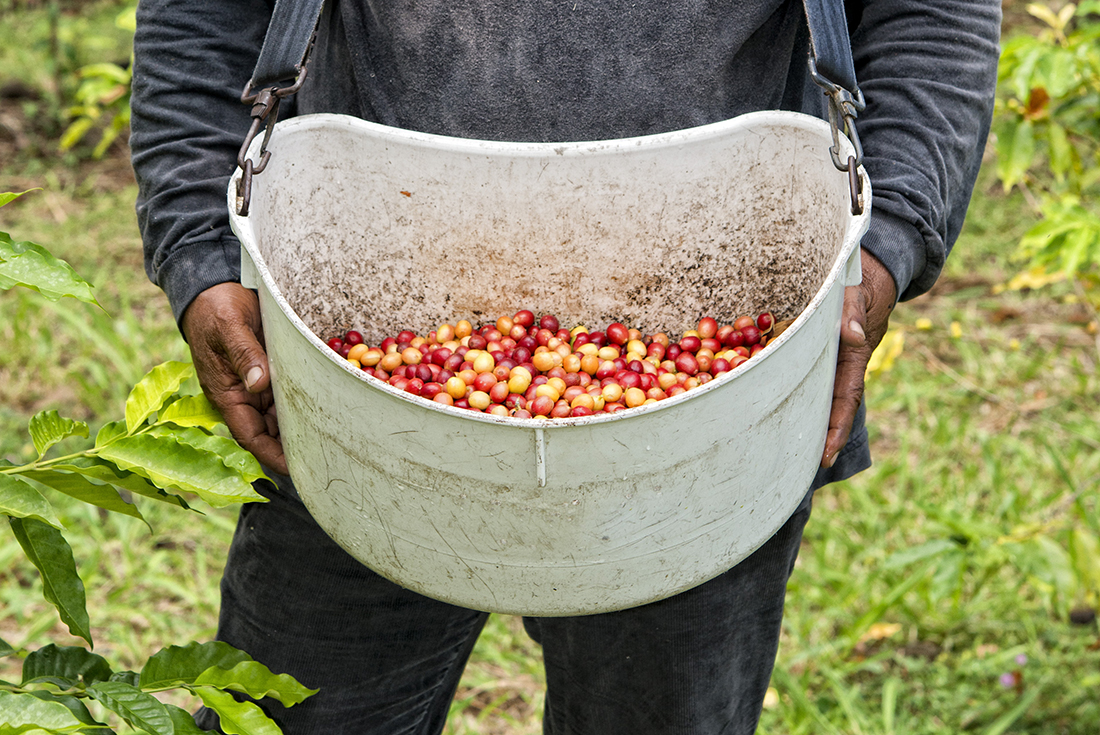 What's included
6 Days Included Bicycle Hire
Complimentary Arrival Transfer Airport - Bogota Hotel
Bogota Guided Cycling - Ciclovía
Coffee Tasting
Salento - Traditional Tejo Game
Calarcá to Salento Guided & vehicle-supported ride
Coffee Region - Cocora Valley visit & Hike
Cocora Valley to Filandia Guided & vehicle-supported ride
Coffee Experience Tour at Cafe de Altura
Filandia to Alcala Guided & vehicle-supported ride
Embroidery factory visit
Alcala to Cerritos Guided & Vehicle-supported ride
Optional Cartago guided early morning ride
Complimentary Departure Transfer Bogota Hotel - Airport
Check Availability
We have put a calendar of events together that will provide you with some inspiration of what you can expect on your holiday, and when the best time to jet off is. Now's your chance to travel further than you can by foot and be part of a memorable and exciting two-wheel journey with us.