Cycle Central Europe & the Danube
Get your wheels moving on a cycling adventure through the Central European countryside, all the way from picturesque Prague to classic Budapest. This fifteen-day active trip meanders its way past medieval villages perched on the hillside and hugs the mighty Danube River. With delicious regional food, great wine, and a knowledgeable leader to guide you along the way, you'll be seeing the best of the region with the wind blowing through your hair.
15 days
Difficulty: Moderate
Itinerary
Take an active adventure through Central Europe, cycling leafy paths from the bohemian centre of Prague to the classical vibe of Budapest.
Ride alongside the mighty Danube River downstream, passing by romantic riverside castles, picturesque villages and lowland forests surrounding the banks.
Take the opportunity to head on an optional brewery tour at the original home of Budweiser: Ceske Budejovice.
The perfect mix of cosmopolitan cities, picture postcard towns and traffic-free cycling paths await, with local knowledge to get the best out of each European destination.
Dobry den! Welcome to Prague. There is an important welcome meeting scheduled for 6 pm this evening, where you will meet your group leader and fellow travellers. With not much time spent in Prague, we recommend you spend at least a day or two to get to know this wonderful Bohemian city. With its Baroque buildings, cobblestoned streets and beer – oh so much beer – there's something for every explorer. If you want to spend more time in Prague, we'll be happy to organise additional accommodation for you (subject to availability). After your important meeting, how about get a group of you together and head to one of the beer halls to get acquainted?
Ride distance: No included riding today
This morning take a leader-led orientation walk around Prague. You'll learn about the history of the city, plus have time to take in the Old Town square, looking up at the surrounding spires – there are a lot of spires. In the early afternoon, head to Ceske Budejovice by local transport (either vehicle or train depending on group size), taking around 2.5 hours. Once arrived, have a bike fitting and take a short ride (approximately 30 kilometres) around Budejovice and surrounds, getting ready for the real cycling journey to begin tomorrow. If you have time, there's the option to head on a brewery tour, as Cesky Budejovice (or Budweis in German) is the home of Budweiser! Learn the beer's history and have the perfectly drawn brew in the onsite bar. Otherwise, head into the city and visit the imposing Black Tower – one of the most dominating features of Budejovice.
Today is an early morning start, as you'll ride through the South Bohemian countryside from Ceske to Cesky – that is, Cesky Krumlov! Through picture-perfect rolling hills and weaving in and out of forest, you'll cover around 35 kilometres cycling, with some undulations at points. Once arrived, you've got the rest of the afternoon at your leisure in this small medieval town. Take your bike or head on a hike up to see Krizova Hora, visit the State Castle, or just simply explore the weaving laneways of the town, all perched on the side of the Vltava River. If you want to check out the river more, why not book in on a canoe trip? Seeing the Czech countryside from the water gives you stunning views of the surrounding valleys.
Rise and shine, as it's off for another day of cycling, leaving nice and early. Ride along the Vltava River from Cesky Krumlov through the countryside then over the plateau and down to the wooded shores of the beautiful Lipno Lake near the Czech-Austrian border. You'll arrive at the small town of Lipno and Vltavou on the southern banks of the lake.
After some time to look around, drive approximately 140 kilometres to Kollmitzberg. After two days in the saddle you deserve a relax at this secluded town. Why not get your group together and organise somewhere for dinner in nearby Ardagger – your group leader will know of a place to go.
Get back on your bike and cycle alongside the mighty Danube River on a mostly flat course from Kollmitzberg to Melk (approximately 53 kilometres). You know you're getting close when you can see the towers and dome of the famed Melk Abbey high above the town. Once arrived, you could head on an optional tour of Melk Abbey, where you'll discover the colourful Baroque structure perched on top of a rock overlooking the Danube, plus its parks and bastions.
From Melk, cycle along the northern banks of the Danube – mostly on dedicated cycle paths – past small riverside towns and villages (and the occasional sand beach), and to the UNESCO-listed terraces of the Wachau vineyards, where wine has been produced since the Middle Ages. Riding up the steep hillsides is definitely a challenge, but there's some stunning scenery to see along the way. Your final destination for today is Herzogenburg – a thriving town on a small tributary of the Danube. If you have time why not check out the imposing Herzogenburg Monastery before a hearty Austrian dinner.
Hop on your bike to ride back along the Danube cycle path all the way into Vienna, skirting the river's southern banks. Today is the longest ride of the tour at around 70 kilometres/43 miles and is mostly slightly downhill. When you arrive in Vienna, be sure to relax and perhaps tuck into a well-earned coffee and sacher torte. Vienna is a classical hub of arts, culture and food, and a perfect place to hop off the bike and explore on foot. If you haven't discussed it already, why not organise dinner in Vienna with your group tonight – it's definitely cause for celebration.
Today is a free day for you to explore vibrant Vienna at your leisure. There is a welcome meeting scheduled for 6 pm this evening, where you will meet your group leader and possibly new travellers joining you for the ride from Vienna to Budapest.
After breakfast there will be a bike fitting for the group followed by a short test ride. Then take a tour of Vienna by bike (approximately 3 hours). Follow the path of the Habsburg and explore the rich artistic and cultural icons like the Gothic St. Stephen's Cathedral, Hofburg Palace and all that the Ringstrasse has to offer.
Leave Vienna's city centre and ride along the mighty Danube to the tiny hamlet of Hasslau an der Donau. From here, journey east along the riverbanks to one of Austria's most important archaeological sites, Carnuntum, and its eclectic mixture of Roman ruins and modern reconstructions. Spend some time wandering among the remains of Roman life on the Danube before climbing back onto your bike and slowly winding along the riverside bike paths to the Slovak border. In the afternoon arrive in the Slovak capital, the cosmopolitan Bratislava. See firsthand how bordering two independent countries has left its mark on Bratislava with an introductory walk.
Follow the flowing waters of the Danube as it turns south. Pass by picturesque villages, lowland forests and across lush farmland to the historic Hungarian city of Gyor. This vibrant Baroque city – highlighted by Káptalan Hill, Bécsi kapu tér square, and the picturesque Király Street – has been inhabited by varying cultures since ancient times and offers a fascinating contrast to the slow pace of the river and its surrounds.
Leaving Gyor behind, track back to the banks of the Danube and on to the city of Komarom, which straddles the borders of Hungary and Slovakia. While Komarom is known for its forts and strategic position on the Danube River, it is also a beautiful city housing many museums and historical sites. Take part in an introductory walk with a stroll across the Elizabeth Bridge, the pathway between two counties. To add some pampering at the end of a long day why not try an optional spa visit to soothe those leg muscles.
Today there is an early departure to ensure a timely arrival into Esztergom (approximately 55 kilometres). The former capital city of Hungary, Esztergom is the seat of the Hungarian Catholic Church and boasts an amazing array of architectural gems such as Royal Palace, and Watertown, which is built on the banks of the Danube itself. The crowning glory of Esztergom is undoubtbly the Esztergom Basilica, a stunning example of Classicism and the third largest church in Europe. Reflected in the still waters of the Danube Bend, the Basilica is a sight to behold from outside and within. Take part on an introductory orientation walk of this beguiling city.
Cycle the famous 'Danube Bend' beneath the wooded hills of Visegrád. Here the river turns south towards the Hungarian capital city of Budapest. Today is our longest day in the saddle but be sure to enjoy a stop half way for a picnic lunch on the river bank. After cycling through the city itself end the day on a high with an afternoon visit to one of Budapest's famous spas is included. There is ample free time in the evening to explore at your leisure.
Your Prague to Budapest cycling adventure comes to an end today. There are no planned activities or rides, so you're free to depart anytime before noon. If you want to spend some extra time in Budapest or require a later checkout, we strongly recommend booking extra accommodation at the time of booking.
Route overview
Just as a heads up before you book: this trip is new to our range this year. And while we have thoroughly researched every detail of the logistics, new destinations can sometimes throw us some unexpected surprises. More often than not, it'll be a great surprise. But every now and again there might be a hiccup. We like to think that's what puts the 'adventure' in 'adventure travel'.
To complete this trip it is important that you are both confident and competent in riding a bicycle.
On this trip we have a single leader that rides with the group, and another that drives the support vehicle (acting as a back marker where needed). Where the vehicle cannot travel directly with the cyclists (e.g. a cyclists-only path) your leader will assign a person from the group to act as a back marker.
As our riding is done mostly on sealed roads and – along the Danube River – dedicated bike paths with the occasional gravel section, there are no technical cycling skills required.
There's the possibility of a few hiccups along the way – a puncture here and there maybe – but there's no doubt this is an incredibly rewarding adventure.
As there are potholes and cobblestones in many European cities, it's recommended that you leave any wheelie bags/cases at home and bring a backpack instead. As this is an eight-day trip, a large backpack should be enough to carry all of your belongings.
As accommodation on this trip is twin-share, solo travellers will share a room with other travellers of the same gender. Please note that a single supplement is available on this trip. Space is at a premium in Europe and your hotel is no exception. Rooms are often small, but usually the central location makes up for that. For those travelling as a duo, hotels in Europe often don't have double beds, but rather two single beds that can be pushed together. In some cases, bathroom facilities will be shared rather than ensuite.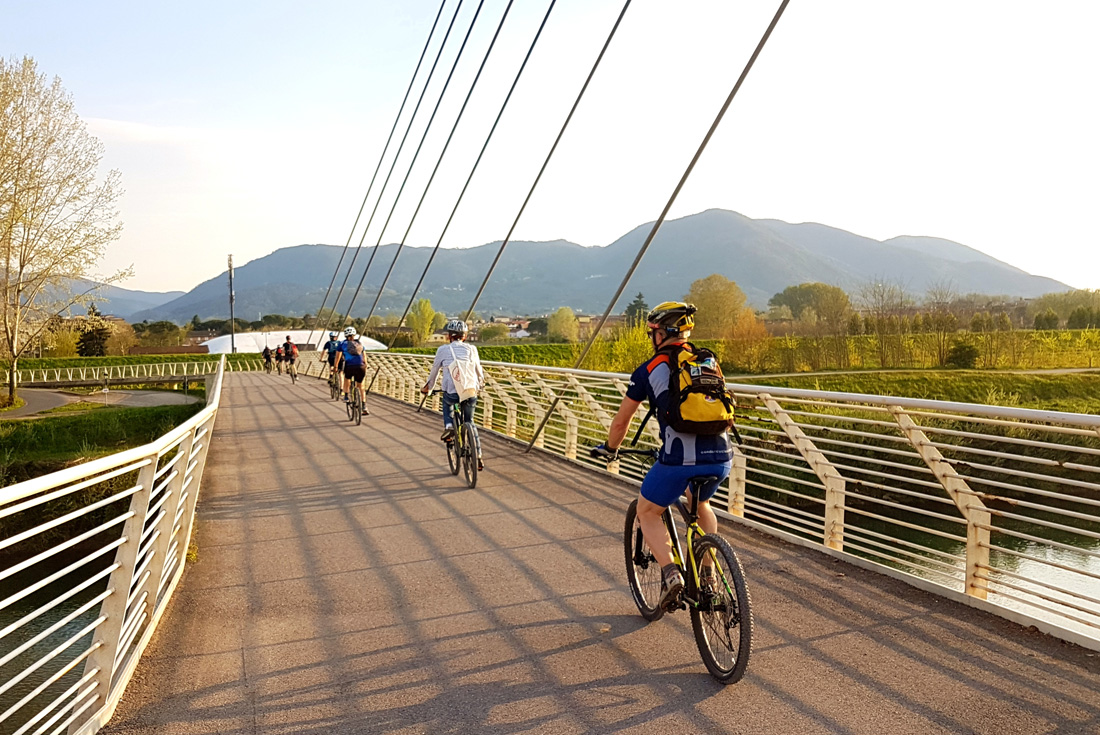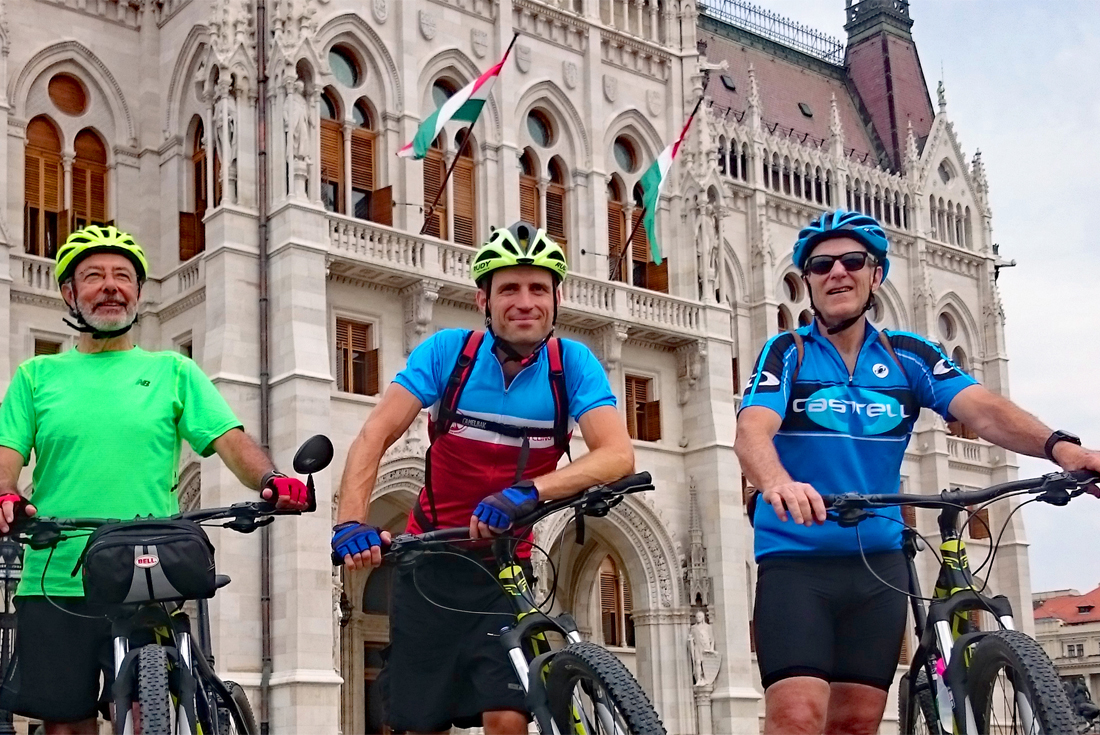 What's included
Ceske Budejovice & surrounds guided & vehicle-supported cycling
7 days bike hire
Ceske Budejovice to Cesky Krumlov Guided & Vehicle Supported Cycling
Cesky Krumlov to Lipno Lake Guided & Vehicle Supported Cycling
Kollmitzberg to Melk Guided & Vehicle Supported Cycling
Melk to Herzogenburg Guided & Vehicle Supported Cycling
Orientation walk - Vienna
Tulln to Vienna Guided & Vehicle Supported Cycling
Vienna Guided Cycling
6 Days included bike hire
Carnuntum entrance
Vienna to Bratislava Guided & Vehicle Supported Cycling
Bratislava to Gyor Guided & Vehicle Supported Cycling
Gyor to Komarom Guided & Vehicle Supported Cycling
Esztergom Basilica entrance
Komarom to Esztergom Guided & Vehicle Supported Cycling
Budapest - Szechenyi Baths
Esztergom to Budapest Guided & Vehicle Supported Cycling
Check Availability
We have put a calendar of events together that will provide you with some inspiration of what you can expect on your holiday, and when the best time to jet off is. Now's your chance to travel further than you can by foot and be part of a memorable and exciting two-wheel journey with us.