Cycle Bali
It's all about two wheels in Bali, and this action-packed cycling trip takes in some of the island's best spots in the highlands and on the coast. Hit the road in Ubud and wind your way south, into a world of lush green rice fields, smouldering volcanoes, family-run warungs, community projects, caves, temples and tiny villages. With the chilled-out beaches of Lovina and Sanur on the horizon, and a slew of adventure activities on offer throughout – such as a hike up Mt Batur – this is an unforgettable journey for cyclists and adventurers alike.
8 days
Difficulty: Moderate
Itinerary
Escape the tourist hordes and cycle through the island's heart, from the green hills of Ubud to the laidback beach towns of Lovina and Sanur.
Cycling's not the only activity on offer. Take the chance to hike up Mt Batur, visit hidden caves, soak in hot springs, and enjoy some watersports on the coast
As well as beautiful temples, visit less-known villages such as Trunyan, whose astounding burial tradition makes use of a mysterious 'magic tree'
Feast on the most authentic Balinese cuisine, prepared lovingly by unsung kitchen masters such as Lovina's Bu Wayan
Relax and unwind on the unique black sand beaches of Lovina, the perfect place to rest your bones after a few days on the bike
By travelling on this trip, you'll directly support our Intrepid Foundation partner, World Bicycle Relief. Donations provide school kids, health workers, and farmers in far-out areas with bicycles that provide access to education, healthcare, and income.
Om Swastiastu! Welcome to Ubud, the arts and cultural centre of Bali. Your adventure begins with a welcome meeting at 6 pm. Afterwards, perhaps head out to Gianyar night market. It's an informal setup, but a great way to get a taste of the local culture and cuisine.
Our first ride takes you to the Ubud Royal Palace (Puri Saren Agung) then cycle an undulating 10 kms along quiet roads through Ubud's rice paddies and an insight into local life, including a rest stop at the surreal Tegallalang Rice terraces. Continue on through Bali's verdant countryside before experiencing our first taste of traditional Balinese cuisine at a local family-run warung (Indonesian café)
From here we cycle on a further 10kms to the thousand-year-old Tirta Empul temple. Dedicated to Vishnu, the Hindu God of water, this one of the largest water temples in Indonesia. As a holy site only local Balinese can bathe in the waters but you are free to explore the temple grounds, including the peaceful Jeroan section or the calm waters of the Koi Pool.
After visiting Tirta Empul we slowly make our way back to Ubud, (approx. 16 kms, mostly downhill) taking quiet roads back past lush rice fields. This evening why not enjoy all that laid-back Udud has to offer, from a traditional Balinese Kecak dance to sampling local delicacies at the Night Market.
Ride distance: approx. 38 kms / 24 miles on mostly undulating roads, with an elevation gain of approx. 580m / 1900ft
Start the day early, driving (approx. 1hr) from Ubud to Penelokan in the shadows of Bali's mighty volcano, Mount Batur. Cycle around the undulating caldera of the mountain past black lava fields still evident from 1968 eruption (with around 2km of cycling on a lava road) before returning to the quiet asphalt road then stopping for lunch. From here you can see glorious Mt Batur, as well as the shimmering Lake Batur at its base.
In the afternoon, you can laze at the hotel or take the option of hopping into a boat for a quick visit to a most unique local village, Trunyan. What sets this village apart from others is its fascinating way of dealing with the deceased; instead of the conventional Hindu tradition of cremation, bodies are put under the 'Kayu Menyan' tree which is said to absorb the odour. Be warned though, this can be a challenging experience.
Ride distance: approx. 44 kms / 27 miles on mostly undulating roads, with an elevation gain of approx. 1040m / 3410 ft
Cycle from Kintamani to Bedugul today (approximately 55 km).
There's the option of climbing Mt Batur beforehand. Those that choose this optional activity will get up in very early morning (3 am) for the climb, which reaches 1717 metres above sea level. It's quite chilly at this early hour – usually somewhere between 8°C and 12°C, so dressing in layers is essential to deal with the sharp rise in temperature later on. A 15-minute drive leads to the starting point, and the climb itself takes around two hours, with an additional 30 minutes to get to the summit if you choose (refreshments are available at the top). The sunrise rears its head at around 6:15 am, after which many cheeky monkeys show up in search of food. You can also visit the nearby cave, where the Balinese come to worship twice a year; from here you can see the steam of the crater rise.
For those not doing the optional climb you can sleep in a little before the ride to Bedugul begins. Today's ride starts out flat before a slight uphill but it's worth it! From here you enjoy over 30kms of mostly downhill, cycling past orange and coffee plantations all the way to our lunch stop.
After lunch it's an uphill ride to Bedugul, a sleepy village at the edge of the crater lake of Bratan (Lake of Holy Mountain). An area of great natural beauty, at 700m above sea level it makes for a refreshing change from Bali's constant humidity.
Ride distance: approx. 44 kms / 27 miles, with a mixture of uphill and downhill roads, with an elevation gain of approx. 550m / 1820ft
Cycle from Bedugul to beachside Lovina today (approximately 52km). The roads are mostly downhill and has some beautiful views to enjoy.
Along the way visit one of the main temples in Bali, Ulun Danu Baratan. Appearing to 'float' on the lake, the 500-year-old temple is dedicated to Dewi Danu, the water goddess, and ceremonies are held here in the name of water supply to Central Balinese farmers. Spend around an hour checking out the temple, then ride on the traditional market– a good place to pick up a mangosteen to snack on (or a durian, for those who can handle the aroma!).
Continue cycling through this beautiful countryside, stopping to admire the other two crater lakes of Buyan and Tamblingan before stopping at the most scenic waterfall in Bali – Munduk waterfall. Set among lush forest it is a wonderful place to cool off before cycling onwards through cloves plantations all the way down to the unique black volcanic sand shores of the Bali Sea and laidback Lovina.
Ride distance: approx. 42 kms / 26 miles, with a mixture of uphill and downhill roads, with an elevation gain of approx. 450m / 1475ft
Avoid the long uphill from the coast to the centre of the island by starting with a short drive (approx. 1hr) to Pupuan Village. From here jump on your bike and ride (approx. 17 kms) the undulating roads to the beautiful Belimbing Rice Terrace, possibly the most photogenic rice terrace in Bali.
Coast downhill (approx. 10kms) before joining a busy road to the small village of Meliling (approx. 11kms) before continuing south a further 18kms to Tanah Lot, and a visit to the legendary Tanah Lot Temple (which translates literally 'island on the sea'). It's a popular but beautiful spot to see the sunset. Your accommodation tonight is short drive from Tanah Lot and a short walk to nearby Canggu and Batu Bolong surf beaches.
Ride distance: approx. 45 kms / 28 miles, with a mixture of uphill and downhill roads, with an elevation gain of approx. 400m / 1310ft
Leaving the coast and avoiding the congested and dangerous roads that lead to nearby Denpasar we drive north and up (approx. 1hr) to Luhur Batukaru temple, the start of your ride today and the last ride we do in beautiful Bali.
Once again cycling through the beautiful landscape of rice terraces, palm trees and lush green forest we make our way to the small village of Jatiluwih, home of the UNESCO-listed Jatiluwih Rice Terrace, for a short rest stop before continuing downhill for lunch and our final stop for the day, Marga village. From here we bid farewell to our bikes and support crew and drive the final leg to sleepy Sanur (approx. 1.5hrs)
The afternoon is at your leisure in Sanur. Stroll along the beach, take a dip in the calm waters, or grab a well-earned drink in one of the small local bars.
Ride distance: approx. 30 kms / 19 miles, mostly downhill roads, with an elevation gain of approx. 330m / 1090ft
The trip comes to an end today, with no further activities planned.
Sanur is a convenient place from which to embark on further travel. Perhaps head east and get off the beaten track on our Bali & Lombok: Hike, Bike & Raft trip.
Route overview
To complete this trip it is important that you are both confident and competent in riding a bicycle.
On this trip we have a single leader that rides with the group, and another that drives the support vehicle (acting as a back marker where needed). Where the vehicle cannot travel directly with the cyclists (e.g. a cyclists-only path) your leader will assign a person from the group to act as a back marker.
This trip is designed for those who love to get active. While prior training may not be necessary, a moderate level of fitness will help you get the most out of the activities on this trip.
The optional hike to the Mt Batur crater is demanding and can vary a great deal depending on the weather. Be sure to bring strong, sturdy walking shoes. Rest assured that all camping gear will be carried by porters.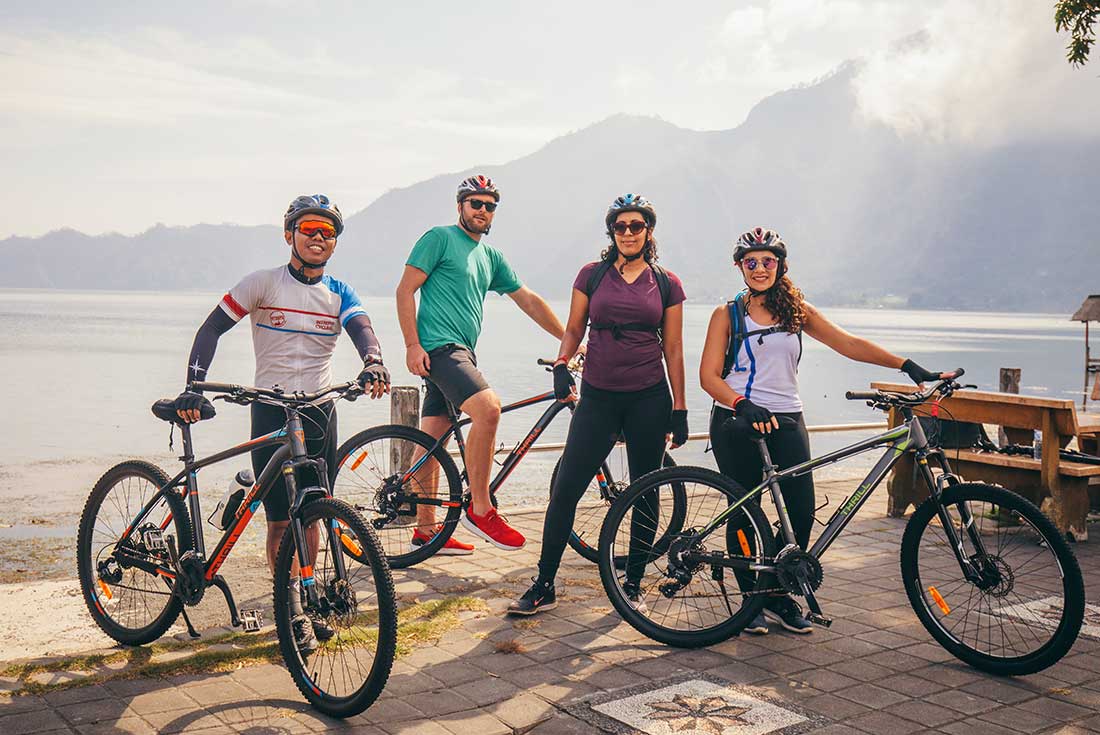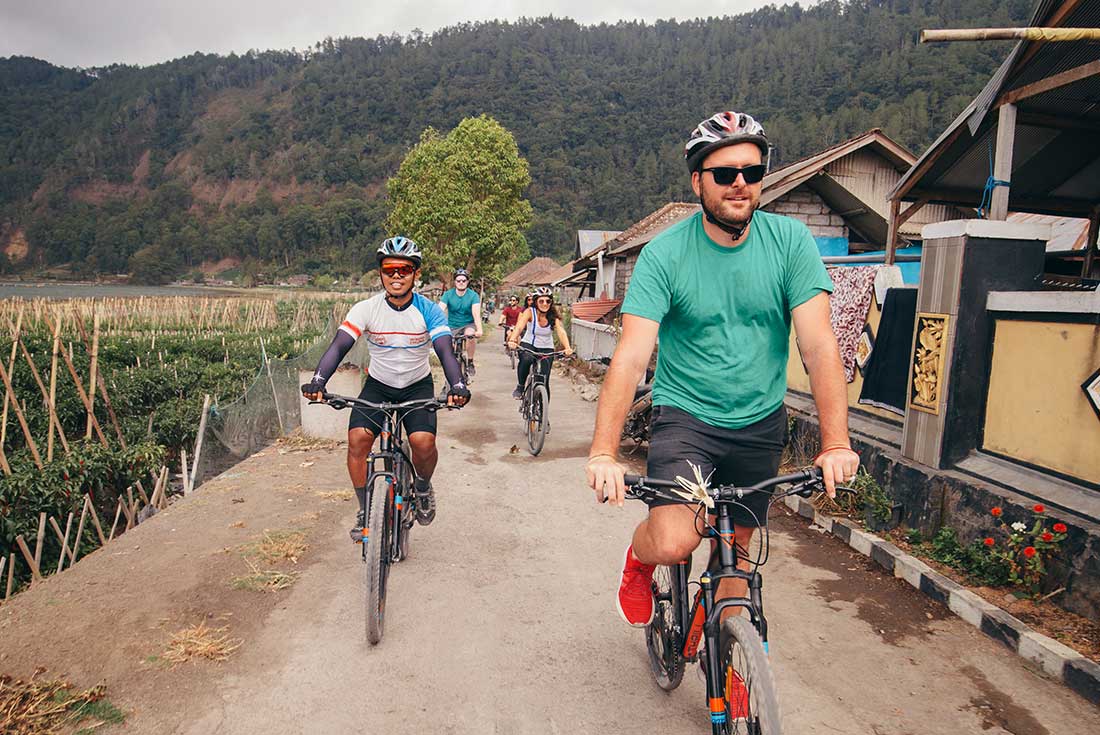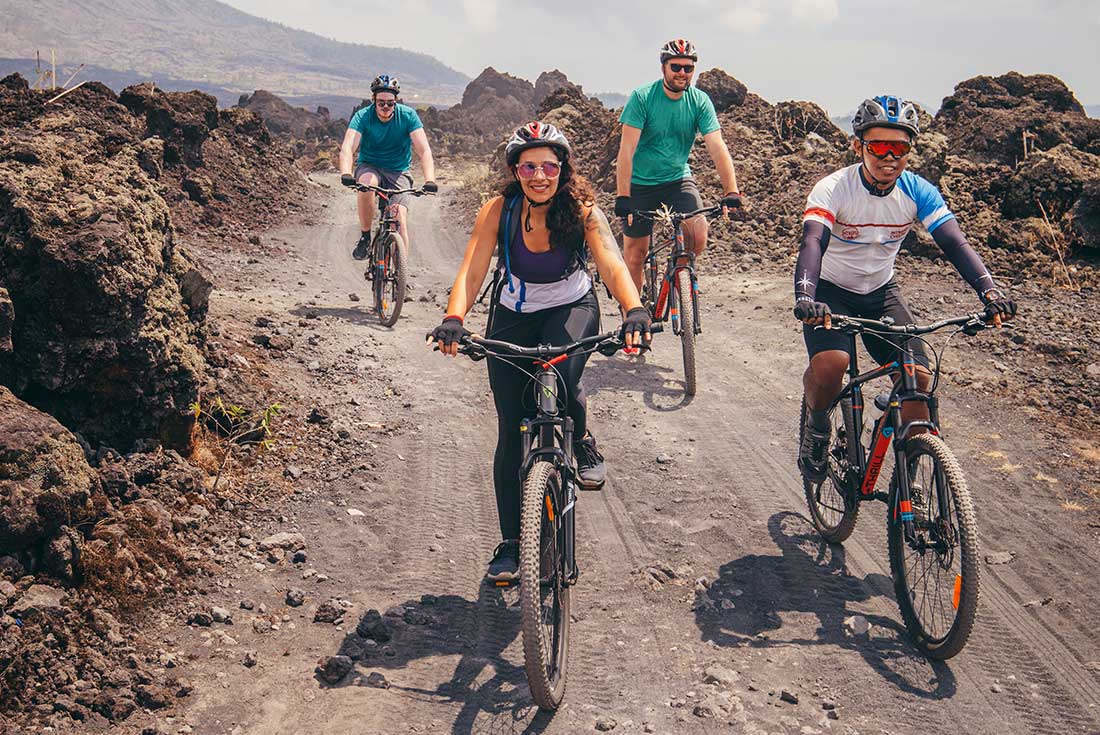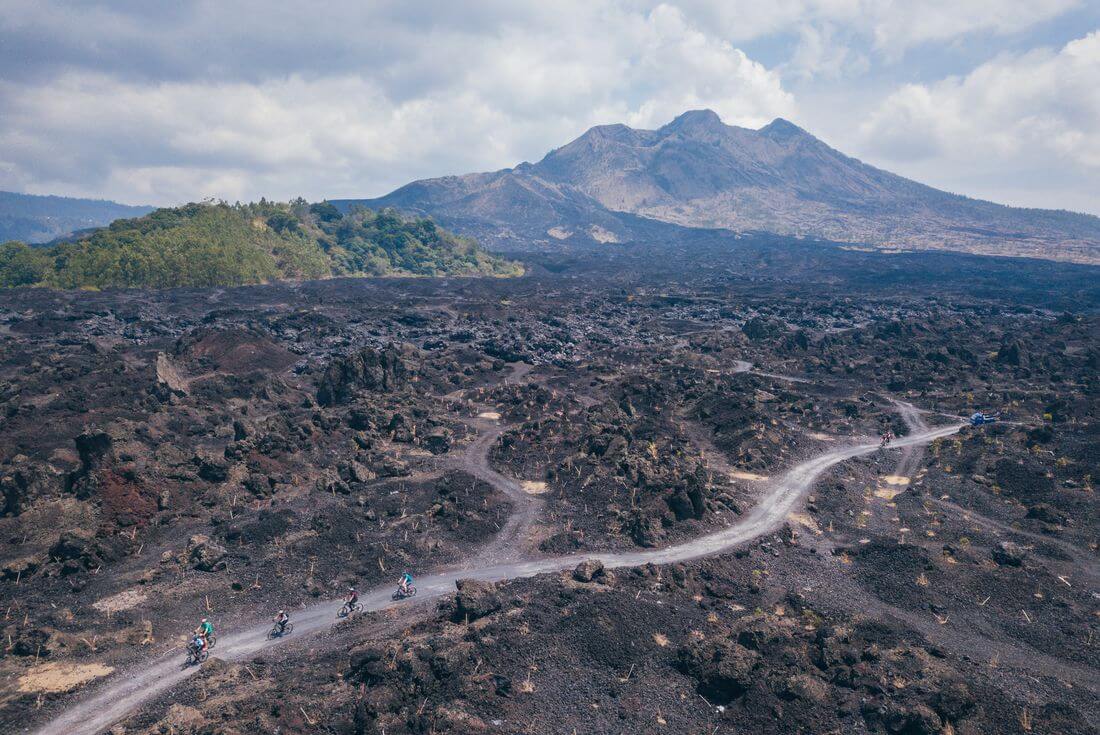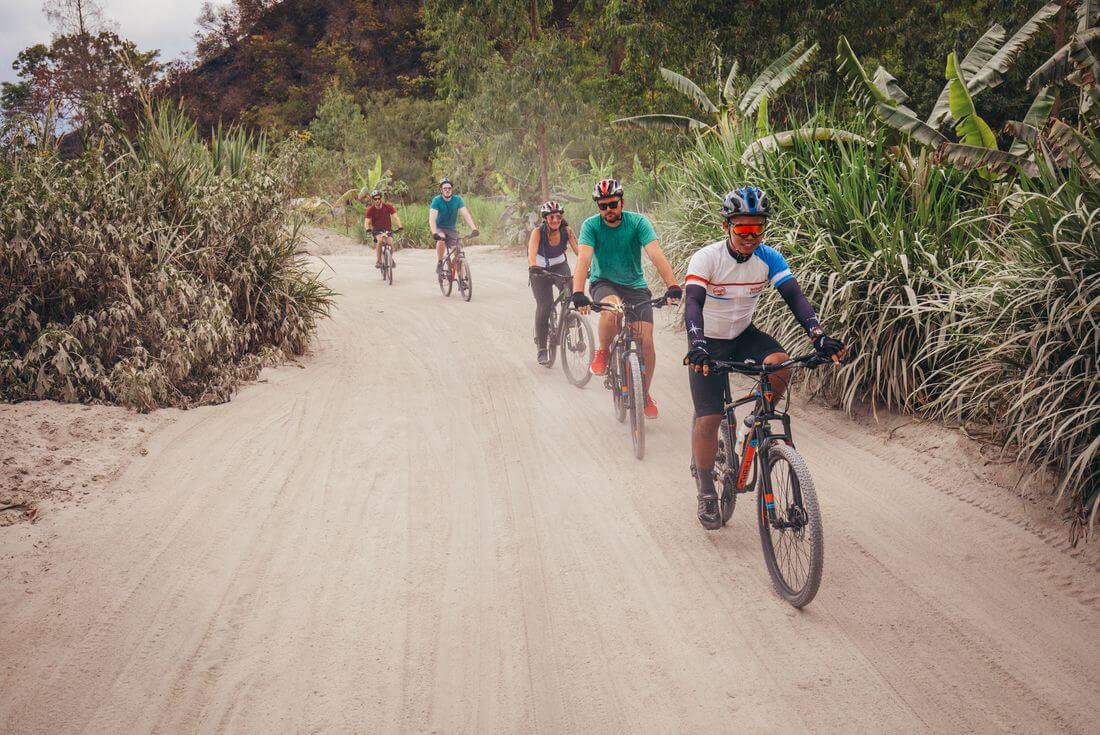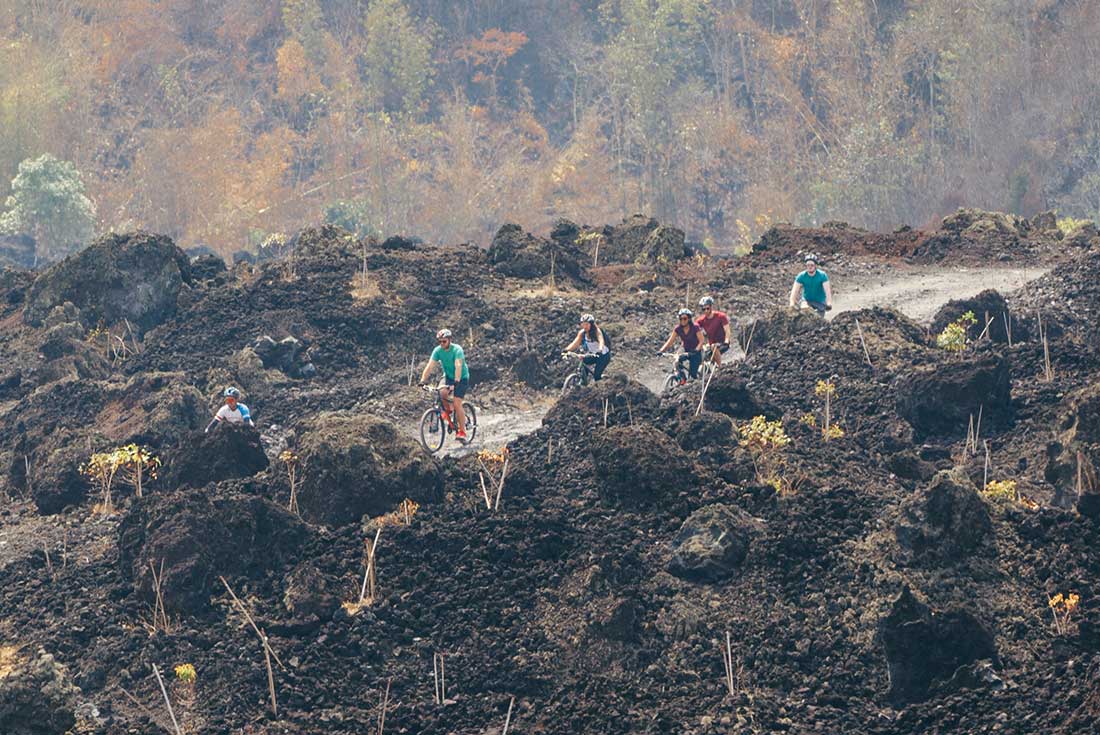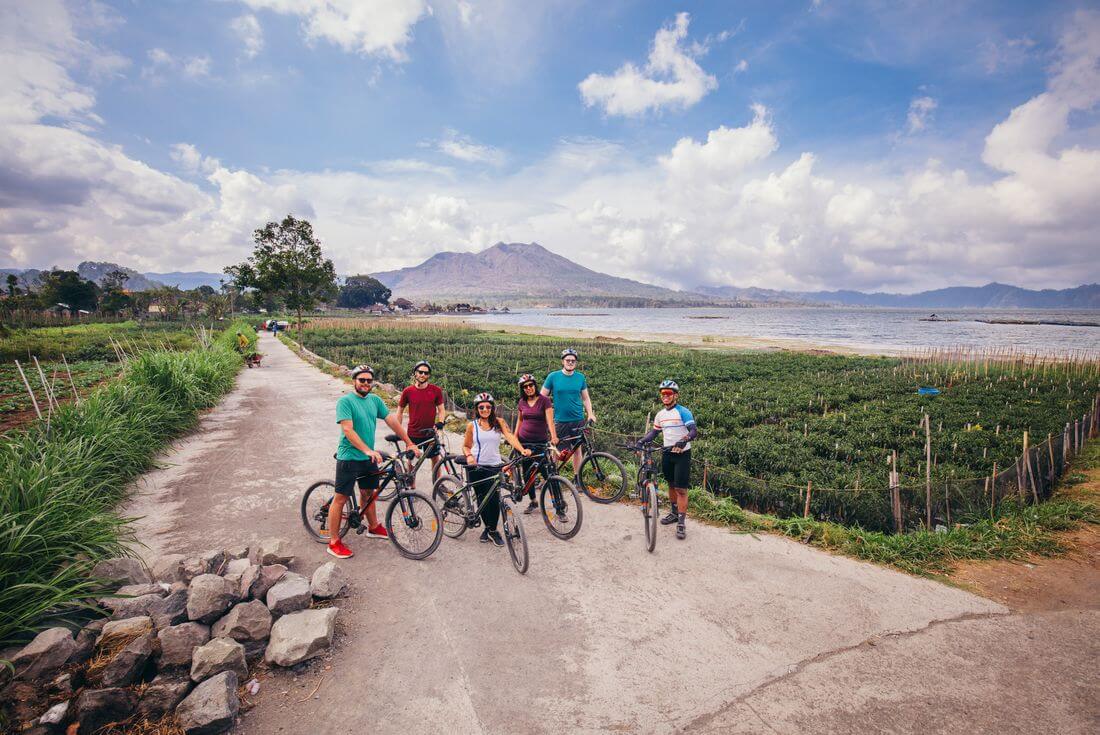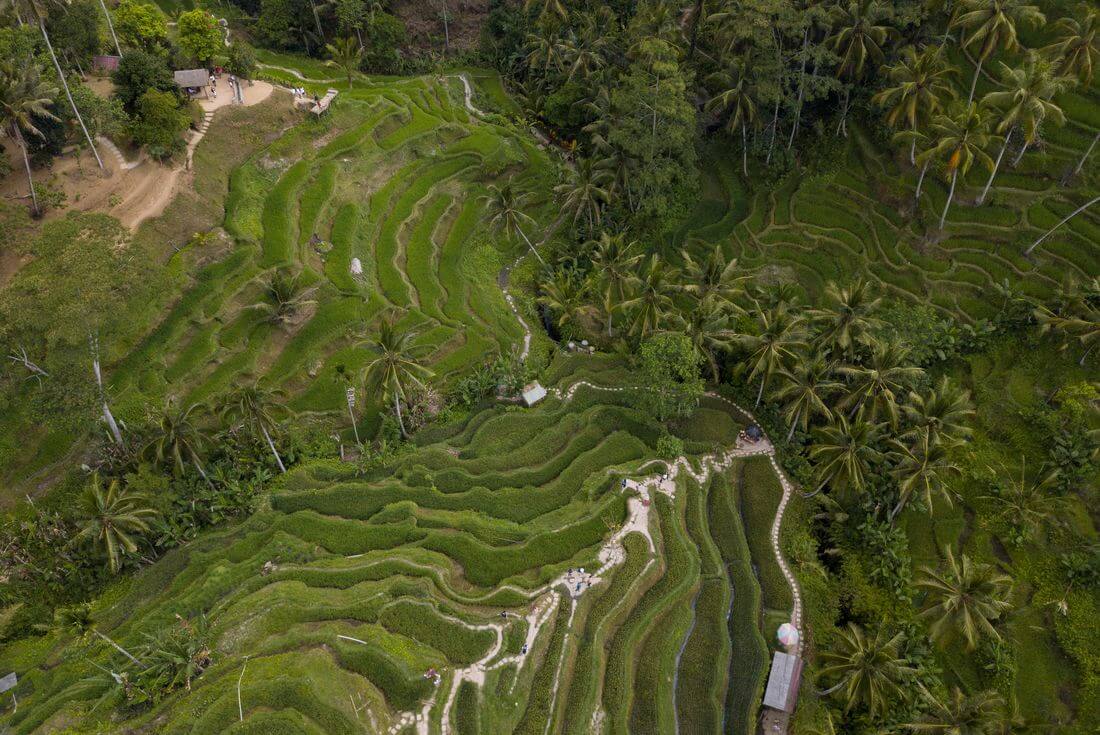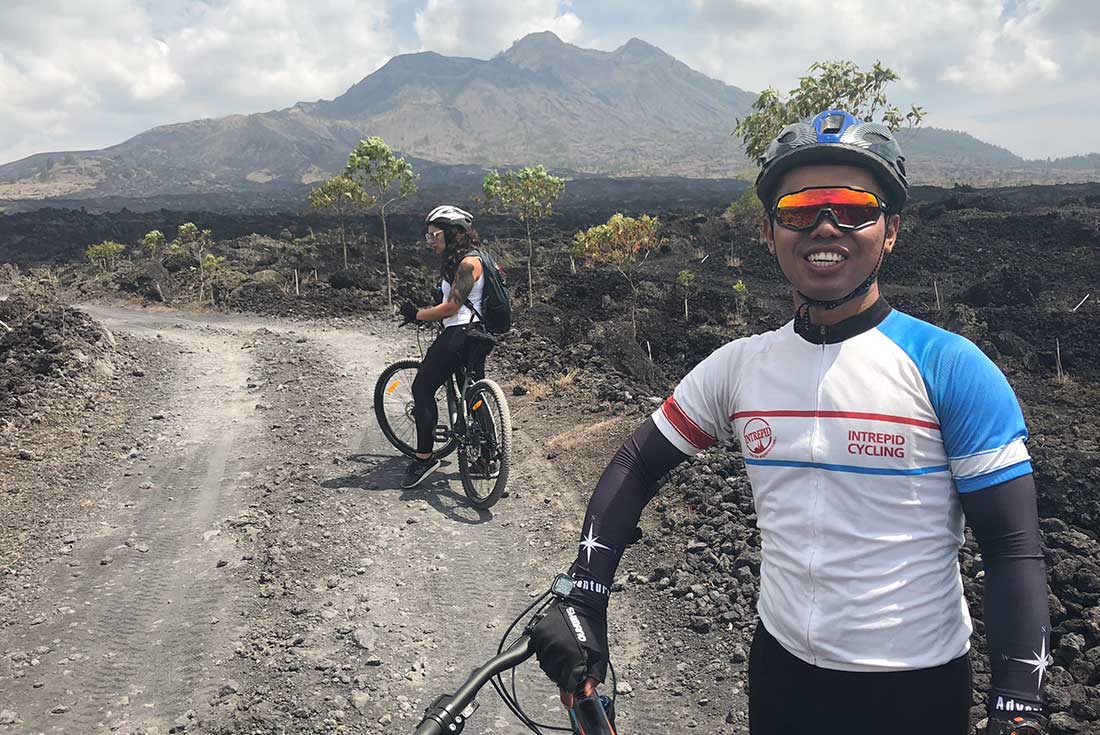 What's included
Ubud - Pura Tirta Empul Temple
Ubud - Pura Danau Bratan
Munduk - Waterfall walk
Tanah Lot Temple
Check Availability
We have put a calendar of events together that will provide you with some inspiration of what you can expect on your holiday, and when the best time to jet off is. Now's your chance to travel further than you can by foot and be part of a memorable and exciting two-wheel journey with us.